Returning to Xenia on Saturday, Troy needed one defensive stop to win. The Trojans got it by stuffing the Buccaneers on fourth-and-3 on Troy's 43-yard line to preserve a 21-14 victory.
Xenia – On Friday night just after 10:30 p.m., persistent lightning forced school administrators and game officials to grudgingly postpone Troy's football game at Xenia. On Saturday, about 12 hours later, the thunder arrived.
Troy's defense stood up and stuffed Xenia's Sincere Wells, the Buccaneers' 5-foot-9, 190-pound battering ram, on fourth-and-3 on the Trojan's 43-yard line. That preserved Troy's 21-14 victory over Xenia in the Greater Western Ohio Conference crossover game.
The game was called Friday with Xenia attempting to rally from a 21-7 deficit in the final four minutes. Wells scored with 2:21 left in the game – highlighted by a 40-yard halfback pass – and Xenia recovered the onside kick despite (after coaches had a chance to examine the video replay) appearing to both jump offsides and touch the ball before it bounced the mandatory 10 yards.
Xenia drove to Troy's 43-yard line and faced fourth-and-3 before the lightning sent both teams home with 1:27 remaining in the game.
Logic suggested allowing Xenia to run one more play. Get the first down and delay the game for the mandatory 30 minutes for each lightning flash and come back Saturday, if necessary. Get stopped short of the first down and call the game with Troy able to run out the clock.
"It's such a gray area. The last thing you want is the kids out there with the lightning," Troy coach Matt Burgbacher said. "I'm certainly not a meteorologist. … There are rules we have to follow and the OHSAA's rules are lightning and thunder – 30 minute delay. You can't argue with that. Safety is number one. The timing of it was very unfortunate."
On the fourth-down play, Xenia's triple-option offense sent Wells – who had 137 yards on 34 carries – into the line between the tackle and guard. He gained no more than a yard, if that, running behind a line that returned all five starters.
Burgbacher said Troy senior Zach Niswonger stuffed the offensive tackle. Sophomore Adam Decerbo handled the center. Senior Shane Shoop plugged another hole. Senior Spencer Klopfenstein collapsed on the end. Senior Zach Collett and junior Austan Good collapsed on the backside. Seniors Blake Burton and Sam Jackson provided immediate support at linebacker.
"Our defense, we had the perfect call," Burgbacher said. "Our kids did a great job. On that last tackle I think we had nine kids in on it. We held him up but he can still fall forward. We had a couple guys come in and knock him back. It was pretty exciting."
Troy improved to 2-0 overall following last week's 43-8 win against Belmont. Xenia, a 41-14 winner against Beavercreek last week, dropped to 1-1.
Troy controlled the game against Xenia for almost all but three minutes in that fourth quarter. The Trojans led 7-0 when junior Tucker Raskay shook his defender and sprinted alone down the sideline for a 36-yard pass from junior Brayden Siler. The Trojans made it 14-7 with 1:28 left in the first half on Jackson's four-yard TD run, set up by Austin Blair's fumble recovery.
The Trojans took a 21-7 lead in the third quarter on senior Jaydon Culp-Bishop's 16-yard score. The touchdown was set up when junior quarterback Brayden Siler hit Klopfenstein for consecutive 20-yard gains – with Klopfenstein using every bit of his 6-foot-4 frame to snag the passes down the middle.
Xenia's first touchdown, which tied the game 7-7, came when a pass deflected off a Troy receiver's hands and right to the Bucs' Blayne Dudley who took it 33 yards.
Through two games Troy's defense has allowed 15 total points. It also kept Wells in check after he rumbled for 239 yards and four touchdowns on 18 carries against Beavercreek. The effort to slow Wells down was spearheaded by Jackson, who finished with 26 tackles. Burton added 14.
"For our defense to give up seven points to their offense is awesome," Burgbacher said, noting Troy's scout team has had to replicate two difficult offenses with Belmont's single-wing and Xenia's triple-option attack. "Our scout team did a great job resembling what the other team does for our defense. That's important and they've done a great job."
Offensively, Culp-Bishop rushed for 89 yards on 19 carries. Siler completed 11-of-17 passes for 163 yards and connected with a half dozen different receivers.
Saturday's bus trip back to Troy was much better for the Trojans' than Friday's trek. Burgbacher said he left his office at Memorial Stadium around 2 a.m. and returned at 6 a.m.
"You're thinking about all these things you shoulda, woulda, coulda done," he said of replaying Friday's portion of the game in his head. "But if you allow your mind to do that you're going to drive yourself crazy. I'll be honest, I drove myself crazy last night."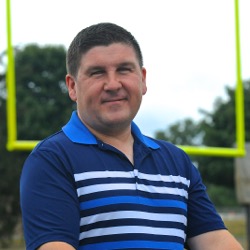 Burgbacher said what upset him the most about Friday was that 87 seconds was all that separated Troy from staying home Saturday and prepping for Week 3 opponent Cincinnati Turpin and having to make the 90-minute, round-trip journey to Xenia.
"I get the rule. I totally understand the rule and I agree with it because the kids' safety is our top priority," Burgbacher said. "For both teams to have to go home last night and come back and play 1:27 is not fair. I know how our kids are on Saturday morning when they come in for workouts. They can barely walk. It wasn't like it was a finesse game last night. It was a physical, get-after-it game last night. That's what I was most upset about. Let's finish it. … Rules are put in place. I get it.
"We faced some adversity there. I thought our kids, when they came in (Saturday morning), they were focused. We were tired. I know Xenia was tired. We talked about that. Digging deep. That next play give it everything you've got. And if there's a next play give it everything you've got."
On Saturday Troy's defense needed just one play. And they delivered the boom.