Haskins has eye-popping starting debut while throwing for over 300 yards and five touchdowns in 77-31 win … Buckeyes ready to play even with coach on suspension … One down, two to go until Meyer comes back.
COLUMBUS — If Ohio State players were worn down over the constant negativity directed at their coach by ESPN and the national media, they certainly didn't show it against overmatched Oregon State while piling up 721 total yards in a 77-31 win Saturday.
Dwayne Haskins was everything we thought he'd be after seeing glimpses last year — a tall, poised, confident quarterback with an NFL-caliber arm. The reshuffled offensive line protected well and opened up holes big enough for a Hummer to roll through. And except for a handful of breakdowns in the back seven that likely can be fixed, the defense had a punishing performance.
Ohio Stadium was filled with 102,169 appreciative fans, at least until a weather delay before the second half sent many scurrying for the exits. The band performed Script Ohio. Carmen Ohio was sung at the end. And a good time was had by all, save for the lowly visitors from the PAC-12.
Actually, if we didn't know better, it would have seemed like a typical season-opening victory with You-Know-Who roaming the sidelines instead of presumably watching the game from the discomfort of his living room.
On the first five possessions, the 6-foot-4 sophomore QB went 14-of-18 for 164 yards and three touchdowns, running back Mike Weber rushed for two scores, and midway through second quarter, it was 35-7.
Oregon State went 1-11 last year and is barely a step above an FCS team, but that's still impressive production.
Haskins connected with Terry McLaurin for a 75-yard touchdown on the first play of the second half and finished 22-of-30 for 313 yards and fives scores, setting Ohio State records for yards and TD passes for a first-time starter.
And in case anyone was fretting whether the staff would turn him into a taller version of run-first QB J.T. Barrett, it looks as if we'll be spared that tortuous experience. Haskins didn't rush once, gaining his 24 yards on the ground through two scrambles — just the way it should be.
Though he had an interception on a hurried third-quarter throw, the ball seems to pop out of his hands with little effort and gets to his wide-outs in a blink. And as long as those pass-catchers keep creating separation, which should be the case this year with new receivers coach Brian Hartline, the Buckeyes will continue to carve up foes.
I wondered how the massive O-line would look after losing All-Big Ten tackle Jamarco Jones and Rimington-Award-winning center Billy Price. The coaches cobbled together a five-man front where only one player was back at his 2017 starting spot: dependable senior right tackle Isaiah Prince.
They shifted junior Michael Jordan, a two-year starter at guard, to center to make room for senior Malcolm Pridgeon, who was playing the first meaningful minutes of his career. And sophomore Thayer Munford, an unheralded recruit, was the starting left tackle as a true sophomore.
Jordan is a monster, listed at 6-7, 310. So is Pridgeon (6-7, 315), Prince (6-7, 310) and Munford (6-6, 319). At that size, the linemen should be able to crush granite statues if they were lined up in front of them. And while we should withhold judgment until better competition arrives, the unit got off to a promising start.
Playing without all-conference safety Jordan Fuller (hamstring), the Buckeyes had several broken coverages. They gave up TD runs of 80 and 78 yards to Artavis Pierce just after halftime, which lasted 72 minutes because of lightning in the area.
But defensive ends Chase Young and Nick Bosa are going to be a major pain for the opposition. I came into the season with some questions about Young's motor, based on what could be gleaned by coaches' comments, but he was a terror against the Beavers. And Bosa had two sacks and a pair of fumble recoveries, including one in the end zone for a TD.
The two have so much speed off the edge that opponents had better put their QBs in bubble wrap. And if the outside rush doesn't get there, stepping up in the pocket really isn't an option. Defensive tackle Dre'Mont Jones, who also had two sacks, is just as skilled at beating blocks.
I'm still not convinced the Zach Smith saga won't have an affect at some point this year. Football is a game of will and emotion, and you wonder if the Buckeyes will have the mental edge they need when they run up against a foe with similar talent.
I blame Urban Meyer for that — not that I believe he looked the other way while an assistant was committing domestic violence. Not at all. He's getting treated as if he did by the national media, who either haven't looked at the investigation report made available to the public or consider it a sham. During the ESPN College GameDay Show at Notre Dame on Saturday, one attendee had a poster of Meyer with a Pinocchio nose. Nice.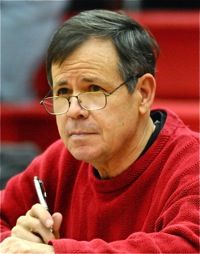 But for not acting quickly enough to fire an under-performing coach with a history of misdeeds, Meyer probably deserved some discipline. What doesn't seem warranted — unless there's more we don't know about — is the hit his reputation has taken while being lambasted in the media. He's being painted as someone who is soft on domestic violence, when, you'll recall, he suspended star running back Carlos Hyde for three games in 2013 — a quarter of the season — for an altercation with a female that was caught on video. Meyer certainly didn't seem to be soft on domestic violence then.
If you're looking for fair and accurate reporting on a subject that should be taken seriously, stick with the Ohio State beat writers, particularly those at Cleveland.com and the Dayton Daily News. They offer informed analysis, not knee-jerk opinions formed from 35,000 feet.
Meyer will have more dealings with the media when he comes back, and it won't be pleasant. My hope is that he's contrite, has learned some lessons and is ready to move on.
The Buckeyes have a difficult schedule to navigate and issues to address. But they have a shot at a special season, and they'll need a fully functioning coach to get there.