They were shaky at first, but once they got it straight…Minster rolled over Covington, thanks to too many Buccaneers mistakes.  Read more from guest columnist Andy Anders.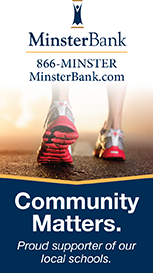 By Andy Anders
Minster – Three drives stalled out thanks to penalties in the opening 12 minutes, including a 39-yard touchdown pass called back for a holding penalty five yards behind the line of the scrimmage.
Past that, it was a shock nobody called the FBI about all the bombs junior quarterback Jacob Niemeyer was dropping. Seriously. 46 yards on a go-route to Dakota Clarkson. 49-yard touchdown drop in the back of the endzone to Trent Roetgerman. Anyone care for three straight 15+ yarders over the middle in the two-minute drill? Niemeyer's got you covered. Throw on another 21-yard touchdown strike to August Boehnlein for kicks.
That was only the first half.
"He's been competing and we love to see that [kind of a performance]," Minster coach Geron Stokes said.
Like a state title contender should, the Wildcats had a response for everything the Buccaneers did Friday night and dismantled the Buccaneers 39-26 in a home contest. It just wasn't the performance Stokes wants from a championship-quality team.
"We have a long way to go. A long way to go," Stokes said. "We've gotta be a lot better. Write that."
If anything, Covington certainly didn't enter this game scared of the defending state champions. Opening with a three-and-out defensively, junior quarterback Cade Schmelzer found junior receiver Andrew Cates for a 28-yard pick up. Junior running back Brayden Wiggins punched it in from five yards out the play after.
Covington got the ball back after one of those above-mentioned holding penalties stalled a drive, but then Minster's responses began . A star player turned the momentum, as Schmelzer fell victim to the island known as Mike Ketner. The senior cornerback intercepted a ball off the hands of a Buccaneer receiver and ran it back to the opposing ten yard-line.

"He's our one guy that's playing really disciplined football right now, trusting technique and competing like crazy," Stokes said. "It's awesome that he's getting rewarded for that discipline."
Minster shot itself in the foot again in the third quarter, fumbling a snap to stall another drive. This was Covington's last chance to get back in the game, trailing 27-12 with some newfound momentum.
Ketner came through with another interception.
Covington's shifty 5'6" running back Brayden Wiggins picked up some steam in the middle of the game, picking up 40 yards in less than 10 carries.
Minster's linebacking corps of August Boehnlein, Jack Heitbrink and Trent Roetgerman combined for 28 tackles and shut him down.
Finally, when Covington's secondary at last gained some footing in the second half, junior running back Alex Schmitmeyer erupted for his second straight week of at least 100 rushing yards. He wrapped things up with 23 carries for 151 yards and four touchdowns, the last of which put Minster up 39-12.
After that it was simple formality and Minster brought out the JV team to wind down the rest of the clock, leading to two Covington touchdowns that made for a misleading final score. Niemeyer finished an incredible day 12/16 for 266 yards and two touchdowns. Austin Brown hauled in two of those passes for and totaled 78 yards.
Of course, the game was not complete without a third interception from Ketner.
Still, coach Stokes wants a lot more out of this team if they are to make a run at defending their D-VII crown.
"We just weren't very prepared tonight," he said. "They play tough and physical. We don't right now."