Coldwater and Clinton-Massie hook up again on Friday to reprise last year's memorable night down in Clinton County.  Or at least…it was memorable for Massie.  Now, they want a little something for the scrap book.
There really is no better guy among high school coaches than Clinton-Massie head coach Dan McSurley.  A big, grizzly bear kind of guy, he's affable, he's quotable, and he can coach himself some football, too.
He's coming off last year's Division IV Finals loss to Steubenville, a 50-36 shootout, that to watch you had to follow the action back and forth like a tennis match.
But a year ago this Friday night McSurley stood with me after his Falcons had knocked off Coldwater 24-14 down in Clarksville, and gushed, "This will be remembered as one of the greatest wins in the history of Clinton-Massie football.  When you can beat a program like Coldwater, and those four straight state titles, this is history."  I went back and checked my notes on Wednesday, to see if I had gotten his words right.  And except for the post-game downpour that smeared some of the ink, I'm 96% sure I did get it.
But to be sure, I called him later in the day.  He remembered, and spent a few minutes qualifying his words as to last year's win, given his Falcons are past state champions (back-to-back 2012, '13).  One would think those would have been bigger games.
"The reason I said that is because back in 2007 we played Coldwater, and they beat us pretty good,"  said McSurley.  "But that was also about the time when Massie football began to get good.  So last year we had the chance to hook up again and it was a big opportunity for us.
"Now we get one more chance to play them…and I'm pretty sure we'll never have the opportunity again because we're Div. IV and they're Div. VI.  So of course you want to win the rubber match.  We're excited to make the trip up there (about two hours), the weather's supposed to be good, and it should be a great evening."
Of course, for perspective sake, last year's Coldwater and this year's Coldwater are by no means the Coldwaters of the past – those teams with Austin Bruns, Brody Hoying, Ross Homan, etc., et.al.  One could make the case that if Massie really wanted to sow its oats, well, time has already passed them by.  And for the sake of the present, McSurley's 2018 team is very reminiscent of last year's team that swept to the Division IV Finals before running out of gas against "Big Red".
"We've got a lot of kids back from that team,"  says McSurley.  "Our quarterback is back, some of our skills are back, and four of our front five on the offensive line are back.  We did lose an all-state linebacker to graduation (he's at Ball State now), but the back end of our defense is still there, so we feel pretty good about having another good year.  We expect to win a lot of games in our league, and we expect Coldwater to win a lot of games in their league, so this game should be worth a lot of post-season computer points to the team that wins."
Chip Otten, like the George Costanza character from Seinfeld, is aware. Oh, he's aware.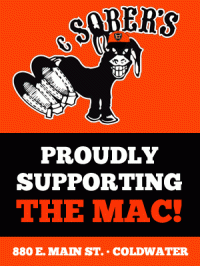 "I don't know if their defense is as good as it was last year,"  said Otten earlier this week.  "But they're certainly talented.  The biggest concern would be the difference in overall size.  They have it, and we don't.  But if our skill players can get out and make plays like they did last week we'll see how things work out."
And McSurley…oh, he's aware of that, too.
"They (Coldwater) have so many kids that can score that you have to be concerned,"  he said.  "They're not as big as they were last year, and they're breaking in a new quarterback.  And, it looks like they're playing a different defense.  So we'll make the trip, enjoy the experience, and hope to come home with the rubber game."
If they do, he might consider that rubber comes in all kinds of shapes and textures.  It's not like it once was – with Homan, Bruns, and Hoying – back when the rubber wasn't so young, and felt like…a hockey puck!