In straight sets a determined Russia volleyball team knocked of the defending Div. III champs, Vesailles.  And at the end, there was no quarter asked, and none given.  "They earned it,"  said Kenzie Bruggeman.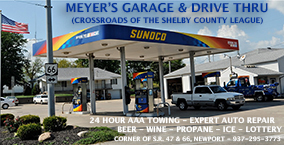 Russia –  After last Tuesday's exhausting loss to Division IV champion New Bremen in five sets, Russia volleyball Aaron Watkins made the prophetic observation.
"This didn't go our way tonight, but Saturday we get another crack at a state champion.  Who knows?"
As it turned out, the second time WAS the charm Saturday afternoon at Claire Naveau Gym, as Watkins' Raiders did, in fact, knock off the defending champs in Division III, the Versailles Tigers, and did it straight sets….25-23, 25-17, and 25-18.
There was no doubt, and there were no excuses made by Versailles coach Kenzie Bruggeman as she bristled leaving the Versailles locker room.  "They wanted it, and we didn't."
It was a little out of character for Bruggeman, one of the area's best ambassadors for volleyball.  And true to nature, she went out to the waiting Versailles partisans, hugged a toddler, and when she came back she was as composed as if she'd eaten a Snickers bar.  Better!
"Kudos to Russia,"  said the Tigers coach.  "They wanted it, we made way too many mistakes,  and this is what's going to happen from here on out.  People are going to try to outwork us."

It's 'coach speak' to say that someone "wanted it" more than you did, but another matter when you come down to the cold hard fact of simply being outplayed.  And in Bruggeman's words, that's how Russia did it.
"Everything,"  she said.  "They hustled, they made sure they talked on every single point, they played with aggression, so yeah…they deserved it."
Yes, they did hustle from the outset, taking a commanding 13-5 lead in the first set…and taking advantage of "way too many mistakes" for Versailles' part.  But still, owing to the attributes of a champion, Versailles battled its way back…to within five, to within three, to within one, and ultimately tied the game at 23-23.  But Russia took the lead on a deflected ball out of bounds at 24-23, and Morgan Wenrick finished any thoughts of comeback when she dropped an ace at the feet of Versailles libero Caitlan McEldowney for set point, a ball that McEldowney simply couldn't get her hands on.  25-23, it signaled abject frustration for Versailles for the rest of the match.
"That had to be frustrating for them,"  said Watkins.  "To have come back the way they did and have that happen – it had to have taken something out of them.  I know it would had it happened to us."
"It was a factor," admitted Bruggeman.  "Because, we just keep getting in these big holes at the beginning of the game.  It's happened in other games prior, but we've been able to come out on top.  It's good to see if you can respond, but now that we saw how we responded we have to go back to work on Monday.  This was a learning opportunity."
And indeed, it turned out for Watkins and the Raiders that Tuesday's loss to Bremen, a match that was characterized as being just plain "ugly", was a learning experience, as well.  This was not the same team that lost to Bremen, and Watkins acknowledged that the experience, plus a second opportunity to play "the state champion" had a positive effect on his girls.
"The girls wanted it because Tuesday we didn't finish,"  he said.  "And Thursday we didn't finish well against Jackson Center (losing in five sets).  So we talked about it yesterday…about how to finish things out.
"But we hustled today.  And a shout out to Kendall Monnin, Jenna Cordonnier, who plays her butt off, Laurissa Poling, and a bunch of others.  They were all great today."

And Poling in particular, whom Watkins admitted earlier in the week to her playing with some back and shoulder soreness.
"Much better today,"  he said with a smile.  "She's getting some treatment and she's not worrying about it as much."
Numbers-wise, Poling played like she felt better, leading Russia with 15 kills , 15 digs, and 9 blocks.  Sophomore Ashley Scott chipped in 7 kills and 6 blocks, while Kendall Monnin, the little libero of previous mention, contributed 15 digs of her own.
But that second chance to beat a state champion?  Can anything be a bigger incentive to a team searching early in the year to find an identity?
"No," said Laurissa Poling.  "It feels really good because I've watched them play for years, and my cousins played there.  It's ALWAYS been a big goal of mine to beat them, so this feels really good."
"It's an awesome feeling,"  giggled Morgan Wenrick, who'd rather play, than talk about playing.  "We came out hard and we played well today.  I think at the end of the first set we knew that we had them in trouble.  Oh my gosh, I don't know what to say."
Versailles falls to 4-2 on the season, while Russia even its record to 2-2, and in time to play rival Fort Loramie on Tuesday.  Likewise, Versailles will get back in the gym on Monday to prep for a date with Marion Local next week.
In a nutshell:  "It seemed like we had the momentum with us today,"  concluded Watkins.  "We've haven't been able to get the momentum, and it finally came our way today."
Or more simply, the second time's the charm.  And you don't get that many chances…to beat a state champion.