They were strong, they were balanced, and they were a little different from the Minster team you last saw.  Didn't matter, the defending Division VII champs put on an impressive display in their opening win over rival Fort Loramie.
Fort Loramie –  To begin with, they beat the odds.
Odds?  What adds?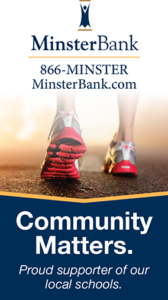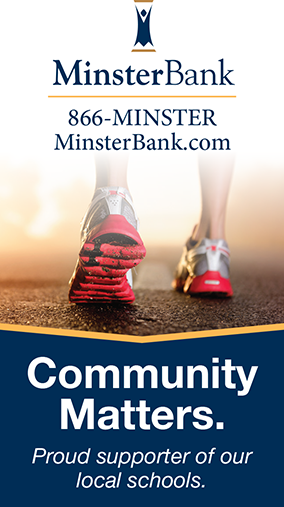 Well, there aren't that many defending state champions that can lose their best player on the field (Jared Huelsman), the best player in the conference, and their quarterback, and play on as if his presence was still in the huddle.
And, it's tough to lose your best running back, Isaac Schmiesing, and come out with a replacement that snaps off 107 yards on 20 carries and scores a pair of touchdowns.
And when you lose your offensive line, the one that Cuyahoga Heights coach Al Martin claimed beat his defense to death last December, that's an obstacle, too.
And, hey, let's face it…they even beat the predictors, whose hunch that Loramie returning more experience and enough talent would be too much, too early.  Well, it simply didn't pan out.
The Minster Wildcats did ALL OF THAT Friday in their 34-14 thumping of the rival Redskins, a team that badly wanted to atone for a pair of losses to the 'Cats last year, 20-0 on opening night and a 40-24 rout in the opening round of the playoffs.  And Loramie, bless their hearts, is no pothole on route 66, mind you, returning a solid nucleus from a team that went 8-2 in the Cross County Conference last year, and 8-3 overall.  And two of those losses were to, uh, you know who.

But on this night Minster simply hit them with too many big plays – a pair of first half touchdowns to tight end Cody Frericks (57 yards) and Trent Roetgerman (41 yards), a 50 yard run by quarterback Jacob Niemeyer that negated poor field position at the beginning of the third quarter, and a 31-yard touchdown sprint right up the gut by junior Alex Schmitmeyer with four minutes left in the game to seal the deal.  Those four plays would have been enough, but there were actually even more, less egregious ones.
"We made enough plays,"  deadpanned Minster coach Geron Stokes.  "We made enough plays, but we were sloppy.  We have to play with more discipline…clean some things up."
Well, yeah, Geron, you could say that, of course.  But then again, it's opening night!
They got it going soon enough, with 5:29 left in the first quarter when junior Jacob Niemeyer, reprising the tradition of Niemeyer quarterbacks at Minster (Adam), coolly found tight end Cody Frericks behind the Loramie secondary.  Frericks hauled in the 57 yard pass, and outran everyone to the end zone.  7-0, Minster.
At 6:05 of the second quarter Niemeyer found Trent Roetgerman for a 41 yard strike to make the score 14-0.
Sensing blood in the water, they came right back to score again a 2:58 before the half on a Schmitmeyer run of 8 yards.  A missed extra point left the score at 20-0.
Loramie did respond on their last possession of the half, putting together scoring drive aided by a 50 yard halfback pass from Nick Brandewie to Carter Mescher, and then 4-yard pass from Collin Moore to Mason Kemper with 6 seconds on the clock to close the halftime deficit to 20-6.
But the killer came on the first possession of the third quarter.  Minster took the kickoff, had poor field position inside the twenty, and proceeded to rip off an 88 yard scoring drive with a lot of Jacob Niemeyer – a 50 yard run by the junior to flip the field position, and then a 2-yard pass to August Boehnlein to push the lead back to 27-7.
Loramie put together a drive of their own with four minutes left in the quarter, Carter Mescher capping it by outrunning the Minster secondary to the boundary for 24 yards and a touchdown to make the score 27-14.
A key defensive stop by Minster in the fourth probably spelled doom for Loramie.  With eight minutes left the 'Cats stopped them on downs at midfield, snuffing out the drive and a sense of momentum;  because, Minster came right back moments later with 4:06 on the clock to have Schmitmeyer cut through the defense untouched for his 31-yard scoring run, the last points of the game.
"Just too many big plays,"  said a disappointed Loramie coach, Spencer Wells.  "But I want to give them a lot of credit.  They (Minster) are a great football team and they were very well prepared.  But I want to give my kids credit, too.  They kept playing.  They could have quit but they didn't.  It's a long season and we'll go back to work and get better."
And that was about all he said – all he could say.  Minster WAS well prepared.  They played well, and to the untrained eye you would never have guessed that Huelsman, Schmiesing, and the offensive line had moved on.  It looked like business as usual.
"Yeah, but there's a lot to clean up," said Stokes afterwards.  "But we did make enough plays.  We were sloppy, and our execution wasn't very good, but we'll go back to work for next week.  I did love our competitiveness, though, because when we needed to compete we competed."
On the play of the Niemeyer and Schmitmeyer?
"Those guys have worked…they've worked,"  gushed Stokes (who values work above all else, evening winning).  "We were worried about their nerves, because tonight was their first time.  We've got a lot of things that need fixed, and we got to get better, but those guys (Niemeyer and Schmitmeyer) did enough.  They did enough.  What this team needs is knowing who's going to step up and fill the shoes of the guys from last year that we don't have anymore."
No one has bigger shoes to fill than Jacob Niemeyer, the third in the trilogy of Niemeyer brothers (Adam and Jon), who finished his night with 9 of 12 passing for 183 yards and three touchdowns.  He also ran ten times for 81 yards.  He more than did enough.

"We made a lot of mistakes, though,"  said Niemeyer afterwards.  "We gotta' lot of things to fix. (The apple doesn't fall far from the tree, does it?) The line gave me good protection and that's all I need."
Well, that and those 107 yards from Alex Schmitmeyer, and the two touchdowns.
"Yeah, Alex is a really good runner, and we knew that coming in.  But the line did a good job for us.  They're getting better every day and that's all we need."
A man of few words, perhaps, but a man that chunked out 264 yards total yards (passing and running) and accounted for three touchdowns.  That's all THEY need.
Minster finished with 382 total yards (199 on the ground and 183 passing), while Loramie finished with 310 yards, actually, on 118 rushing and 192 passing.
"Actually, the game was closer than the score might indicate,"  added Wells.  "The stalled drive hurt us, but we just need to get better."
Individually, Schmitmeyer led Minster on the ground with his 107 yards, while Nick Brandewie and Carter Mescher led Loramie in rushing with 51 and 49 yards, respectively.  In addition, Loramie's Collin Moore had a more-than-respectable night throwing the ball, completing 22 of 36 attempts for 157 yards and one touchdown.
So yeah, Minster beat the odds, but after five years of Geron Stokes the locals are becoming accustomed to retool, as opposed to rebuild.
And you can bet, too, that they will clean some things up before meeting Covington next week, another dangerous test that was shut out by St. Henry on Friday, 22-0.
Still, mistakes notwithstanding, they played like defending champions, and when you're wearing that crown you want to act like it fits.
And you want to beat Loramie, too!