People talk about which area football player will make the most difference to his team in 2018?  Quaterbacks, running backs, wide receivers, and linebackers?  But does anyone say 'place kicker'?  I do.
I first saw Coldwater's Blake Dippold warm up before the Marion Local game a couple of years ago.  Of course, it was largely ceremonial, because at the time Dippold was a freshman, senior Neal Muhlenkamp was the varsity kicker (and a good one), and there wasn't a chance in hell that Chip Otten was going to put the game in the hands of a freshman kicker.
And as it turned out he didn't have to.  If memory serves he put it in the hands of Muhlenkamp, who kicked something like a 40 yard field goal to beat Marion – not the first time that that's happened recently.
But back to Dippold.  This freshman didn't kick like most freshmen.  Soccer-style, yes, but when you closed your eyes and listened to the sound of his foot contacting the ball it made that familiar "whump" sound that good kickers can produce.
I immediately sought out Otten to get the scoop.
"Blake?"  said the Cavaliers' coach.  "He's just a freshman, but we think he's going to be pretty good.  He takes it pretty seriously,"  I remember Otten saying.
Well, fast-forward a year and Dippold's a sophomore, the kicking job is his, and you'd never have known that Neal Muhlenkamp had graduated and moved on.
Blake Dippold took to Friday night varsity pressure like a duck does to water.  You see, when you spend that much time mastering the technique, the only thing kickers worry about is the snap, the spot, and line protection – the fundamentals.  And Coldwater football is almost ALWAYS fundamentally sound.
"I like doing it,"  said Dippold last year, and he doesn't say a lot.  "I'd like to help the team any way I can, and I feel pretty good on anything out to forty yards."
And well, consider his numbers from 2017.  He was successful on 36 of 37 point after attempts, and 5 of 7 in field goals, his longest being 37 yards.  That's 51 points, and roughly just over 18% of the teams total points for the year (279)!  I'd say that's helping the team.
But more important, in just his junior year Dippold has gotten bigger, stronger, and more experienced.  In terms of area kickers it's hard to point to one that portends to be more of a weapon in a tight game.  And consider, again, that twice in the past four years Coldwater has beaten Marion Local…with a field goal.  Remember Kyle McKibben?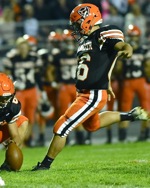 The verdict is still out on Coldwater for 2018.  Young, with athletes at the skill positions, they're not the Coldwater of past years in terms of size and depth.  And it is a concern that they'll have make significant replacements on both the offensive and defensive lines, and at quarterback.  They open with Kenton and Clinton-Massie, two tough out-of-conference opponents, but in terms of MAC play the field appears to be more wide open than in previous years…except for, of course, Marion Local.
Which all means that young or not, Coldwater is probably going to be in a lot of close games with a chance to win coming down to special teams…and Dippold.  Or, at least that's what football cliches' have said for about the last 75 years or so.
So, if you even pay attention to how games are won…you might remember the name Blake Dippold, from Coldwater.  Odds are he's going to get a chance to help his team any way he can, and now from probably well beyond 40 yards.
The smart money would have him be the Cavaliers' dark horse MVP…like every night.  But not a surprise for very long!