Days away from welcoming the 2019 team back to campus and Bill Davis Stadium, Ohio State coach Greg Beals talks about a summer of transition, new faces, and some adherence to a rival's model of success in 2018.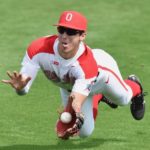 Columbus – Ohio State baseball coach Greg Beals enters his ninth season next week when he welcomes the 2019 Buckeyes back to campus and the friendly confines of one of the league's best facilities. They put a lot of effort and money into everything they do at Ohio State;  and Beals admitted this week to putting in the requisite time on his part over the summer to make the product fit that profile of success.
"Things are a little shut down around here right now,"  he smiled, nodding at the giant football facility that stands just beyond the center field wall at Bill Davis.  "It'll be good to get the kids back next week and go to work."
Symbolically, a trio of infield candidates were already there, taking ground balls for an hour under Beals' watchful eye – ranging left, then right, glove it and throw it with a stress on sure hands, clean transition, and accuracy.  The Buckeyes led the Big Ten in errors last season (94) and infield defense was at times…abysmal. Three players ranked in the top ten of league leaders for most miscues.  And nationally, the Buckeyes ranked 264 out of 297 teams in giving opposing teams extra chances – extra bases.
They finished the season with a more-than-respectable record, 36 wins and 24 losses, but a disastrous road trip on the last weekend of conference play cost them valuable league standing, dropping them from fourth place to seventh, and valuable seeding position in the Big Ten tournament.  Still, after dropping the opening game in Omaha, they battled back through the loser's bracket (wins over Iowa and Michigan) to eventually lose to champion Minnesota in their final game…and qualified at large for the NCAA regional in Greenville, North Carolina.
There were highlights, but there were issues.  The Buckeyes ranked near the top of the league for most of the year in team batting average (finished at .283), but inconsistent starting pitching (4.77 ERA) put too much stress on the bullpen, wearing down front-liners Kyle Michalik (33 appearances) and Seth Kinker (30) by the end of a disappointing two-and-out NCAA weekend in Greenville.  The Buckeyes lost heart-breakers, back-to-back, to South Carolina and UNC-Wilmington.
"You ever try to play baseball?"  Beals asked, tongue-in-cheek with a chuckle, when questioned about that which seemed to define his season (pitching and defense).  His meaning, of course…it's not as easy as it looks.
But recognizing that which needed retooling, he's spent the summer and off-season making what he calls some necessary adjustments to both staff and roster.  Infield coach and recruiting coordinator Chris Holick left in June, replaced by former Buckeye and major leaguer, Matt Angle.
"I felt like some change was needed, just a sense that I had."  says Beals.  "And I think that Chris felt a change would be good for him, as well."
And the Buckeyes aggressively recruited pitchers, bringing in no fewer than five impressive freshmen arms that Beals hopes will not only bolster things come next spring, but follow the model of success enjoyed by 2018 league champion Minnesota.
"They had all those young arms at Minnesota, and they all performed,"  he says.  "Hopefully we can catch some of that, too.  We really like what we're bringing in (Will Pfennig (Mason, Oh), Bayden Root (Kokomo, In), Garrett Burhenn (Indianapolis), Mitch Milheim (Olentangy Liberty) and Cole Niekamp (Versailles), and some of our returners like Thomas Waning and Andrew Magno had great summers.
Pitching, of course, accounts for about 80% of your success in baseball (get strike one on the hitter and that leads to an out about 80% of the time) and Beals also counts on impressive fall showings from returning lefthander Seth Lonsway (ineligible in 2018), Jake Vance (who had a formative summer), and Griffan Smith, who pitched well nearby for the Chillicothe Paints in the Prospect League.  And infielder Brady Cherry, who struggled again offensively last season, will get a chance to make a contribution from the mound in 2019.  Cherry has a powerful throwing arm!
" Waning and Magno pitched well over the summer,"  says Beals.  "They have great stuff.  And we need to get Lonsway (a 19th round draft pick of the Reds in the June 2017 draft) out of training mode and back into competitive mode."
The Celina lefthander throws hard – in the mid-90s range.
But mostly, Greg Beals talked about those things that have characterized his nine years on campus as head baseball coach – team character, the blueprint for success, brotherhood, and just being together.  He's anxious to get the pieces back and see where they fit for 2019.
"We need competition for the left field job,"  he says.  "We need to find a third baseman, and it could be a true freshman – to see who lands in center field (redshirt freshman Jake Ruby (Hartley) had a fine summer, along with Ridge Winand and Malik Jones).  And how we address first base.  I like Connor Pohl over there because of his size (6'5″) and his bat.  Our middle should be good with Kobie Foppe and Noah West.  And of course we have to to replace Jacob Barnwell behind home plate, but we have Dillon Dingler."
Offensively, he's confident in having enough support for all those young pitchers.  All three of last year's starters – Ryan Feltner, Connor Curlis, and Adam Niemeyer – are gone.  Dom Canzone hit above .300 for most of the Cape Cold League season.  Conner Pohl, after a slow start at Springfield in the Prospect League, finished the summer well above .300.  And Dingler, the sophomore from Massillon Jackson, scorched the Prospect League over its last thirty days, and is a prospect both behind home plate (he's a natural catcher) and in center field.
So while collective 'Buckeye Nation' awaits for matters to clear up across the center field fence (with football news), Beals and his Buckeyes will for the short term labor in anonymity, alone in their own improvement.  As the league adjusts for the coming year, so too, is their opportunity.  They've defined their needs – young pitching, better defense, and just enough offense.  It worked for Minnesota, but……..
You ever try to play baseball?