Read 'em and weep, or leap for joy. It depends on your perspective. But I know area fans love opinion on who to watch (and why) in high school football, and I won't disappoint. Here's my list of teams for 2018.
For ten years I've written this same column, on this same week, and on this same topic. It's about those high school football teams in the area that portend to be something to observe over the course of the next ten weeks, give or take.
The opinions expressed have not always been popular, or accurate, for that matter. I cannot control injury, and I cannot account for the psyches of 16 and 17-year-olds. After all, they say that sports and competition works in mysterious ways with the development of kids. But no two do it the same way, or at the same speed. I've been right, and I've been wrong.
But while the opinions have not always been popular, people read anyway, because while every sport has its following, it's football that captures the lion's share of the interest in Miami, Shelby, Mercer, Auglaize, Darke, and Allen counties. That's GWOC, CCC, and MAC country, if you happen to live in Cleveland, or Kirtland, or any place where there's a chance your local team might see a MAC team in this year's playoffs.
And readership last year on the MAC page alone amounted to more than two million hits, up 400,000 from the year previous. And what a surprise…a lot of those views came from northwest, and northeast Ohio!
So…we'll write this again, because it's as interesting to me as it is to you. Some will be familiar because one of the intriguing things about some teams, like Marion Local, is their consistency. EVERYONE wants to know how they've won so many titles – how they've won five out of the last six.
Others may surprise for a different reason. After all, intriguing doesn't always mean positive.
But in capsule form, every one of our seven teams for 2018 will give you reason to consider, and even go see for yourself. It'll make you talk around work tomorrow, and that's why writers write. And why people who love football…read!
1) The St. Henry Redskins…They've won six state titles in the football history of the school, but none since 2006, and I'd lay you odds that 80% cannot name the coach of that 2006 team. And no, it wasn't old 'what's his name'. Tim Boeckman now works for Press Pros.
But the Redskins are intriguing because of an upswell in young talent that I've watched for several years. In fact, I've taken some heat over that way for saying that while they've been good enough to win 60% of their games the last four years and make the playoffs in 2016, one of these days the 'Skins are really going to rise when that young talent comes of age.
That day is upon us. Brad Luthman has an impressive group of freshmen and sophomores – and a seasoned mix – who need little more than to play and mature under the lights of MAC football. And they will.
And lest you think this is just writer's hyperbole, ask around the MAC, and coaches who've seen them since the seventh grade. LOTS of people acknowledge that the Redskins are a program on the move.  Doesn't mean they'll win it this year.  Or, they may. Football does strange things. But somehow St. Henry, Ohio is a better place when you can rattle off names like Hoying, Homan, and Hartings. And what goes around always feels best…when it comes around again.
2) The Fort Loramie Redskins…Before I write about football I want to take a political swipe. It's always been funny to me that while the protesters demand that the Washington Redskins and the Cleveland Indians change their name and logos because they're offensive to native Americans, they totally ignore high schools.
And why? There's no money in it. Daniel Snyder (owner of the Washington Redskins) is a billionaire. And major league baseball ain't hurtin', either, so that's where you go to make your case for cash. But go to Fort Loramie and stage a protest and the best you're likely to get is a warm beer. 'Nuff said.
As to football, Loramie was once a basketball town. But in recent years (about twelve, in fact) football has become so popular that basketball and football now have matching expectations. How, you say? Well, they won eight regular season games last year and lost in the first round of the playoffs to Minster, the eventual state champ in their division, and all it did was get Whit Parks fired as coach.
But now first-year coach Spencer Wells is in, has reconfigured the offense, and the enthusiasm within his roster is so high you can feel it as you drive by practice on Dawson Road. They have quantity (in the 50s) and they have quality, many of the same athletes that made the regional round of last year's basketball tournament…and that won the state in baseball.
And by the way, Wells' football pedigree comes by way of Delphos St. John and Marion Local, so he's accustomed to the expectations.
3) The Miami East Vikings…It's not that East gets talked about in the same breath as a Marion Local. But rather, they get talked about because of the way they do what they do in relative anonymity.  The Vikings have talent. They have athletes. And, they have Max Current. And if there's a coach anywhere who's more popular for his personality and commitment to football I've yet to meet him – one more comfortable in his own skin!
They won nine of ten last year, upended Covington as champs of the Cross County Conference, then lost narrowly to Reading in the first round of the Division V playoffs. They lost some kids, sure enough, but they have a bunch of them back, too.
They've got size, some speed, some skill, and they've got Max, who's been there longer than the asphalt in the parking lot. I like them to win the league, make the post-season, and who knows.  They may not make the radar screen, but they're going to win a lot of games.
4) The Milton Union Bulldogs…Remember my words about why some schools are intriguing outside of their football record? Well, Milton Union is one of them, and here's why.
The Bulldogs only won four times in 2017 (4-6), and on some nights showed no indication at all of their legacy years under coaches like Watt Farrar, Mike Magoteaux…and Bret Pearce. But son of a gun!
After a six-year hiatus, Bret Pearce comes back in 2018 as head coach. He never left the school, you see, he just left the sideline to spend more time with his family. But Pearce, when he was there from 2000 to 2012, was one of the best in the Southwest Buckeye League, and his teams were pure hell to play on Friday nights.
He took them to the playoffs six times, won the school's first-ever playoff game, and was named SWBL Coach of The Year on four different occasions.
Tough and physical, they didn't always win, but you remembered playing them the next morning, and I doubt if anything changes now that Pearce is back. You have to have talent, for sure, and that comes and goes. But there's one thing that he has that's sure to attract another generation of winning athletes – his personality.
He's a leader, and he's the man in charge. Kids know exactly where they stand with Bret Pearce. And, he's one of the best amateur magicians (sleight of hand) in all of Ohio high school football. He can literally pull a quarter out of your ear…or a rabbit out of a hat. The question is, how many hats, and how many rabbits will he have this year at Milton.
One of my favorite coaches of all time.  Welcome back, Bret .
5) The Lehman Cavaliers…There was a time when players like Danny Jacob, Adam Hewitt, Kaleb Goins, and Justin Seger did the unimaginable against football teams they probably shouldn't have beaten.
There was a time when Bob Heil was coach when a date with Lehman meant a long night – because they hit, they fought, and they usually won.
But now, in 2018, Lehman and Coach Dick Roll enter the season with less than twenty five able bodies in uniform. Enrollment is down, football numbers have fallen accordingly, and there is great concern for the once-proud tradition of Lehman Catholic football.
How do you play, and win, with so few players? And in a day where there's as much concern over team safety as team record, how do you manage the risks of football with so few?
"I'm concerned," says Rolls, one of the truly good guys in area high school football. "But here's what I tell the kids. Last year Lima Perry had about the same number on their roster. They finished second in the league, and they made the playoffs. We've got some good kids, and I think we can win. We just can't afford any injuries."
They've never won an opening night game under Roll in his ten-plus years, and they'll open the season again this year with Fort Recovery…with less than half the kids on the opposing roster.  Intriguing!
6)  Covington…For some reason since Dave Miller and A.J. Ouellette left Covington the Buccaneers have kind of gotten lost in the shuffle of area small-school football.  Part of it is that age-old curse of winning all those regular season games and coming up empty in the post-season.  And, inevitably the culture has changed, as it has for a lot of other schools.  Football is commitment, and football is hard work.
Which is what makes Covington intriguing to me again in 2018.  Ty Cates, in his third season, has brought kids back into football at Covington.  I said…he's brought kids back into football.  And those kids are young.
Last year the Buccs dressed something like 50 and 30 of them were freshmen and sophomores.  They took some lumps, finishing 5-5, but legitimately, if you subtract three playoff caliber teams in the first three weeks they probably make the playoffs.  Fast forward a year.  They're still young, but no program within a hundred miles puts in more time in the weight room.  And all those 'rookie' mistakes and turnovers from a year ago are now nothing more than a stinging reminder of how they lost.  So if youth is served (the old adage about youngsters not being afraid to fail), early Covington opponents (St. Henry, Minster, and Loramie) might keep a wary eye for Cates and crew.  I'm talkin' dark horse here.  I think they still need to go back to the old classic uniforms of the early 2000's (by far the area's best), but I think black is back…in Covington!
7) The Coldwater Cavaliers…It's funny to me how a team that's won six state titles and four in a row can fall so far, so quickly, from people's appreciation. Especially, a team that a lot of people discounted last year and still won nine games and went to the playoffs.
The reason for this is that Coldwater had massive senior classes during their four-year run from 2012 through '17, graduating as many as twenty five a year.
And, they had talent – Austin Bruns and Brody Hoying at quarterback, they had Schoenherrs and Posts and Wennings, and interchangeable parts at every other position on the field.
More, they believed they were going to win every night they took the field, even against favored competition. They made it a habit of being the one loss on Marion Local's schedule while the Flyers were winning their four titles in a row.
Now again, in 2018, they're a bit smaller, and a bit thinner in depth in vital areas of Coldwater football. Class sizes are down for the past couple of years, and the feeder program has taken a step back.
But still, rival coaches point to Chip Otten and his staff and caution, "Don't take them for granted."
And most will share that there's still talent out there…just not two and three at one position like there was three years ago.
They open with Kenton, and then on week two host Clinton-Massie (a state finalist last year) before entering league play. And by the time they play Marion Local in the big game on week 10, we're going to know…just how intriguing Coldwater may or may not be.
8) The Marion Local Flyers…Finally, the elephant in the room. Tim Goodwin has won ten titles in his twenty years of coaching the Flyers, including four of the last five in Division VI and VII. And if they win this year they'll tie the OHSAA record for all-time title wins…11. And the team they share that with is about as different as you can be…Division I Cleveland St. Ignatius.
An acquaintance who writes prep sports in Cleveland told me over the summer that if Marion wins to tie the record it's not the same. "Ignatius won against Youngstown Boardman and Canton McKinley," he said. "You can't compare that to beating Cuyahoga Heights."
But no one asked you to, and relative to sports at an level or division there's nothing tougher than to maintain the level of consistency that either Marion or Ignatius demonstrated during their run of dominance.
"I'd be more impressed if they played up three or four divisions, some of the bigger schools in Dayton," he said.
They probably would if they could. But Division III Chaminade dropped Marion after back-to-back thumpings on opening night the past two seasons.
And closer to home, none of the Division II and III teams at Sidney, Piqua, and Troy want anything to do with playing the Flyers. "Nothing to gain if we win, and too much to lose if we don't," is the answer when asked.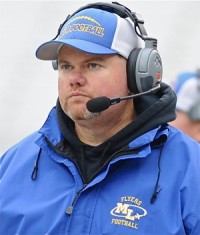 Once again, Marion is loaded offensively. The question is, as in all the other championship years, how quickly can they come of age on their interior lines and on defense? Those were Tim Goodwin's exact words a year ago, that's his story now, and he's sticking with it.
If you haven't seen them…take a Friday and see for yourself. They're fun to watch – a 6'6" quarterback who can thread a needle at fifty yards, receivers who can go get it, and a power running game that seems endless for the number of backs available.
So that's it, our eight teams of intrigue and you'll let us know, someplace and sometime…if we're right or wrong!