Nine months after the state awarded half of Ohio's titles to area volleyball programs at Versailles and New Bremen, the question remains if at least half of this year's titles are not destined the same.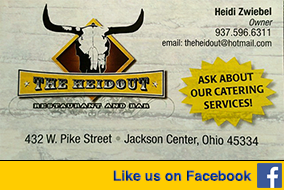 It opnes next week – the 2018 volleyball season for area schools, New Bremen, Versailles, Russia, Fort Loramie, Coldwater, Lehman, St. Henry, et.al.
Those seven portend to compete for another state title or two, come November, reprising what New Bremen (Division IV) and Versailles (Division III) did to win state honors last year.
It's not easy, of course, to repeat in anything. Kenzie Bruggeman (Versailles) and Diana Kramer (New Bremen) know. But still, they're paid to try as heads of their respective programs.
And in 2018, after Versailles and New Bremen literally swept their way to last year's titles in III and IV, much of the state's focus is again on west-central Ohio programs like those mentioned in this column's open. It doesn't mean that teams from other parts of the state won't compete, or aren't good. But in truth, last year's example of superiority opened eyes, as both New Bremen and Versailles put teams aside that many believed would present more of a challenge…and simply couldn't.
In Division III Versailles easily swept by #2 ranked Tuscarawas Valley (28-1) in four games to quality for the final.  Some of the Tuscarawas kids later admitted to nerves, knowing the title legacy of both Versailles, and the MAC Conference.
And in Division IV, New Bremen crushed Buckeye Central, from New Washington, (26-2), in a match where outside hitter Paige Jones scored a tournament record 47 kills.
Of course, Versailles went on to beat another MAC team,  Coldwater, in the Division III finals; and New Bremen beat St. Thomas Aquinas in scrimmage fashion (25-9, 25-18, and 25-4) to gain the Division IV trophy, the school's first team title in history.
"We see good teams in Stark County," said St. Thomas Aquinas coach Alyssa Thewes. "But they (New Bremen) were just an awesome team."
So…where do we go from here, a week prior to the 2018 opener, and speculation state-wide as to who comes from the MAC, or the Shelby County League, or somewhere south of route 47 to the Ohio River to reprise last year's dominance in one of those two divisions?
"The work ethic among these kids is just off the chart," said an observer from one Division I college at last year's tournament finals. "It's obvious these kids take it very seriously and enjoy testing themselves by playing the best competition available."
And Tuesday, those who took the time got a glimpse at New Bremen high school as six teams of promise – New Bremen, Russia, Celina, Ottoville, Ada, and McComb – assembled for a final scrimmage tuneup before next week's opening games.

"I thought it was a good look for all of us from some very good volleyball programs," said Division IV champion coach, Diana Kramer (New Bremen). "I won't say it was our best scrimmage, but all of these teams had success last year and lost their most important player (to graduation). Ottoville lost their two big guns, and Ada lost their hitter that's not playing Division I college volleyball, and of course, we lost Paige Jones. We all had that in common. And despite that, tonight we (New Bremen) played really, really well.
Which is heartening, despite the graduation losses, because New Bremen is one of three MAC teams (with Versailles and Coldwater) ranked in the pre-season top 25 in all divisions.
"The talent in the MAC is just unbelievable," added Kramer. "And outside those rankings, I would consider Fort Recovery and St. Henry the favorites to win the league. Hopefully we'll be in that mix, but again the MAC is so good from top to bottom that last year Parkway and Delphos St. John finished last in the league, but were undefeated in non-league play. So they finished with nine losses, but all nine losses were to teams in our league."
If you're not in the habit of watching it, this might be the year you want to get out and see what Kramer describes as a sport bigger than just the fact of stepping out and playing on the court.
"Absolutely," she says. "I mean, these girls are role models for every other little girl in their town. Whatever MAC team, hopefully, makes it to the state this year, all those girls are going to look up to those players. They've going to want to be like them.
"And on the flip side, every MAC girl that's every played is going to go back and look at those films, and relive those good times. Because competition like that, and the experience, is something you'll never forget in your life."
Bigger…than the game itself!