At 6'6" he's not only the biggest quarterback in the MAC, but nearly every school in southwest Ohio. A state title winner last season for Marion Local in his first varsity football season, the irony is…Nate Bruns just got a full ride to play college BASKETBALL!
You hear it all the time – coaches that talk about a players in terms of their all-around athletic attributes.
"Doesn't matter what sport it is," they say. "So-and-so would be good in whatever he played."
In some cases it's true. But in many others…pure lip service!
Only in the rarest of cases – Aaron Craft (Liberty Benton, and later Ohio State) or Andre Gordon (Sidney, and now Huntington Prep) – do those athletes actually become manifest, standouts in two sports like football and basketball.
But at Marion Local High School in 2017 junior Nathan Bruns made believers, and in a hurry, of the fifteen different teams that fell to the Flyers on their way to a perfect season and their fifth state football title in the past six years.
Nor did it take long to make a believer out of the Kirtland Hornets and coach Tiger LaVerde in the Division VI championship game. Bruns was 10 of 15 passing in that contest, threw for two touchdowns, and 178 total yards on the way to a 34-11 win.
"You've got to give them credit," said LaVerde afterwards. "They won the game in all three phases, offense, defense, and special teams. But their quarterback, and his ability to make plays and throw the ball down the field…he was pretty special."
And again in 2018, Bruns figures to be the proverbial 'elephant in the room' for every team that prepares to play the defending champs. Bigger now, more mature, and experienced by having won the state titles last year in both football and basketball, his confidence has never been higher – nor is there another quarterback in the state that can likely challenge in that category.
Four months after winning the football title last December, Bruns led the Flyers to the surprise win over Cornerstone Christian in the Division IV basketball final, scoring 18 points and grabbing 14 rebounds in their 52-51 double-overtime victory. And people will remember for years that it was Bruns' clutch three-pointer at the end of regulation that gave 'em a chance to even play the overtime period!
"People don't expect that from us because of our success in football," says Bruns. "But we work all summer on basketball. We even shoot during football. No one recognizes us for basketball, but we can compete in that, too."
But back to football and the present, as the state anxiously awaits to see if the Flyers can again ring the bell in Canton come December. If they do they make, or tie, history. It would match the mark for all-time state title wins, currently held by Division I Cleveland St. Ignatius.
So on a hot, steamy August afternoon last week, Bruns led the Marion Flyers offense in a series of two-a-day drills to ready for their football opener in less than three weeks. At 6'6" and 210 pounds, he was easily the most commanding figure on the field.
And if matters of size didn't catch your attention, his ability to easily throw the football to all points of the field, and on target, did. Having committed over the summer months to play college basketball next year for Division II Findlay College, the irony of his football ability is more than compelling.
"He could play at the next level," says Flyer coach Tim Goodwin. "There's no question that he could play quarterback at the Division I level of college football. But, he likes basketball, and it's a good situation for Nate because he has the choice. But make no mistake, if he dedicated himself to football he could be a college quarterback."
He's easy, and comfortable to talk about his decision. He likes football, yes, but he 'loves' to play basketball and is eager to follow in his older brother Ryan's footsteps, a Division III standout now at Ohio Northern University, entering his senior season.
Bruns averaged about 18 points per game for the state champion basketball Flyers last season, and more than once carried the team with his ability to score from all points of the court, handle the ball, and rebound.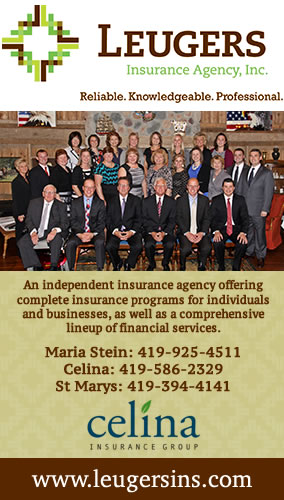 But for the present he's content to dedicate himself to helping the Marion Local football team towards historic milestones. The competitive challenge seems to come easy to him.
"You know, you don't see many guys like that (from Marion) up where we play," said Cornerstone Christian coach Dan Selle, speaking of the Flyers' two scoring leaders from that March title game. "There aren't many guys in our area like #32 (Tyler Mesher) that are 6'1" that play like he does inside. And #5 (Bruns), you have to want to the ball and the moment to do what he did (in making the three-pointer that sent the D IV title game to overtime). He's tough, he competes, and he relentless. Guys like that eat meat for breakfast."
Which bodes well for Tim Goodwin in building around Bruns and a run at football history this fall.
"We know it's going to hard, but it's one of our goals," says Bruns. "We definitely want to play for that record this year.
"But growing up basketball was the sport that I dreamed about playing. Not that I don't love football, but basketball has just been my life. I've watched my brother play all these years and I think that's influenced me, too.  There's no question that he's had an influence on me. Doing what I was able to do in the state championship game was a dream come true. Biggest goose bumps I've ever had."
How unique is his talent, and his choices?
"Well, you don't see many quarterbacks with his size," says Goodwin. "And you don't see many high school quarterbacks who throw as easily downfield as he does."
And, you don't see many quarterbacks with a scholarship in their pocket already to play a different sport in college – except, perhaps, Aaron Craft.
"It's kinda' crazy," says Bruns. "To be able to win it all in every sport you play. Not many get that chance to do what I'm doing and I'm blessed to get to do it. Coach Goodwin has talked to me and just said to leave my options open. You never know what's going to happen. And that's what I've done."
Good news, bad news, for Flyer opponents in 2018. Come two weeks there are sure to be those who wish he was shooting jumpers in the parking lot. And come January, there will be just as many who wish he was already in college, playing football, throwing the post pattern.
"But right now it's important to me to be with my classmates, competing, and having fun," he says.
That's pachyderm talk, of course…for a long year of dealing with the elephant!