With a year's experience under their youthful belts, Ty Cates' Covington Buccs are poised to improve on 5-5 and return to form in Division VII football. To do that…they have to survive the first three weeks!
Covington – It's always been a caveat for sports teams of expectation – the age-old statement that "we could be pretty good if we can get off to a good start."
Never in the recent history of area football has that been more fitting than with coach Ty Cates and the 2018 Covington Buccs. With increased numbers, and valuable experience for last year's youthful roster, Cates and the Buccaneers (5-5 in 2017) face St. Henry (MAC) in week 1, Minster (MAC) week 2, and Fort Loramie (Cross County Conference) in week 3.
St. Henry finished 6-4 last year after a fast 5-1 start.  But, the Redskins have one of the best cores of upcoming young talent of any area school in Division VI and VII.  The "cycle" for size and athleticism, as many like to call it, has seemingly turned again in the direction of the six-time state champions.
Minster had a pretty good year in 2017.  The Wildcats finished 11-4, and overcame a four-game mid-season skid to win their second state title in four years, clubbing favored Cuyahoga Heights in the final.  They do, however, have to replace the MAC's best player in 2017 (Jared Huelsman), and break in a young offensive line.
And a hungry Fort Loramie group finished 8-3, made the Division VII playoffs, and lost to Minster in the first round. And under first-year coach Spencer Wells, they return both quantity, and quality on both sides of the ball.
Combined, St. Henry, Minster and Loramie went 25-11 last year. Covington missed the playoffs for the first time in what seems like forever and coincidentally…lost to St. Henry, Minster and Fort Loramie in weeks one, two, and three.  This year they just flip locations for those same three games.
For Covington, success in football is as important to the school year as having the oil changed in the buses. Everything just goes better on Chestnut Street when the Buccs are winning; and they've won plenty since the 2000 season – nearly 80% of their regular season games.
But in 2018, if they plan to atone for last year's .500 hiccup…those first three weeks are of paramount importance.
Want proof?
Subtract those three losses from last year's record and Cates and company make the playoffs. Even if they win just one they're 6-4. Win two and they're 7-3 and a more confident opponent entering league play, where they ultimately lost to both Miami East and Bethel in the Cross County Conference.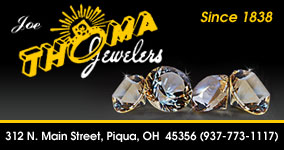 "I won't make excuses," said Covington's youthful coach this week. "But we played with a very young team last year. You look out there at times and you could find six sophomores; and we made some young mistakes as a result.
"We had some very poorly-timed turnovers. We get down to Loramie and make a good comeback and then give the football away with a chance to win. But we're a year older now, we have good kids, and no one works harder than they do. They're excited to come back this year and improve."
The early schedule is going to determine how far they've come, and how improved.  After a home opener with St. Henry, Covington travels to Minster and Fort Loramie on back-to-back weeks, then pick up Tri-County North and Arcanum.
But then, on back-to-back weeks they get Miami East, the presumptive favorite to win the Cross County Conference title this fall…and Bethel, whose option offense is never an easy night for anyone.
And for the second time in as many years, Covington is again the second choice with most to compete for the conference crown.
"That's fine," says Cates. "We're fine with being the underdog, and we'll use it for motivation."
They, Cates and Covington, like the challenge, as well as the direction of the program. Covington's roster is booming with bodies in uniform, somewhere in the mid-50s – as high as its been in years.
And it's been a good year for Cates off the field, as he was inducted over the winter into the Arcanum High School hall of fame, where he played for Jason Schondelmyer during his first tenure as the Trojans' coach.
"I was very fortunate to have the opportunity to play for Coach Schondelmyer, to have the positive experience of his influence on my life," says Cates.
"But I'm also blessed to be here," he says of Covington. "We've got some great kids, some great senior leadership, and I'm blessed to be in a system where football is as popular as it is here. I know there are some where the numbers are down for one reason or another, but not here. Our kids want to play football."
And so they will…and with positive precedent from the past when they're rebounded from other disappointing seasons.
In 2004 Covington finished 5-5 under Kevin Finfrock, only to come back the following year, make the postseason, and go 9-2.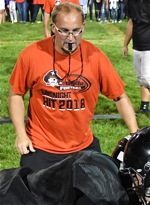 And after a 6-5 mark in 2014 under then coach Dave Miller, the Buccs came right back in 2015 to finish 8-2 in the regular season and play in week 11.
But, if they're to do that in 2018 the first three weeks of the season mean as much to Covington as any team in the area. They need a win during that stretch of games – the age-old statement. If they get it, another blessing for Ty Cates.
Youthful mistakes to youthful confidence!
Blessings come in all kinds of ways.