As the story of who knew what, when, and what did they do about it rolls on, doesn't it make you wonder if anyone, anywhere, is content to report the truth…when it's confirmed that it is the truth?
You cannot do this job without reading, and absorbing the opinion and words of other minds and other perspectives.
Hence, I often read Cincinnati Enquirer columnist Paul Daugherty, one of the country's best, who last week wrote one of the more enlightening columns about the requisite tools for reporting sports.
In assessing the ongoing investigation of Ohio State football coach Urban Meyer, of who knew what, and when, and what they did about it…Daugherty wrote, "If you're pondering a career in sports journalism you need more than a college degree and two working fingers for typing. You also need a good BS detector and a complete distrust of anyone in authority. Then you, too, can write about college sports."
Sage advice, Paul Daugherty, because you have to really want to believe sometimes, when your instincts are telling you, "there ain't no way."
The Meyer story is the perfect case in point, and follows the age-old script of Jim Tressel, Rick Pitino, and others who have been caught in the crossfire of journalism, or rather…the art of reporting the story. None of us can seem to agree on whether the two are one and the same.
For instance, at the Big Ten Media Day Urban Meyer was obviously ad-libbing when he spoke, saying, "I don't know who creates a story like that," referring to whether he knew about the allegations of Zach Smith beating his wife. Reporters took it and ran with it.
A couple of days later Meyer issued a statement of apology, saying, his statements at that Big Ten Media Day were not "completely accurate." Reporters took that, too, and ran with it.
In the meantime this week, it was reported that former Ohio State assistant, and current Texas coach, Tom Herman, leaked the original story to reporter Brett McMurphy, whose journalistic opportunism now has all of us sitting through the ongoing investigation, wondering if Donald Trump isn't telling the truth when he claims, repeatedly, "Fake news".
Because, on Saturday Herman came out through a spokesman and said, emphatically, "It is absolutely untrue. Neither I, nor anybody in my family, has ever communicated with Brett McMurphy about the situation at Ohio State."
Then, McMurphy himself rallied to Herman's defense in a separate tweet, saying, "I have never revealed my sources in my nearly four decade journalistic career and I am not going to start now. However, I will say unequivocally that Tom Herman was not my source."
Well that clears things up.
Meanwhile, Zach Smith's mother is telling her story. Courtney Smith is telling her story, saying that Tom Herman's wife helped her pay legal bills last March (in a tweet Herman admits to that), while Buckeye Nation holds its breath and crosses its collective legs. With so much being reported, you dare not even go to the bathroom.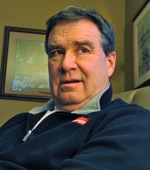 So, which is it?
Somewhere between reporting of what Urban did, or didn't know; and somewhere between Ohio State reporter Jeff Snook claiming that Herman was the tipster that led to McMurphy's story; and somewhere between Herman's and McMurphy's denials are you inclined, as I am, to believe that somewhere in there…there just has to be some fake news?
Which perhaps only partially validates what the POTUS has claimed all along.
But more accurately, it wholly validates what George Costanza (Seinfeld reference) always claimed. It's not a lie…as along as someone believes it.