I've been wettin' a line for a long time, and in a lot of ponds, lakes, and streams.  And for my money you can't beat the experience (the pictures don't lie) I've had in a bass fishing place you've never heard of.
(Ed. Note:  If there's one thing that former University of Dayton baseball coach likes as much as a two-out single with the bases full…it's time spent in the outdoors.  Today, he shares with Press Pros one of his favorite destinations for summer fishing, and how you can do it too.  Tony's stories are a regular new feature on Press Pros, sponsored by Olde English Outfitters, in Tipp City, Ohio.)
By Tony Vittorio for Press Pros
Late summer in 1990, at the ripe age of 23 years old, I was hired as the head baseball coach at Lincoln Trail College.
Where? Lincoln Trail College, in Robinson, Illinois.
Robinson is a farming community with a population of about 5,000 people. Known to be the home of the Heath Candy Bar, a Marathon Oil Refinery, and a minimum security Illinois state prison, Robinson also is the home of Quail Creek Country Club (QCCC).
Lincoln Trail College is a small community college that sits on the outskirts of Robinson with an enrollment of 400 students on a good year. The athletic teams compete in the National Junior College Athletic Association (NJCAA). This meant that we only had our players for a two year span, and I thank P.D. Highsmith, Director of Athletics at that time, for taking a chance on a young coach to lead the Statesmen baseball program.  After taking over a program that only won two out of 40 games the year before I arrived, we were fortunate to win 145 games over the next four years.  But I digress.
There were basically only four things to do in Robinson: coach baseball, golf at QCCC, fish, and hunt. The only thing that I had experience at was fishing, thanks to my dad who took me fishing all the time during my adolescence years. So, I coached baseball, joined QCCC to golf, fished often, and began to learn how to hunt.
QCCC is 1.4 miles northeast of the center of Robinson, and in 1968, the Professional Golf Association (PGA) placed Richard J. Heath's (founder of the Heath Candy Bar) Robinson Golf Open Tournament on the official PGA Tour with prize money of $25,000 – not $25,000,000, but $25,000.   For the next five years the tournament hosted most of the major professional golfers in North America including the likes of Lee Trevino, Deane Beman, and Bob Goalby, and annually, thousands of golf fans found their way to this small town and attended this event as it culminated in 1973 when the prize money rose to $125,000.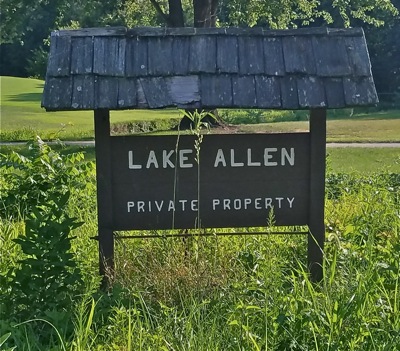 In 1966, Heath raised private funds to build Old Lake Village Resort, with sixteen housing units. These housing units were then, and are now, occupied by people who want to enjoy QCCC for overnite stay.  The back nine of QCCC, you see, sits on 96 acres with Lake Allen taking up sixteen acres of the land. Being a member of QCCC and after purchasing my first boat, I started fishing Lake Allen several years ago;  and I have been fishing it ever since, at least four times a year for the past twenty eight years.
If you love to largemouth bass fish, please listen to me. Call QCCC and make your reservations for a long weekend of bass fishing. You're not going to find any lake like it in the Midwest.
The entire length of the lake's dam has unbelievable structure and vegetation, and many years ago, several Christmas trees were dropped off at specific points into the lake. Just like any Midwest lake, Lake Allen is really good in the fall and spring months but, unlike most, Lake Allen will yield some size in your boat in the hot summer months, too.  I regularly catch two to five pound fish, and I've hooked several bass out of Lake Allen worthy of hanging on my wall, the largest bass weighing in at 7.5 pounds.
Pound for pound, inch by inch, I am convinced that Allen Lake is the largemouth bass capital of the Midwest. If you stay at the QCCC lodge you can fish it, and I'd mae a reservation now for October. Heck, you might as well bring your golf clubs as well and get a round of golf in while you're there.
And let me know if you're going, because I'd love to join you.
How about this catch on August 4, 2018 at Lake Allen (above)?  The pictures don't lie.
Until next time……..
Tony
Our comprehensive selection includes over 1500 guns, a full line archery "Pro Shop", shooting & hunting clothing, boots, ammunition, reloading equipment, gun cases, holsters and a multitude of other shooting & hunting accessories.
Olde English Outfitters meets the needs of serious sportsmen and casual enthusiast alike. This is truly a store for all your shooting and hunting needs.
Open this year's hunting season with a trip to Olde English, proud to sponsor stories of the outdoors….on Press Pros Magazine!