Their Friday night scrimmage with Celina left a lot to be desired, but Bill Nees expects a lot of improvement between now and next Friday's scrimmage with Springboro, and then Chaminade on opening night.
Piqua – In a few words, Piqua's Friday night scrimmage with a somewhat pedestrian Celina team left most of the two hundred that saw it wanting more.  They're young, yes, but still it was a far cry, even in a first scrimmage, from what most in 'Indian Nation' expect from a Piqua football team.
It was sluggish.
They lacked that swagger, maybe a little of just plain 'mean', of Piqua teams past.
Probably because of a bit of one, or the other, or both, they struggled to tackle a Celina team that while going 7-3 last year, in no way resembled the New York football Giants.  It is, after all, early for everyone!
And to complete the hand, untimely and silly penalties stymied drives and scoring opportunities – one, a 70-yard sprint by running back Jerell Lewis, the offensive highlight of the Indians' night.  Lewis also scored their only touchdown, a five-yard run over left tackle in the second quarter in what turned out to be a 21-7 deficit.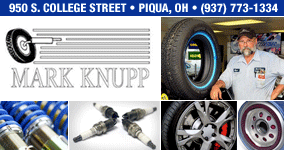 But Bill Nees, who should someday have a Lombardi-like statue outside the gates of Alexander Stadium (he deserves it), took it all in and in customary fashion, put some positive spin on the game shortened by lightning after three quarters.
"It was a struggle, but Celina's been a playoff team in the past couple of years,"  said Nees.  "And we haven't been a playoff team for the last two years.  The point is, we wanted to get them in here, we want to get Springboro in here next week, and then we open with C-J.  And over the next three weeks…we're going to have to get better.  And you only get better by bringing in quality opponents."
Uh, yeah, and maybe get out the films of the 2006 team.  Every team could use a Disney moment.
It is a Piqua team that went 6-4 in 2017, and over the past three seasons (including one playoff appearance against Tipp City) has managed a composite record of 19-14.  The big guns from those teams, Ben Schmiesing, Austin Davis, Hayden Schrubb, and Derek Hite, are gone now, along with twenty eight other seniors listed on last year's roster.  Subtract that many play makers over the period of a year, and you get an opening impression that looked a lot like Piqua on Friday.
"Offensively, they're unique,"  Nees said of the Bulldogs from Mercer County.  "And defensively they pressured us.  Offensively we made some mistakes that hurt us, but defensively we just didn't wrap (tackle) very well with what they were doing."
"We had two big gains that we lost due to penalties, and that costs you momentum,"  added Nees.  "And when you get a big play that comes back that really works against you.  And, we've got to get better with our tackling from our second level (linebackers).  They have to make more tackles than what they made tonight – too many missed tackles from the middle layer of our defense.  But for being young, I thought our secondary played well."
It's not an easy thing to do.  Perhaps in all of sports there's not one thing tougher than preparing a high school football team for its opening game in just three short weeks of practice and a pair of dress rehearsal games.
Still, Bill Nees has done this twenty five times before;  he's developed a thick skin and requisite patience for the process, and swore by the time he talked afterwards that the biggest degree of improvement would come between Celina and next week's scrimmage contest against Springboro.
"Some of the mistakes tonight were unnecessary, when you reach out and grab someone and get called for holding,"  he added.  "And some of them you have go live with.  It's tough, but again, this will help us more tonight than practicing for two more weeks by ourselves.  You get a different group coming in with a different style, and that's what we need to do…we need to find our style.  Once we do that I think we'll be OK on both sides of the ball."
"They say between the first and second games is the biggest improvement, but any more I think it's true between every week,"  he concluded.  "And if it's not – if you're not getting better,  you'd better be beating people by eighty points.  I expect us to be better next week.  We'll come in tomorrow for a 7:30 practice and we'll get it straight."
And symbolically…there was a bolt of lightning at the end that sent both teams home early, perhaps a harbinger of things to come against Springboro.  Maybe, and maybe not.  Nees would be just as happy to see … "better".