We may never know the facts of who knew what, and when, in the Ohio State coaching and abuse scandal. But whatever comes, it's doubtful there's going to be a clear-cut winner in the end.

Ohio State University, Urban Meyer, Gene Smith, and Michael Drake (remember him?) are in a pickle.
Five days after Meyer was put on administrative leave for whatever he knew, or didn't know, about former assistant Zach Smith beating up his wife, those four entities mentioned are literally swimming in public brine.
Why?
Well, because six of ten that you might ask are saying that there's no way that Urban Meyer SHOULD be expected to know everything about the 150-plus people that make up the Ohio State football program.   How can one man be expected to police that many people when they're out of his sight?  How can one man know for sure about the facts reported  about the alleged incident?  And, isn't it worse to over-react in a case like this, than to not act at all?  Isn't it better to give time a chance…to see if it's not something that the Smiths can work out on their own?  Someone posted on Facebook…they hire him to coach football, not baby-sit.
The emotional sides for above are pretty transparent.  Ohio State is again a top five program nationally, it's four weeks before opening day, and heck no…we don't want anything to derail the prospects for another run at the national title.  Football must be protected at all costs.
On the other hand, culture cries out…how could Meyer NOT know?  If his wife told him about an assistant coach abusing his wife and he did nothing, he's compelled by his character (and contract) to address the issue and take appropriate action.  Human dignity, in today's culture, must be protected over football.  And if it isn't this is where the University will take a beating nationally, in the manner of Penn State and Michigan State, if they turn their head…if they don't address Urban Meyer.  After all, if he's found innocent he's only going to coach a few more years, anyway.  But the reputation of the school will go on forever.
And worse, perhaps, in his attempt Friday to be more clear, and truthful, he really wasn't, leaving more questions than answers again, which doesn't paint Meyer in a particularly good light.
Gene Smith's part in this is…it happened on his watch as athletic director.  Urban Meyer works for him, so if Meyer knew and didn't act it reflects badly on Smith the same way that Zach Smith reflects poorly on Meyer.  And when you're the athletic director at a place like Ohio State the modern phenomena of being guilty until proven innocent is never more than one incident away.  Gene Smith may survive, but he could also become a public pariah.  If football is found innocent, the questions of priority will rage and cast a shadow on his name and legacy.  If football is found guilty, Smith is the man who had to fire the messiah, Meyer.  And consider the impact on future support from alumni, boosters, and season ticket sales.  Ohio State football is the biggest industry on campus.
And by the way, Michael Drake's part in this must be considered, as well.  Who is Michael Drake?  Well, he's the president of the University, so Drake is going to be a centerpiece in the discussion and outcome, whatever happens.  And is there any precedent as to his past actions taken in defense of either University or social consciousness?
Drake, you might remember, is the man who oversaw the exit of Ohio State band director Jon Waters in the summer of 2014 because…it was alleged that the marching band was a highly sexualized culture that promoted sexual harassment. Waters was fired on the basis that he "knew or should have known" about the alleged problems within the band but failed to address them.
There was some stink from alumni and band supporters, yes, who said Waters could not possibly know, or be responsible for, every incident of adolescent stupidity.  There were those who carried placards that read, "I Stand With Jon Waters", yes.   But they didn't stand that long, or that close, because come football season they were standing in a different line…the one to buy tickets to watch the Buckeyes.
So, what happens?  Your guess is as good as mine.
The conventional money says that Meyer will dangle in the wind of cultural opinion the longer this plays out.  How could he not know if Smith's wife told Meyer's wife, and how could she have kept that from Meyer?  And if he knew, and didn't react, how can he be allowed to stay?
The smart money says that since Wednesday Meyer, Gene Smith, the Ohio State trustees, and Drake have been huddled up in a bunker deep beneath the stadium…trying to figure out the best defense and exit strategy, or what punishment fits what crime.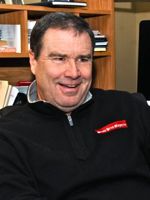 If the decision falls around the former, the direction and image of football could be damaged for an unknown period of time – Michigan might actually win a game if Meyer isn't there calling the shots.
If the decision falls around the latter, hell itself won't have the outcry of feminists, moms, and society, who'll have the perfect leverage to press the argument…that football at Ohio State is more important than human dignity and life itself.
Who wins?  I won't begin to guess, but I'm thinking…no one.
Or, somewhere at Heidelberg College Jon Waters doesn't feel so alone.  Not anymore!