Author Roger Kahn once wrote about the "Boys of Summer", grown men who played a kids' game for the Brooklyn Dodgers.  But locally, the men who play now play baseball in the shadow of a grain elevator in New Carlisle, are one and the same.
It is a stark reminder of the saying, you're never old as along as you can do what you dream – grown men playing baseball on weekday evenings, and weekend mornings, at the diamond on state route 571, just outside of New Carlisle, Ohio.
You've seen it, probably, tucked beside the big grain elevator that graces the skyline of that tiny community.  Perhaps at one time you even played on it.  Back in the day it's where the local Tecumseh Arrows played their home games under then coach Bob Davis.
It's where as a sophomore pitcher for Jim Hardman and the Piqua Indians I once pitched…and surrendered a home run to Woody Davis (the coach's son) that landed in the big Sycamore tree that still stands just beyond the center field fence.  I'll never forget it because when Hardman came out to remove me from the game he said, "Take a good look at the circle we're standing on.  It's might be a while before you see it again."
Now that same diamond is beautifully maintained by a group of men, and hardly boys, who meet weekly to renew their own passions and memories of baseball – tradesmen, physicians, workers from all fields, and even baseball coaches.  Three of which, in fact, have led teams to OHSAA state tournament titles – Ft. Loramie's Jeff Sanders and Bill Sturwold, and Chaminade-Julienne's Mike Barhorst.
They do it, these men of baseball, because they can't help themselves.  Who can, once you've grown up with the sound of ball popping against a comfortable Wilson, or Rawlings…or with the echoing sound of baseball against the grain of a wooden bat?
And they gathered Sunday morning, while others were at church, to pay tribute to a different kind of worship – for the hold that the game of baseball has on those who love it and pay the price of time and years in order to cling to the chance for one more pitch.  One more at bat!
They play for the Dayton Wolves, a group that requires $200 a man to organize and play throughout the summer. "Just plain fun," said one on a sweltering Sunday morning in New Carlisle. "What could be better than this?"
"Therapy," claimed another. "What could be better for you than this?"
You can cut the irony with a knife. The old ballpark in New Carlisle, once the home of area high school teams, now hosts only those adults who gather to play and caress their memories of days gone by.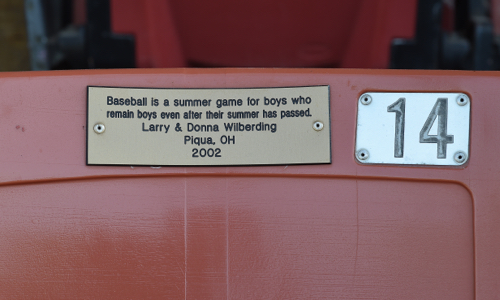 The field, itself, is immaculate, better than 95% of the high school fields in the state of Ohio. One lone maintenance man devotes his time during the week to keep it that way – grass cut to perfection, infield as good as any major league park, and 36 box seats behind home plate that came from Riverfront Stadium when the Reds moved to Great American Ballpark. It means that much to those who gather weekly to play.
"It's something you look forward to," says Chaminade state champion coach Mike Barhorst, who comes from Fort Loramie roots. "You coach all spring, trying to teach others, and now I get an opportunity to come out here and practice what I preach. You get to swing the bat a little bit and you get to love the game, because you want to play for as long as you can. That's what it means to all of us."
They play for fun, sure enough, but they still play hard. Some young, and some not so young, current Fort Loramie coach Jeff Sanders pitched for the Wolves on Sunday (a former college pitcher at UD) and after warming to the task he ran his fastball up to the plate in the range of 80 miles per hour.
Others are a step slower, but 62-year-old orthopedic surgeon, John Urse, from the Orthopedic Associates from Dayton, opened eyes when he lined a fastball up in his eyes to right field in the third inning to drive in a pair of runs. It was no fluke.
"He did that in the Roy Hobbs tournament last year in Florida," said Fort Loramie's Bill Sturwold. "And he did it off Dante Bichette, the old Colorado Rockies outfielder. He was throwing about 85 miles per hour."
"Well, I've been blessed with good eyes, good legs, and a good arm. I'm going to be playing as long as I can see the ball and hit it," said Urse, laughing. "I don't work out, I don't lift weights because I'd just get hurt if I did. I just try to hit a good pitch hard and get on base. It's a simple game."
It is a simple game, which is why it still allows someone 62 years of age the opportunity to participate and enjoy it. Unlike football, or basketball, baseball caters to those who have any one of the five basic baseball skills – run, hit, hit with power, catch, and throw. Do any one of these and there's still a place for you on the field, regardless of age.
"There is an allowance for getting old, I guess," says Barhorst. "When you were twenty five you were a pretty good hitter and you try to remember that. Now, it's frustrating because you come out here and you can't do things the way you used to. You wonder what the heck happened. So you just try to enjoy it and have a good time with the guys."
Author Roger Kahn once wrote about the old Brooklyn Dodgers in his book, The Boys of Summer. Big leaguers as they were, the Dodgers frustrated their fans like mere boys for years, coming short of the cross-town rival New York Yankees before finally breaking through to win the World Series against the Yanks in 1955.
More irony, finishing second all those years didn't prevent the patrons of 'Flatbush' and Ebbetts Field from annually packing the old ballpark in support of Brooklyn's ancient and iconic pastime, baseball. So when the Dodgers moved to Los Angeles in 1958 it was devastating, destroying the identity of an entire sector of New York culture.
In a smaller sense, it's that same identity that  Sturwold, Sanders, Barhorst and John Urse fight to retain by playing on Sunday mornings. They're not ready to give up baseball. Responding to a different kind of call, they and others take those precious summer opportunities to replenish the religion that's given them so much – that's helped make them what they are.
"This is our Sunday church," says Barhorst with a smile, speaking with obvious reverence.
Boys of summer, and the eternal love…for baseball!