My son Matt left for the left coast to pursue life and the dream of becoming what you want to be without having to explain. And his invitation for me to see the first fruits has been enlightening.
San Diego, California – It had been two years since I last saw him – Christmas of 2017.
Earlier that summer, my son Matt, his fiance' Ali Myers, and their two terriers, Wiggins and Nigel, did the John Steinbeck thing (Grapes of Wrath), and made a three-day haul across country, and the desert, arriving in San Diego in May.
Ali had taken a job working for a marketing firm representing electronic giants like Sony. Matt…was a total free agent. I asked him before he left, "What will you do?"
He looked at me with that famous Alfred E. Newman grin, as if to say, "What, me worry?"
He figured things out in a hurry. He grew up in a baseball house, of course, and immediately knocked on the door of the San Diego Padres when he hit town. They liked him (who doesn't?) and put him to work in their guest services department where he's thrived the last two seasons.
In addition, he grew up around aquariums, and soon landed his dream "day job" with an aquarium installation and maintenance company and now builds and maintains enormous salt and freshwater tanks, personal and corporate.
He's let his hair grow, and he took on the California culture. Living a mile from the ocean, he's learned to surf with some close friends and now spends his mornings each week 'with the waves'.
He and Ali live in a small apartment that measures (generously) 420 square feet…and costs $1,400 a month. That's almost what I paid for my first car. But to Matt…no worries. He smiled as he drove his mother and me around Balboa Park on Friday, and assured us both, "I've never been this happy in my life. I'm never coming home. THIS is home now."
If you remember the old Mamas and Papas song, this is hardly California Dreamin' for Matt.  Dreaming…has become a reality.
"Anybody could do it, Dad," he tells me. "It's just a different mindset. There is no stress here. The weather is great (he's right, my sinuses are absolutely clear), and the people in San Diego are the friendliest in the state."
What he means is…you can be what you want to be out here.  All you have to do is do it.
The general consensus about California is that the state is bankrupt – broke – and living off the federal dole. Matt tells a different story, showing me that the state completed its last fiscal year while showing a $9.8 billion dollar surplus. He gives an approving nod to governor, Jerry Brown.
But enough about politics, and more about the good feeling of seeing your child land on his (or her) feet.
When he was a kid he was a dreamer – wanted to be in the NHL. He played amateur hockey in the Troy (Ohio) Rec League.
When he was older he mastered football skills, place-kicking, specifically. He set high school records, and had no issues with the transition to college football. It was college, itself, with which he had issues. He left Ohio Northern after a year. "I'll find my own way," he assured his mother and me.
After working in Columbus for five years, and with Ever-Green Lawn Care in Troy for another three, he fulfilled a dream of being near the ocean – of being in a bigger city of diverse opportunity and culture. He settled on San Diego.
Within two years he seems to have mastered southern California. Working for a service company in the day, and with the Padres by night, he knows the entire 4,500 square miles of San Diego County (over a million acres, the largest county in California) like the back of his hand.
He's mastered the culture, and he's mastered the interminable traffic that defines California.
"This is nothing," he says of the San Diego freeways. "It's a hundred times worse in Los Angeles, up the coast. I'd never live up there. THAT'S a lot of people."
They say San Diego is the most livable city in America.  Actually, they call it America's finest city.  Year-round, it averages about 72 degrees for a high temperature during the day, and 50 degrees overnight. It has a bit of everything, including the Padres, and Friday afternoon we hooked up for lunch with Versailles' native Craig Stammen, who's having his best season in years out of the Padres' bullpen.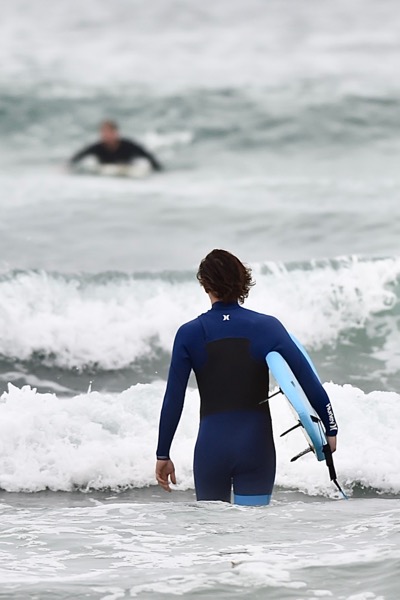 But baseball's appeal pales in comparison to the Pacific Ocean. Surfing attracts thousands, and Matt Fulks has made it his new personal mission to master the waves. He goes five times a week to Pacific Beach for a couple of hours, and while he can do it, he calls himself a 'kook' out there among surfing experts of all ages.
"I'll always want to be near the ocean," he said after showing me how it's done. "I can't see me coming back to Ohio." And I think he means it.  Sometimes he gets up at 5 am to beat the crowd and surf with the 'dawn patrol.'  You can't do that on Trotter's Creek (outside Covington).
They say the best thing you can have as a parent is to have your kids well-settled and happy. Frankly, I worried about Matt for a few years. Alfred E. Newman is funny on the cover of MAD Magazine, but when he's sleeping in the bedroom across the hall you're not so sure.
Tomorrow is promised to no one, but for now…I'm not worried about today. He has found his way, three thousand miles from home. It's not for me, but it's not my life. The smile on that kid you might remember is all you need to know.
Matt Fulks is living the Mamas and The Papas. California Dreamin'…..!