Senior-dominated Vikings look to celebrate 60th season of football with a third conference title in four seasons.
Casstown – About 10 minutes remained in Miami East High School's football practice. Vikings coach Max Current was finishing by putting his players through a fatiguing drill.
Players, lined up at their offensive or defensive positions, intensely ran in place until Current gave the signal for an up-down. The players dropped to the ground in push-up position, cranked off a push-up, then brought their feet toward their chest to quickly get back to their starting running position. Two more grueling up-downs followed. Once done the Vikings sprinted toward the sideline and around cones, racing to the corner of the end zone.
The push-ups were becoming more strenuous. The sprints had a little less spring.
As Current prepared to command the next group he heard senior Vincent Villella's voice from the corner of the end zone. His group was still huffing and puffing and catching its breath.
"We want it! We want it!" Villella shouted at Current.
"Are you guys making a request?" Current shouted back. "Reverse!"
Villella and his group – cheering and hollering – did the entire series again. They sprinted back onto the field to their positions. They ran in place. They dropped for more up-downs. They sprinted to the opposite side of the field.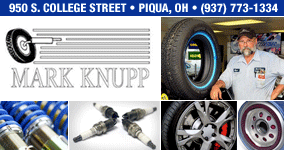 "Double reverse!" Current shouted. And they did it one more time.
After practice Current cracked a smile when talking about Villella.
"Vinnie is one of the hardest workers in practice that I've ever had," Current said. "He's not blessed with great size or great speed. But he has a big heart and he works his tail off in practice. That carries over on Friday nights."
Miami East celebrates its 60th season of football this fall. And this could be a season to remember for a long time.
Fourteen seniors dominate the roster, highlighted by All-Ohio, third-team selections Villella, Justin Brown and Brenden Dalton. This year's senior class has been part of two Cross County Conference football championships in 2015 and 2017. The program had three titles through the first 57 seasons (1965, 1983, 2008).
Last season the Vikings qualified for the OHSAA playoffs for the sixth straight season (and eighth overall), finishing as the top team in the Division V, Region 20 computer rankings.
"There's pressure on them. We talk about that stuff," Current said. "(The seniors) have a chance to be three-timers (league champs) and nobody has ever done that. We have a playoff streak we'd like to continue. They take it all in stride. And that's not all bad when you have pressure. It keeps them working."
So does the sting of last season's playoff loss. Miami East failed to convert from fourth-and-5 deep in Cincinnati Reading territory with one minute left – coming up three inches short – to give the Vikings a 27-25 loss. That loss dropped the Vikings to 1-8 overall in the postseason. The lone victory came in 2013.
"Thinking about having a chance to be the second team ever to win a playoff game and losing by two points, that kinda sucks," Villella said. "We want to work and get back there."
Villella led the Vikings in rushing last season with 1,321 yards and 21 rushing touchdowns on 218 carries. His rushing TDs tied for second all-time in program history and his rushing yards was third. He went for a season-high 206 yards on 21 carries in a win against Bethel. He also led the Vikings with 123 tackles (23 solo) and 42 first hits.
"He's a hard worker," Brown said of Villella. "He loves his position and he gives 100 percent all the time. That's what we need."
Brown added 916 yards and 10 touchdowns on 135 carries. At free safety he made 65 tackles, including five for a loss. He led the Vikings with four interceptions, three fumble recoveries, four passes defended and one blocked point-after attempt.
"He's fast. That's all there is too it," Villella said of Brown. "He's got those long legs. He doesn't look like he's moving that fast but he's booking it."
With those two in the backfield – along with senior Ian Gengler returning at quarterback – the Vikings offense should be off and running, too. An offense that ranked among the program's top 10 in points scored (362; 7th), total offensive yards (3,475; 7th) and total yards rushing (2,791; 7th) returns its quarterback, top three rushers and top six receivers.
Brown was the Vikings' top receiver with 15 catches for 420 yards and five touchdowns. Senior Blaine Brokschmidt, Villella, junior Nick LeValley and junior Aaron Lawrence should also be active in the passing game.
The offensive line is stacked, too. Dalton is a fourth-year starter.
"He's been a key cog for us," Current said. "I expect him to raise his level of play even more."
Senior center Caleb Snyder is a three-year starter. Senior tackles Cody Niswonger and Lance Rohrbach are both two-year starters. Senior guard Cody Smith joins them on the line and seniors Devin Lawrence and Michael Miller are expected to share time at tight end.
"It all starts up front with my hogs on both sides of the ball," Current said.
The Vikings won the CCC last season with four seniors on the roster. They went 9-2 overall with losses to Lehman Catholic in the regular season and Reading in the postseason. They went 8-0 in a CCC that sent four teams – East, Bethel, Fort Loramie and Ansonia – to the playoffs.
"Two years ago I didn't think we were going to be that good," Brown said. "It turned out pretty good. It was unexpected."
The difference?
"Friends. We work well together."
Villella said this is a senior group that went undefeated from fourth grade through junior high. Most of them are still playing.
"Growing up you see it and on Friday Nights you want to be part of it," Villella said. "Yeah, it's pretty crazy. It's kind of surreal but I think we're good enough to win another one. … We've been ready to do this on the high school stage."
"(Coach Current) is saying don't get too cocky about this year," added Brown. "Have some sense. We just need to stay focused and keep our minds right."
Miami East – which went 3-6 under coach George Buriff in its first season – enters its 60th with an overall record of 285-302-9. Current ranks No. 1 in program history in wins (108-91) and years coaching (he enters his 20th). He's led the Vikings to 11 straight winnings season, which established a program record.
"Nobody gave us a shot last year. Basically we had a really good year with not that veteran of a team.," Current said. "(This year) on paper we're dynamite. That's on paper. We're not going to sneak up on anybody this year. People are thinking about us so they're going to be more keyed up. … This is a big year for us. What a way to celebrate by us doing good on Friday nights."