Historian, publisher, businessman…and curmudgeon, Bob Younger ranks as the one man who taught me more about grass roots business than anyone I'll ever meet again.  And, he taught me that anyone can be successful…if you get up early enough, and manage what you make!
Many of you will read this installment of "Most Influential" out of sheer curiosity…if you read it at all.
Because, most of you have never heard the name, or the reputation, of former Dayton businessman, historian, and publisher, Robert Jerome Younger.  That's a shame, because Bob Younger, nicknamed "Sweet Ol' Bob" by friends and critics alike, was surely one of a kind.
Along with his wife Mary, Younger established one of the country's most prestigious Civil War book stores (Morningside Books) behind Miami Valley Hospital during the late 60s through the 70s.  And by the time I met him in 1985, Morningside had become one of the five most significant Civil War publishing houses in America.  With a lineage to the famous Missoui outlaw Youngers (Cole, Jim and John), who rode with Frank and Jesse James, Bob was as well-read, and as knowledgeable on American History as anyone I've ever met, or heard.
And most interesting, he kept to himself.  Bob Younger was infamous for listening to someone who professed to know more than he did, and later use that knowledge to better position his own credibility as a businessman.  More important, over the course of about 20 years he taught that gift to others;  and he shared with me that the image of having less can be your biggest business advantage.  "Nothing is worth more,"  he'd say,  "than what other people don't know about you.  That, of course, and cash."
He was hard to get along with.  He admitted that.  And if you entered his book store on Oak Street you'd better have some idea of what you wanted.  The first time I visited, sometime in the early 80s, he asked me, "What are you looking for?"
"I'd just like to buy a good book to read, something different than Bruce Catton and Time Life Books,"  I stated proudly, thinking that I had impressed him.
"There's the door,"  Younger pointed.  "I don't have time for people who want to browse and steal information.  I've got a business to run."
And indeed, he did run a business.  Bob Younger shipped dozens of boxes of books all over the country, five days a week, and on weekends he'd load up an aging old Suburban and head to a Civil War festival or book show.  He dealt in cash, he didn't discount, and he didn't make excuses.  He had accumulated one of the country's most enviable inventories for a quarter century, and people stood in line to buy rare books from him.  And they learned quickly…don't ask questions.
Officially, I met him in the fall of 1985 when he invited me to the 120th anniversary of the battle at Gettyburg, Pennsylvania.  He was taking a load of books to sell, and he needed someone to help him drive.  And driving meant eight hours straight, with no stops except for gas and bathroom.  The first there had the advantage, he'd say.  "And besides, where is there a better place in the world to be, than Gettysburg?"
He meant it.  When he had nothing better to do he'd park the Suburban on an abandoned battlefield road and read the New York Times…for hours!
We spent several years together driving, visiting most of the Civil War battle parks, and of course, selling books.  Bob Younger was one of the country's best story-tellers, as I discovered on many of those long drives,  and when he wasn't spinning a yarn about growing up in rural Missouri, he was sharing perspective on business – how to make money, and how to keep it.
Of course, he was a staunch conservative…at least financially.  He was fond of saying that farmers knew more about business than the rest of the economy put together.  Because, he liked to say, they learn to do more with less.  "Farm with junk (equipment),"  he say.  "And put the money you save on interest in the stock market."
Not surprising, he liked Doberman dogs…because he felt they were misunderstood as much as he was.  He liked them for their protective loyalty, and he valued nothing more from dogs and people, alike.
He liked actor-turned-politician, Ronald Reagan, and was fond of reprising Reagan's parting line from the old TV western series, Death Valley Days.  "That's the way it was going West," he'd say with irrelevance.  Because to Bob it didn't particularly mean anything, he just liked the way it sounded.
He also used to say, "Show me a farmer with ear corn in a crib and I'll show you a farmer with hundred dollar bills in his pocket."  I had to ask, and he delighted to tell me that a farmer content to manage conservatively, and do things without expensive bank loans for new and modern buildings, could accumulate a lot of money…and let that money work for him.
It took him years to come around to the idea of having a Visa and Mastercard machine at book shows.  Bob collected cash, or checks (from those he knew), and he knew that people wanted what he had bad enough to come prepared.  What he saved on paying credit card companies he stuck in his pocket.  And over the years it mounted up.

Eccentric as he was, Younger appealed to the very top names in the historical community.  While traveling with him I met historians and writers like Ed Bearrs, Shelby Foote, Dr. Bud Robertson, Wiley Sword, and eventually, Ken Burns.  They knew and respected him because they all read, and they all sampled liberally from Bob's experience of what to publish and how to sell it.
When he launched the now nationally marketed Gettysburg Magazine in 1992, he retained me as photo editor, to photograph battlefield landscapes to use as front and back covers.  It went well for two years.  And then, he asked my opinion about a change in format one day.  When I disagreed with him, he showed me the door…again!  Of course, it was a matter of money, and how to produce a better bottom line along with a better magazine.
We parted company for a few years, but one day my phone rang and it was Bob, inviting me to meet him in downtown Troy.   Bygones became bygones over black coffee, and by the end of the visit he had shared with me that he wouldn't be around very long.
"I'm going to go be with Stonewall,"  he said, laughing, his reference being to Confederate General Stonewall Jackson.  "I think I'll go see how it is across the river – how it feels to lie in the shade of the trees (Jackson's dying words)."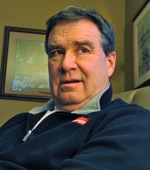 That was in March, and by the following January 11th (2006) he was gone.  He called me one last time from a nursing home in Kettering to tell me, "I've sure appreciated your friendship.  I'll let you know how it is going West."
My house, of course, is full of Bob Younger reminders – books, old photos, and a Civil War minie ball that he once picked up off some plowed ground at Gettysburg.  I used it as a paper weight on my desk.
And then this.  He hated it when people would refer to him as 'Sweet Ol' Bob".  And one time he told me why.  "You know, when they're calling you Sweet Ol' Bob (SOB) they could just as easily mean something else,"  he huffed.  "And they probably do."
What he meant was to never take anything for granted, especially not in business.  To this day…I haven't forgotten.