Fresh out of Ohio University's school of journalism, former Lehman running back John Husa is getting his start as a writer…with Press Pros.
There is no accounting for fate in life, or even how vision becomes reality.  You say some things sometimes out of obligation, having no idea about how the movie's gonna' end, right?
So it is, and was, with former Lehman Cavalier John Husa.
John graduated from Lehman High School in the spring of 2014.  A multi-sport athlete (football and basketball), he made his biggest impression wearing #40 while playing running back for Coach Dick Roll.  Not blessed with great speed, he was blessed with great 'want to'.  He was always a good bet to get you that first down when you needed it most…or a defensive stop on third and short.  Dependable, he was a go-to player on a team that lost 40-14 to Anna in the season opener…and then ran off 405 points and 10 straight wins before falling to Triad, 14-7, in round two of the post-season playoffs.
He was a willing basketball player, too, but not nearly as impactful.  He averaged 3.9 points per game, half an assist, and three rebounds in his senior season…but mostly he brought energy and a great attitude to rest of the team.  Yes, John Husa was a good teammate.
Graduation is devastating to many to play high school sports – the reality of knowing that you'll never again be part of a sanctioned team or activity.  And how to replace that loss – a relationship with sports?  Husa had a plan.
He was a good student at Lehman, had a vision for his future, and enrolled at Ohio University, in Athens, to study communications and broadcast journalism.  He applied for, and won, the Press Pros 2014 Hal McCoy Scholarship Award to pursue a career in journalism (along with high school teammate Kris Lee).  And upon receiving that scholarship he said, prophetically,  "Maybe someday I can be like Hal McCoy.  That would be a dream come true."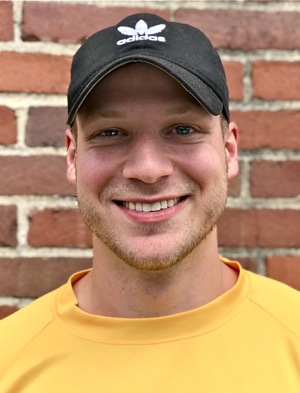 There was some thought of football when he got on the OU campus, as a walk-0n.  But college football is a daily job, it requires incredible commitment, time, and patience.  Husa chose his priorities wisely, and dedicated himself to school.  He quickly assimilated, found success in his classes, and buried himself in pursuit of his plan.  We bumped into each other later that year at a Cavaliers home basketball game, exchanged pleasantries, and before he left I told him, "When you graduate, call me.  I'll be ready for a good intern at Press Pros."
He didn't forget, and he graduated this spring with his degree in Communications and Journalism.  My phone rang in mid-June.
"Sonny, this is John Husa,"  he said, with a voice that sounds eerily like that of former NFL films producer John Facenda (Google Facenda and listen for yourself).  "I'm ready for that internship.  Wondered if there was a chance to work for you?"
We met, and he sent me some examples of his work – projects he completed during his senior year.  They were solid, showed promise, and Press Pros colleague Hal McCoy, himself, read them and commented, "One of my great sources of pride is to have my name attached to the Press Pros Magazine scholarship for aspiring professional writers. When John Husa won the award it was because I was impressed with his writing (on his application). And when I presented him with the scholarship I was even more impressed with him as a young man.
"Now he's graduated and a source of pride to me that we could help him in a small way. And he's starting the way I started 56 years ago, covering high school football."
If you remember John Husa from back then, we think you're going to enjoy him now, and the revelation that dreams do come true through vision and a commitment to pursue a goal.  His first 'professional' work currently appears on Press Pros this weekend as a profile on Lehman quarterback Elliott Gilardi.
It reminds me a lot of John Husa, the football player – like a second coming, in metaphoric example.  It's sound, fundamental, and complete.  A good read, he has now shed the pads and seeks his next first down as a writer.
Hal McCoy can tell you – we all can tell you – it's a long field ahead.  Much longer than a hundred yards.
The rest – the future – is up to John.