It used to be the most eagerly anticipated bit on 60 Minutes each week – the back-and-forth banter on topics between columnists Jack Kilpatrick and Shana Alexander.  I'll reprise that just a bit, responding to Hal McCoy's mid-term assessment on the Reds…and what lies ahead.
I'm gonna' confess, to you, to any writers reading, and even to the Cincinnati Reds themselves, that I have not watched them for more than a week this entire year.  Albeit, it was a good week, as the Reds won two of their last three series (Cleveland, Cubs, and the Cardinals) before the all-star break.
And as you read this you may have just finished Hal McCoy's piece, his first half assessment.  It's good.  It's accurate, taking in their record.  And it's inarguable…the points he makes about Jim Riggleman and the difference he's made since replacing Bryan Price.
By the way, I've always maintained that a big league manager's job is the most over-emphasized in professional sports.  If you have players, and pitch OK, you're going to win, regardless of what buttons you push.  Obviously, the comparison between Price and Riggleman disproves that a bit.
So, I cannot comment on the individual merits of the Reds, position by position.  I happened to ask Hal this week if he stands firm on what he wrote about the eight position players they put on the field, and by and large he answered…yes.  Votto, Suarez, Gennett, and Peraza are all legit.  And Tucker Barnhart can catch for anyone in the major leagues.  To most, the jury is probably still out on Scott Schebler and Billy Hamilton (except for his glove).
But I will comment on the ongoing topic of what moves do the Reds make after the all-star game?  Buy or sell, and it's just too hard to imagine that they're going to buy.  That is, if you buy into all that 'small market' business you hear.
So then, who do they sell?
Well, he's the best hitter in baseball in my opinion – even though he's having an off year so far – but Joey Votto's contract pretty much keeps him in a Reds uniform for the foreseeable future.
Suarez just signed a seven-year deal.
There's plenty of Perazas already out there for others to buy.
So that leaves Scooter.  WLW's Ken Broo campaigns every day for his being traded – that the Reds fall in love with players like him and keep them too long, beyond the point of their prime value.  Move him and get more prospects, or a front-line pitcher.  And Broo's not alone.  More than one is writing this week that Gennett is prime cut for a more serious pennant contender looking for pop in the middle of their order.

But the Reds have been down this road.  They've traded Bruce.  They've traded Aroldis Chapman.  They've traded Todd Frazier.  They've traded Johnny Cueto.
They've asked the fans to be patient while the 'suspects' they received for those proven big leaguers earn their wings.  Some have – Suarez, the best example, I guess.  And Adam Duval has hit some home runs and driven in a surprising number of runs for having a .210 average.
But most of the rest have not (we won't embarrass by naming them).
That said, if I'm fan of the Reds I say, "Hell no" to trading Gennett, because how long are you willing to wait for the next batch of prospects (or suspects) to pay off?  Enough Moneyball and others' suspects.  How long to you pay big league prices to watch Triple A baseball?  Yeah, they're playing better and have the best record in the National League since June…but they're still in last place.
I like Jim Riggleman.  Met him a couple of years ago when he was in Louisville and found him to be tops to talk with – a good man.  But managers don't sell tickets.
Players sell tickets, but it's not that promising when you bring in those young bucks, let them become contributors, and then trade 'em away when they get too expensive to keep.  And still, you haven't won anything.  And that's what people want to see now.  Modern sports is about producing a winner, and no whining about being in a small market.  If you can't afford the price of poker don't buy a team.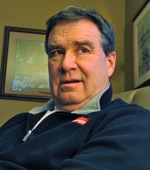 The Reds haven't won now for 27 years, the longest stretch in their modern history between World Series appearances.  So long, in fact, that even Hal says he doesn't expect to live long enough to see it happen again.  This, while franchises like Seattle and Milwaukee (they're small market, too) find a way to add (or keep) the requisite talent to win.  And yes…I know that Milwaukee let Scooter Gennett walk.
I can't argue one point that Hal makes, but if the Reds trade a popular contributor like Scooter Gennett…there's just not enough patience left to wait on his replacement coming up aces.  This, in an entertainment world that asks, what have you done for me lately.  And when you think of it, that's what the Reds are really competing against – a lot of cheaper entertainment options.
And you thought it was the Chicago Cubs.