In his senior year the fortunes of Lehman football rely heavily upon his experience and potential to lead.  And quarterback Elliott Gilardi has no intention of letting his team, or himself, down.
By John Husa
Sidney – Being a great athlete does not always guarantee being an effective leader.
Sometimes the greatest leaders aren't even the best guys on the field. They're the ones who have been around and seen a thing or two.
They're also the ones who will take on anyone, and give you everything they've got. They can rally the team behind them, not because they tell them to, but because their teammates know that this guy's going to battle right beside them.
For the Lehman Cavaliers football team this fall, they're looking for a guy to take on that very challenge and be a leader; and they have to look no further than senior quarterback Elliott Gilardi.
The name is all-too-familiar around the area, as Gilardi scorched his opponents on the ground and through the air during the 2017 season. There is no doubt that he can play, and anyone who's played against him can tell you so.  Being a dual threat quarterback makes him a hassle for opponents – he has that canny ability to squeak by defenders, and make a play when it looked like it was over.
Gilardi has the hardware to prove it.  He was named All-Southwest District Division VII Offensive Player of the Year in 2018, First Team All-Offense, and First Team Offense for the Northwest Central Conference (NWCC).
His stats were remarkable, as the spread offense allowed him to put up numbers like 1,567 yards passing, 24 touchdowns, an average of 15.8 yards per throw, and a 118.7 QBR.
He was able to get it done with his legs too, with 980 yards rushing, eighteen touchdowns, and an average of 7.9 yards per carry. Those are numbers that gave so many teams trouble throughout last season that they make him a number one priority to stop for the coming season.
"We don't want to add any pressure on him," says coach Dick Roll. "We just want him to do the little things right, like being on time and working hard. If he does that, he'll do well like he did last season."
Roll has seen plenty of talent in his coaching tenure, and he recognizes that Gilardi is one of those gifted individuals. But no matter who it is, Roll reminds that the goals always remain the same. Win the conference and make the playoffs.
"We're going to lean on him a bit, but he's mature enough to handle that and will do just fine," said Roll. "But all we want is for him to go out and play. We're not asking him to do anything extra or more than what he's done."
That is what Gilardi plans on doing, just play his game and not get too fancy; and it's evident that taking on the role of leader. At 6'0, 170 pounds, the Cavs' senior is prepared for individual success, but cares more about the success of the team this season.
"We lost a lot of guys, especially at the skilled position, but we still have plenty of talent," said Gilardi. "We're looking to improve on the little things, and get back to what we were doing last season."
The Cavaliers were 10-2 in 2017, conference champions,  and made the Division VII Playoffs for the fifth year in a row. They'd like to build on that, but will have to do so after losing twelve seniors, some of whom were multi-year starters.
"It won't be easy after losing all those seniors," said Gilardi. "But I wanted to take some initiative last season and be a leader with those guys. It will be even more important this year."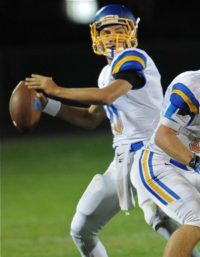 That's one of characteristics of being a leader – doing something without being told to do so. It's knowing that you should be on the field early before coach tells you to. It's studying film for hours because you want to be ahead of the curve. Lead by doing, and become a better person, as well.
At 10-2, there was still some struggle last year.  Gilardi faced some adversity against Delphos St. John's in the second round of the playoffs, losing a heartbreaker, 14-7.  Gilardi and crew were inconsistent, and made some costly turnovers in the red zone.
"That game has really stuck with me throughout this off-season. It's about learning from our mistakes, and focusing on the upcoming season ahead," said Gilardi. "Our goal is to get back to the playoffs, and hopefully get that rematch with St. John's."
That's the mature approach, of course, as not many would say they want to face St. John's again. But Gilardi's competitive nature makes him want to beat the best.
It's no surprise that he's eager for this upcoming fall, looking forward to the challenge of getting back to the playoffs. It's evident in July workouts, as he pushes his teammates to be better.
Yet, he remembers to also enjoy the moment, able to crack a joke with coaches and mates. It's all helping to mold Elliott Gilardi into the Cavs' leader. It's no easy task.
Many can play, but just a few can lead!