Small, but mighty, Troy's Jaydon Culp-Bishop returns as the GWOC North's premier running back this fall – a fact that coach Matt Burgbacher would rather no one knew. But after his break-out season a year ago, it's too late for that.
Troy – In a perfect world Matt Burgbacher and the Troy Trojans would roll out a little-known secret this fall, while seeking their third straight winning season and playoff appearance.
That is, of course, if there was such a thing as a perfect world…or, a little-known secret in football.
Because the fact is that the Trojans' Jaydon Culp-Bishop blew up that secret in the third game of last season when he erupted for 211 yards on 27 carries against Bellefontaine. And then he kept running – 194 yards against Fairborn, 241 against Miamisburg, 127 against Butler, 229 against Sidney, 154 against Greenville…and for Troy fans the sweetest of all, 254 yards against Piqua in their second straight convincing wins over the rival Indians.  He finished third in the conference rushing behind Sidney's Isaiah Bowser and Trotwood's Raveion Hargrove.
Yep, the secret is pretty much gone – 1,549 yards on 234 carries for an average of 6.6 yards per tote. And for good measure, he had the conference's longest touchdown run of the season – a 99 yard kick return (against Sidney). And to further make Burgbacher smile…he fumbled the ball just four times during those 234 carries!
Yes, Jaydon Culp-Bishop is back, and sad for Burgbacher, a priority now with every opponent on Troy's 2018 schedule. And if his stats don't identify with you, his size and appearance will. He's barely 5'10, and he's listed at 180 pounds. It's disputable.
And he wears those spectacles – goggles (for near-sightedness). For the doubters, like the ones Steve Erkel used to wear. For those who couldn't tackle him last year…like the ones Eric Dickerson wore when he played for the LA Rams.
So the staff at Troy is not stupid, or naive'. They know the word is out, so the best thing is to prepare accordingly. Build and play to your strengths, which means a big offensive line, and give the ball to Jaydon Culp-Bishop.
"If I was to guess I'd say he'll get the ball about 300 times," Burgbacher laughed recently. "And that's OK because a lot of teams would like to start out with a running back that gained 1,500 yards last year."
Any narrative surrounding the Trojans' latest impact at running back (they've had a few memorable ones, you know) is likely to come from someone else beside Culp-Bishop himself. Personable, but shy, he just doesn't talk much about himself.
"But I'm gettin' better at it," he said this week. "I know it's something I have to do this year."
He's personable, though, and his looks deceive. Jaydon Culp-Bishop is one of the few exceptions in football where he actually looks bigger out of uniform, than in – bigger than 180 pounds.
"Oh yeah," adds Burgbacher. "He's probably gained a good seven or eight pounds this year…good weight."
Still, he's not exactly Ryan Brewer. But that doesn't matter to the Trojans' senior, who admits that while he didn't expect to play running back last year, he was committed to be ready if his name was called.
"I really didn't expect to play much behind Shane," he says. "So when he got hurt I guess it was my turn and I didn't want to let my team down. I knew that I could help them win."
While he's no Horatio Alger, rags-to-riches story, Culp-Bishop does epitomize the beauty of high school football – that anyone who wants to bad enough, can. And for three years he waited, patiently, a call-me-if-you-need-me kind of guy. When it turned out that they needed him sooner than anticipated, he stepped right in.
"Tell you the truth, Jaydon really hadn't played that much running back prior to last year," says Burgbacher. "Mostly in the slot or at receiver. Shoop and Sam Jackson were both ahead of him, but both of those guys were starters on defense, too."
So enter Culp-Bishop in the Trojans' pedestrian 28-6 win over Xenia in week two, a game in which he had 70 yards and a 45 yard touchdown…and from there, he began to figure out the running back position.
"He had a terrible first half against Bellefontaine in game three," says Burgbacher. "Then he went nuts in the second half (211 yards on 27 carries).
"But the game where I think it all came together for him was the Miamisburg game (a 31-21 win). They're usually a pretty good football team and Jaydon really began to take charge of the game – ran with more power instead of trying to bounce everything to the outside. From that point on through the end of the season we knew we had our man."
Others noticed, as well, particularly opposing coaches trying to prepare for the Trojans in the midst of their seven-game win streak at the end of the year.
"From the beginning of the season until we played him in week eight, I don't think I saw anyone improve as much on film as he did," says Sidney coach Adam Doenges. "I mean, at the beginning of the year he was trying to run around people. But by the time we played 'em he was dropping his shoulder and running through people."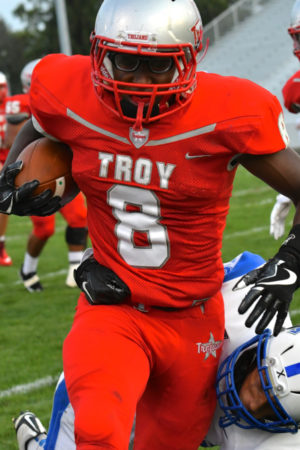 So yes, Burgbacher chuckles now when reminded of his statement about 300 carries behind a big, yet inexperienced, offensive line. The Trojans have no fewer than six sophomore candidates that are all in the 260 pound weight class.
And junior Brayden Siler is so competitive at quarterback that Burgbacher expects him to provide some impactful balance. And he swears there's even more depth at running back – more tools in the box than just Jaydon Culp-Bishop.
Who, by the way is a delight to meet. He smiles a lot, with the confidence of knowing he was no one-year wonder.
"No, I expect to be better this year, even with a younger line," he declares. "I still expect to help us win." he assures.
A secret no more, he's certain to be the Trojans' trump card – the little guy who can get lost in the shuffle, or bust you down if you get in his way. The guy whose specs remind you of Eric Dickerson.
I've heard of him," says Culp-Bishop of the NFL hall-of-famer. "Coach told me about him. Didn't look like me, though. He was a really big guy!"
But he runs like Dickerson, and that's all that matters to Burgbacher and the Trojans in 2018. Ask him for yourself.
Now, the word is out.