From the depths of their start, to the pinnacle of the last month, why the Reds are what they are and what they're likely to be between now and October.
Dayton – The Cincinnati Reds are Exhibits A, B and Z that baseball fans and the media live in the present, that we are a what's happening now generation.
I, too, am guilty.
In early May, when the Reds were 8-and-27 and couldn't beat the Bad News Bears on BNB's worst day, I'd make my daily trek to Starbucks for a vente nonfat latte, Inevitably I'd be stopped and asked, "Is this the worst Reds team you ever covered."
Rather than get into a lengthy conversation, I'd shrug my shoulders and say, "Yeah, it probably is."
Now that the Reds have turned into world-beaters, they say, "Hey, about those Reds? Aren't they fun to watch." And I shrug my shoulders and say, "Yeah, they're sure playing great right now."
Since they were 19 games under .500 on May 5, they Reds are 34-25 and are 10 games under .500 at the All-Star break.
And during the last week before the break, there was a perfect definition of what this team is about over a three-game span in Cleveland and St. Louis. On one night they scored seven runs in the ninth inning to beat the Indians, 7-4. On the next night the Indians emasculated them, 19-4. Then in their next game against the St. Louis Cardinals, who had won nine of ten against them this season, the Reds spanked them on both cheeks, 9-1 and followed that up with an 8-2 win. The Reds helped get St. Louis manager Mike Matheny fired.
Which game most represents the 2018 Reds or is it somewhere in between?
Reds fan cling to the hope that what they've seen for the last month are The Real Reds and not the team that began the season as bad as the 1962 New York Mets, losers of 120 games.
All this reminds me of what former Reds manager Davey Johnson liked to say: "You are not as bad as it looks when you are in a losing streak and you are not as good as you look when you are in a winning streak. You are always somewhere in between."
When the Reds lost 18 of their first 21, The Mad Dog on MLB Network called them the worst team in baseball, a hopeless abomination, a total wreck, and that was the best things hw said about them.
His attitude and the stances of the other MLB talking heads have changed since about June 10 when the Reds began winning games regularly. They are getting respect and some of those same talking heads call them the hottest team in baseball, which of course, they are with 21 wins in their last 31 games during the All-Star break.
Never was it more evident about what this team is all about than it was last Tuesday when they scored seven runs in the ninth inning to come from 4-0 behind to beat the first place Cleveland Indians, 7-4.
Everybody knows the Reds began the season 3-and-15 and Bryan Price had the manager's swivel chair jerked out from under him. Bench coach Jim Riggleman was named interim manager and lost his first three games in St. Louis and the Reds were 3-and-18, 15 games under .500.
Then it got worse. On May 4 the Reds were 8-and-27, a season's worst 19 games under .500.
Since then, the Reds are 34-25 and since June 10 they are 21-10, best record in the National League in that span.
Suddenly this so-called rebuilding team looks like a finished product, complete with a 'winners' label on it. Now the question I get most is, "What has turned this sad sack team around, this team that was the laughingstock of the National League the first six weeks of the season? What has turned this team to one of the league's best the last two months and a team that scraps, scrapes and scratches to the final out every night?"
Two words: Jim Riggleman.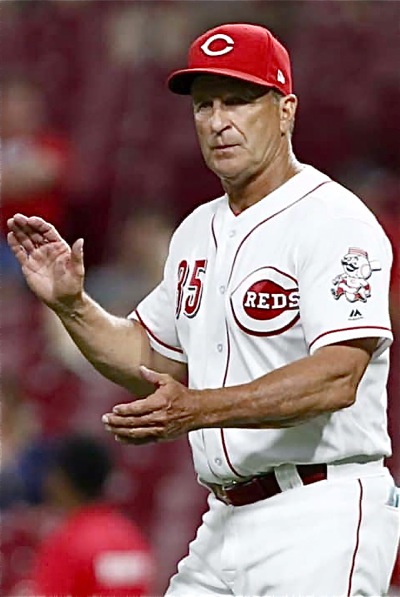 Starting at the top is the most obvious difference, interim manager Jim Riggleman. He is a man with a full set of luggage stuffed with managerial experience, having managed at San Diego, Seattle, Chicago (Cubs) and Washington.
And when the St. Louis Cardinals fired manager Mike Matheny Saturday night, one of the first names that surfaced as a possible replacement was Riggleman, who spent several years in the Cardinals organization.
The Reds said when they fired Price that they would spend the rest of this season analyzing and researching prospective replacements. All they need to do is peer inside the manager's office at Great American Ball Park and the man they need is sitting in that swivel chair Price once occupied.
He is a man of principles. When he managed Washington in 2012 and was doing well with a so-so team, he wanted the team to pick up the option on his contract. When the Nationals refused, Riggleman walked away, resigned on the spot. At that day the Nationals had reached .500 for the first time in six years.
"I'm 58 and I'm too old to be disrespected," he said.
Well now he is 64, managing like he is 34, and has earned the respect of everybody in the baseball world for what he is doing with the Reds.
Riggleman has brought accountability to the clubhouse, something that was missing during the Bryan Price last-place regime. Players were not held accountable for mental blunders or lack of effort. That has changed. Riggleman addresses any and all mishaps and misplays immediately.
Not many managers could employ a four-man outfield platoon and not only make it work but keep four players relatively happy with it.
Riggleman has shown a mastery at assembling batting orders and isn't afraid to try different and out-of-the-box lineups.
He put power-hitting outfielder Scott Schebler in the leadoff spot and Schebler responded. He dropped Billy Hamilton from leadoff to ninth in the order, behind the pitcher, and Hamilton has steadily improved on what was an awful start when he was batting first. He batted catcher Tucker Barnhart second. He put diminutive second baseman Scooter Gennett in the clean-up spot and Gennett is putting together an even better season than he had last year, which was, by far, the best of his career.
He has more defined roles in the bullpen, turning what was the worst bullpen in baseball last year into one of the most dependable in the majors, from closer Raisel Iglesias to Jared Hughes to David Hernandez to Michael Lorenzen.

His strategies have been nearly impeccable with his choice of double switches and pinch-hitters. How about sending up pitcher Michael Lorenzen to pinch-hit and getting a grand slam home run?
When outfielders Adam Duvall and Jesse Winker don't start, Riggleman eventually gets them into games as part of a double switch or as pinch-hitters. Duvall leads the majors with the most RBIs of any player after the seventh inning. Winker is one of the game's best pinch-hitters, a difficult job for a young player.
And Riggleman always explains his thought processes.
In a game last week in St. Louis, the Reds led, 5-1, in the seventh inning with two runners on base. He had Scott Schebler on deck to pinch-hit. But when it was time for Schebler to walk to the batter's box, Riggleman called him back and instead sent up Dilson Herrara.
Herrera promptly hit a three-run home run during an 11-pitch at bat to turn the game into a rout. When asked why he replaced Schebler with Herrera, Riggleman said, "With first base open I thought they might intentionally walk Schebler. I didn't think they would walk Herrera. I didn't want to waste Schebler."
Other than an ever-changing pitching staff, Riggleman is doing it with the same players who began the season, other than pitcher Matt Harvey, obtained in an early-June trade with the New York Mets for catcher Devin Mesoraco.
Harvey arrived with heavy baggage, a regular in the Page Six column of the New York Post for his night life antics in New York. And he was a pain in management's sides when he refused a demotion to the minors to work on things when he was struggling and when he spoke out loudly against being removed from the rotation and dropped into the bullpen.
It got him traded to Cincinnati, where he has provided a much-needed veteran presence and leadership. He has won his last four starts with a 1.89 earned run average and stabilized an inconsistent rotation.
He has been a model citizen with a quiet go-about-my-business attitude. He refuses to talk about his past or his future (he can be a free agent after the season), but says, "The guys in this clubhouse are great and have been great to me, really accepted me and I love them all. I'm having fun here and I'm happy to be able to help this team win."
The Reds have a choice to make. Harvey is eligible for free agency after the season. Can the Reds afford him with a long-term contract commensurate with what other teams might offer? Should they trade him at the deadline for a passel of prospects/suspects?
Offensively, the team has become a hit machine, near the top of the league in all categories. And this is despite that Joey Votto is having a down year — a down year for him that would be a career year for a lot of major leaguers.
He still gets on base, leading the league as always in on-base percentage, but his average, his home runs and his run production are all down, plus his defense has been leaky and his base running subpar.
What slack he has left has been taken up by third baseman Eugenio Suarez, who has led the league in RBI for the last couple of months, now with 71, second behind Chicago's Javier Baez (72).
And Scooter Gennett, who continues to amaze, leading the league in batting average at .326 while providing power and RBIs, 16 homers and 63 RBIs, is a force. He, too, is a dilemma for the Reds. Do they trade him for more prospects/suspects and risk having fans tear down Great American Ball Park brick-by-brick. Or do they find the cash to sign him to a long-term deal and keep him where he wants to be, right there on the banks of the Ohio River.
While his offense has slackened, Tucker Barnhart continues to be a Gold Glove catcher. In fact, many times Gold Glove catcher Yadier Molina said last week that Barnhart deserves another Gold Glove. Shortstop Jose Peraza, who started the season 1 for 16, but has been steady ever since at the plate, raising his average to .293 with 11 hits in St. Louis, a club record for a three-game series, and his defensive play is above average and ever-improving.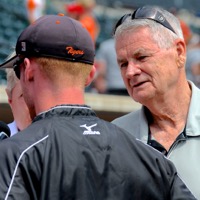 Pereza, with a bundle of bloop hits and infield sqjibbers for hits, reminds me of the year Cesar Geronimo hit .300 for The Big Red Machine. He, too, mastered the art of hitting 'em where they ain't and Pete Rose accused him of using a magic bat.
Riggleman's first message to the team when he took over was, "Let's do some scoreboard watching. Let's get out of fifth place, let's catch the team ahead of us. You can't get to third unless you get out of fifth and into fourth."
The Reds have been chasing the fourth-place Pittsburgh Pirates and not long ago got within 1 ½ games. But while the Reds continued to win, the Pirates got hot and the Reds haven't caught them. They enter the All-Star break 4 1/2 behind the Pirates and six games behind the third place St. Louis Cardinals.
It can't be done, of course, but if the Reds could erase April and the first week of May or go back and play them over, the fans probably would have what they want: A team right in the wild card mix.