He devoted nearly four decades of his life to Covington, as a teacher, coach, and administrator.  But statistics aside, the greatest impression Bob Huelsman made was in creating standards to which opponents aspired.  In retirement, what he helped build stands as a lasting legacy.
(Ed. Note:  The second in our summer series of people who left a lasting impression on the people and communities they served – on the court, in the classroom, and in the lives they impacted.  We take this opportunity to share their contribution.  Enjoy a summer read…on Press Pros.)
Thirty six years is a long time – in modern perspective, a lifetime.
In education, in coaching, and administration, it's unheard of now for someone to dedicate three and half decades to one school, one community, and one purpose.  But that's the legacy of former Covington teacher, coach, principal, and athletic director, Bob Huelsman.  He came to Covington in 1970 after graduating from the University of Cincinnati with a degree to teach math…and he stayed.
He not only stayed, he maximized his time over those thirty six years, helping make Covington sports, and the facilities that identified them, the standard for every conference and small-school rival in the southwest district.
Yes, you can make the case that Bob Huelsman dedicated a lifetime to Covington, Ohio, even while moving to Beavercreek four years ago, where he now lives with his wife, Ann… where he's adapted to the realities of time, of change, and a different purpose.
Once teacher, coach, and principal, Huelsman is now a dedicated grandfather with the same obsessive drive he exhibited on the sidelines.
Once criticized for his conservative coaching tactics, and for being inflexible as an administrator, he now manages his life around the agenda of family. His imprint, as with all those years in Covington, is the same.  Only now, the touch is different.
The irony?  If asked, he still calls it home, comfortable, and still follows the fortunes of Buccaneer sports.  He keeps close tabs on friends and associates.  His address has changed, but his heart still belongs in Covington.
"Yes, because I'd probably still be here except as you grow older your family always comes first, and we moved to Beavercreek to be closer to the grandchildren there, and their activities,"  says Huelsman.   "But I still come here for dental appointments, to go to the bank, and when I do I always drive by the school and down Steven Street, past our old house.  I still like to check out what's going on, and what's new in town."
"He's always been that way,"  says former Covington football coach and long-time friend, Larrie Tisdale.  "Bob was always very dedicated to the people and the town.
"And he worked hard at everything he did.  The problem with Bob was…getting him to go home at night. Sometimes he worked too hard, and he could be hard-headed about things.  But, he was also one of most loyal people I've ever known."
He won 228 basketball games in his thirteen years as head basketball coach (1973-'86).  His teams won twenty or more games five times, reaching the pinnacle of Covington basketball success in 1981 when they went 24-1 and lost in the regional championship game.  More, he's the only coach in Covington history to coach more than one season without having a losing season – and his teams never suffered double digit losses for a season.  His worst year…13-9, in '81-'82.
Bob Huelsman was known for his obsessive preparation, meticulous attention to detail and execution;  and for a style of play that drove opposing coaches nuts.  If necessary, he'd slow the pace to a crawl, as satisfied to win 39-38 as he was to win 79-78.  He won with good athletes that benefited from his system of making them into an effective team; and he never had a player bigger than 6'5″.  His system?  Patience, work the ball for the best possible shot, tenacious defense, and rebound.  Though he never won a state championship, his presence inspired at least one individual that did win a championship…the 1996 Division III title at Miami East – Allen Mack.
"He had a tremendous impact,"  says Mack, who's in his second tenure as head coach with the Vikings.  "I learned so much observing Bob as a student-athlete, and more student than athlete.  He had a way, very meticulous and always prepared.  Defensively, he played a lot of 1-2-2 zone back then and we've used that over the years with great success at Miami East.  Offensively, we've changed a lot of things from what we did in Covington back then, but a lot of the principles are the same.
"But he made his biggest impact by winning, something like 78% of his games (228-68), and he had those good years when he won four or five districts in a row.  I know there wasn't a lot of flash and pizzazz with how he played, but you can't take winning for granted.  It looks easy, but it isn't…and he won."
He left coaching after the 1986 season, replaced by assistant, Steve Fisher, who coached through the 1997 season and won 115 games.  Then, another former assistant, Roger Craft, took the reins and won 181 games over the next fifteen seasons.  Huelsman became the high school principal, and for a time, athletic director, before leaving all official duties with Covington in 2006 to become athletic director at Newton.  Another former player, Matt Pond, who led Tipp City to back-to-back undefeated seasons from 2005-'07, left Tipp in 2012 to come home and coach at Covington.
Huelsman tackled administration like he did coaching.  He had a way – his way – of meticulous planning and preparation, and always with the goal of achieving the best possible result.  As athletic director he's given credit for overseeing a tremendous upgrade in facilities – from painting the school logo on the pristine grass surface of the football stadium (Smith Field), to one of the area's first all-weather tracks at a school of Covington's size.  The baseball and softball facilities became the envy of the Cross County Conference, and of course, through his many affiliations through the Southwest District Board, Covington became a perennial host for sectional tournaments in a variety of sports.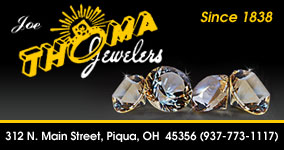 "It was a given that whatever Bob was doing was going to be first class,"  says Roger Craft, who left the athletic director position at Covington after the 2016 season.  "Facilities-wise, he had a background in engineering, he knew what he wanted, and he knew how to go out and find the right people to get the job done.  It's amazing to see how much he accomplished with our wrestling room, softball, baseball, Smith Field…all of them in a span of about ten years.  Bob saw to it that we had great facilities, especially for the size school we had.
"Of course, he had good people around him, and he'd tell you that, too.  He had lots of help around town – lots of volunteers who were right there with their gloves on and ready to bust some knuckles.  And, of course, Bob had a way of making sure it got done the way he wanted it done."
Some liked his way, and some didn't.  It goes with the territory of coaching and administration.  Miriam Sweigart, the long-time secretary at Covington High School, once said of Huelsman, "Bob could always see more for Covington than Covington could see for itself, and nothing was going to keep him from getting it."
But his greatest attribute of all might have been his ability to simply make a decision…and see it through.  Huelsman could see opportunity, and he took advantage while others hesitated.
"Again, he had a background in engineering, and he had a vision about things before he started,"  adds Craft.  "He'd ask for your opinion, and things would get discussed.  But in the end they often got done Bob's way because it was the right way, anyway.  There weren't very many times after the fact when he'd say, 'We should have done it differently.'  Everything he did was well thought out and he was that way in the classroom, too.  People forget that he was a very good math teacher, always prepared and organized, so when I came on as coach and athletic director I had a very good mentor in Bob Huelsman."
In thirty six years he saw a lot, and did a lot.  He was there for what most in Covington still call the 'new' high school (1975), the tradition of painting the football field (the first in the area to profile high school in that manner), and the installation of a new scoreboard that at the time dwarfed others in Division VI.  Huelsman was the energy behind the vision and the fund-raising necessary to make it a reality.
"But there was so much help,"  he adds now.  "A lot of the good things came about because of the support we got from the Bucc Boosters, who were already there before I came.  They were always there, and not just monetarily.  Guys like Johnny Beeman, Frank Dunn, Don Yingst, Sr., and the help we got from local companies like Finfrock Construction, who did the grading for a lot of the new facilities.  The businesses in town were great to support the football and basketball programs that we published, with their advertising.  A lot of people stepped up to make these things happen."
How long is thirty six years?  Well, in the reality that comes with community, for government, for nearly any form of leadership, it's longer than some people's patience, or appreciation.  So it was as Huelsman left Covington High School in 2006.  Some had had enough.  But within a short time he had taken over the position of athletic director at nearby Newton High School.  And not surprising, during his short tenure that district saw remarkable upgrades in its own athletic facilities – soccer, baseball, softball and track.
But looking back, he harbors no regrets – no 'woulda', 'coulda', shouldas.  Bob Huelsman is comfortable in his own skin, in his own legacy, and is still as involved as he wants to be as treasurer of the Southwest District Athletic Board.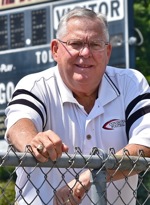 "I really don't have any (regrets),"  he admits.  "We were successful in basketball.  There were opportunities at other schools.  But I liked Covington, the people, and the kids that were here.  You are what you are, and the way that I coached back then…I don't think I could have coached that way now.  Parents demand to be more involved now, all the kids have a need to play, and it's no different than looking back at my own coaches when I was in school at Minster.
"Discipline was tougher then, and I do wish at times that I could have been more 'fuzzy-wuzzy', that kind of guy, but it just wasn't to be at that time.  I did write a letter to my former players later to try and explain it…if I could have been as demanding as I was and fuzzy-wuzzy with it.  I wish I could have been that.  But that had nothing to do with Covington.  It was just the way things were at that time."
And times haven't changed in that respect.  Every coach, and administrator, must deal with the demands of culture – the slings and the arrows that come with the responsibility of leadership.  But few lasted as long as Bob Huelsman did in Covington, or left a legacy that so obviously bears his imprint.  A community that still gleams…from the example of his being there.
Home!