He may be Troy's most versatile impact player in years, which is just the way senior tight end Spencer Klopfenstein wants it.  The more he can play, the better!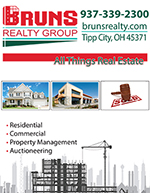 Troy – Miamisburg at Troy. Division II high school state football playoffs. November 11, 2016.
As Troy coach Matt Burgbacher recalls, the same game that capped the Trojans' breakthrough season under Burgbacher also served as then-sophomore Spencer Klopfenstein's coming out party in football.
Klopfenstein, as versatile a player as he is lanky, caught the attention of game officials for playing after the whistle. One of them jogged over to Troy's sideline at Memorial Stadium to tell Burgbacher he needed to get his player under control.
"I said who? The official said No. 84 keeps shoving after the play," Burgbacher said, emphasizing Klopfenstein's extra-curricular action wasn't dirty or unsportsmanlike, but simply extra effort in an emotional and intense playoff game. "I said, 'Thank God. That's awesome! We've been trying to get him to do that all year.'"
Two seasons later the Trojans are still riding a wave of success, attempting to qualify for the playoffs for the third straight season. That's been done once in Trojans' history (1995-97). As for Klopfenstein – now a 6-foot-4, 210-pounds senior – he's still throwing parties. Block parties.
Klopfenstein has soft hands as a receiving tight end. As a blocking tight end they are rock solid. So much so that during Troy's game with Sidney last season Klopfenstein was asked to take on three-star recruit Devan Rogers, a 6-2, 285-pound defensive tackle playing this fall for the Toledo Rockets.
"Devan was the hardest guy to block. He's a big boy," Klopfenstein said. "I take it as a compliment that my coach thinks I can handle him. I take that as motivation and go do it. The plays we had put in for him I basically had to get in his way.
"I do like catching the ball, but there's nothing better than making a good block and having your running back score a touchdown."
Klopfenstein grew up playing in the trenches and remained there until his freshman year. He was always tall but thinned out some as a freshman. That's when Troy coaches moved him to tight end. Since then he's lined up everywhere on offense but two positions – guard and quarterback.
He's lined up at tackle and tight end. He's gone wide as the No. 1 receiver and caused mismatches in the slot. He's even been in the backfield.
"That's the great thing about Spencer," Burgbacher said. "We can ask him to block down on a 250-pound defensive tackle. We can have him reach on a very athletic linebacker. We can have him pull and match up with that inside linebacker. We can have him release and block a corner or a safety. For us offensively, that's awesome we have so many possibilities of what we can do with him.
"And what quarterback doesn't like a 6-4 target that's running across the middle?"
Klopfenstein's future is also full of options. Valparaiso and Morehead State have both offered scholarships. And then came an offer from Brown University, the Ivy League university in Rhode Island. Of the 32,724 students that applied to be part of Brown's Class of 2021, there were 2,722 (8.3 percent) admitted.
"I was extremely excited that night. I called coach Burgbacher right away and talked to him a little bit. I told my friends. I celebrated a little with my family," said Klopfenstein, who is in no rush to announce his decision.
"One of the first questions (college recruiters) always ask me is GPA and transcripts. Spencer has taken that to heart," Burgbacher said. "He's going to pick a school where it's not so much about the next four years, it's about the next 40.
"They love his film. They may wish he was just a little bit bigger. But he's a kid that's going to blossom in the next year or two. What's so intriguing about Spencer is you're not getting just a good football player or just a good student. You're getting the all-around athlete. He brings so much more to the locker room with him."
The offer from Brown wasn't the only honor to come his way recently. Klopfenstein won the coveted Vesper Award, given to an outstanding male in the junior class. The Carson Award goes to an outstanding junior female. Both are voted on by Troy High School staff and administrators.
His accomplishments – as long as the positions he's played – include a 3.8 grade-point average, National Honor Society, Great Outdoors Club and his athletic accomplishments. In addition to football and a season of baseball, Klopfenstein won the D-I district title in the discus to qualify for the regional meet this spring. In 2017, as a sophomore, he competed in the shot and placed fifth at the district meet just missing regional by one spot.
The award had added meaning for Klopfenstein. It was during the 2016 football season when then-senior Will Brumfield – the Trojans' tight end and outside linebacker – pulled Klopfenstein aside and told Klopfenstein he had the potential to play those positions, too.
"He came to me and said he wanted me to play tight end and wanted to help me get there, even though he was the starter the year before," Klopfenstein said of Brumfield, who also won the Vesper Award.
"I always wanted to win this award. Will won the award and I always kind of looked up to Will, honestly. He won it and I said I really want to win this award. It kind of pushed me to do the qualifications for the award. … Will was one of the biggest leaders on the team that year. That was the season we turned around a 2-8 season to a 10-2 season. I always looked up to him for that. He got the team back to where it needed to be."
And with returning talent like Klopfenstein – and fellow All-North Division selections Sam Jackson, Jaydon Culp-Bishop, Shane Shoop and Blake Burton – the Trojans plan to keep it there. Troy has won the Greater Western Ohio Conference North Division the past two seasons – going 18-5 overall and 10-0 in the division – following that 2-8 season when Klopfenstein was a freshman.
"We don't take anything we've done for granted the last couple of years," Klopfenstein said. "We're working hard every day. … It's nice knowing we did that but we're starting 0-0 and looking to win our first game and every game after that."
In addition to offense, Klopfenstein is a potential starter at outside linebacker. When told by Burgbacher he could start both ways this season, Klopfenstein first response, according to Burgbacher, was this: "'Coach can I still play special teams?'"
Yes.
"Special teams is just more time to be on the field," Klopfenstein said. "I'll go out and play whatever. Just more time to make plays."