Amidst this week's summer league basketball tourney play for area high school, the subject of the much bigger OHSAA state tournament was the topic for question to some area coaches.  How to make it better?
I asked Jerry Snodgrass if later this summer, prior to his officially taking the reins as the new Ohio High School Athletic Association Commissioner…he would sit with me for a candid interview on topics posed by selected readers of Press Pros, coaches, school administrators, and just plain ol' fans.
He readily agreed last week during OHSAA summer meetings in Cincinnati.
"It should be fun, I'm anxious to hear what people have to say,"  said Snodgrass.
And the questions themselves, are in – dealing with the broad agenda that many think the OHSAA must deal with in the not-so-far future.  You're aware of some of them already – competitive balance, costs, and how to get more kids involved when faced with so many different alternatives for their time.
But there was one more topic that nearly every basketball purist raised as his or her subject for questioning Jerry Snodgrass.  What can be done to make the state basketball tournaments interesting again, the event they once were…relevant to its illustrious legacy?
Those concerned cite either the perception of, or the fact of declining attendance, escalating costs to attend, competitive disparity between public and private schools…and a general lack of 'grass roots' interest across the state.  More than one mentions the championship tournament of the state in comparison to an AAU event…only with a more glamorous backdrop.
And prior to our meeting with the commissioner, we posed that same question to coaches on hand to watch this week's summer league tournament play at Miami East High School on Tuesday – Miami East's Allen Mack, Troy Christian's Ray Zawadzki, and first-year Russia coach Dave Borchers.
Their views…on what can be done to make the tournament what it once was, given the steady decline in attendance, and the public perception of an unfair competitive challenge in public schools versus the privates.
They all have some first-hand experience.  Zawadzki took his Troy Christian program to the state semi-finals four years ago and lost to a much bigger, and more talented team from six-time state champion Villa Angela-St. Joseph.
Allen Mack has taken Miami East to the Final Four three times, winning the Division IV title in 1996.
And Borchers was an assistant to then coach Paul Bremigan when Bremigan and the Russia Raiders lost in the Division IV title game to Delphos St. John in March, 2002.
"I personally can't go to the tournament,"  admitted Zawadzki.  "It just hurts every time I lose my last game of the season and then I have to unwind.  I wish I could go, because I loved going as a kid with my dad.  It was a special memory, I admit.  And I wonder now if the venue isn't too big, if the intimacy of St. John Arena isn't a better hosting environment?"
But as today's game…..?
"I think the game is still desirable.  I think today's game is still watchable, and entertaining.  I think there's a limit as to how much the state can do to make it better…and they're trying to change some things with competitive balance and other measures.  I've heard rumblings of paring down Division I schools, and creating a fifth division, which would make some sense because I think there's a lot of kids who deserve a chance and the honor of playing in a 'state' tournament.  We've been there once and it's something our young men will never forget.  I think of this year's Division IV title game and how special that was, because Kurt (Goettemoeller, Marion Local) and I both know how tough it is to get through the southwest region…and the way his team rose up to the challenge of a great basketball team time after time.  I was very happy for him to win that state title.  They'll never forget that."
Like Zawadzki, Allen Mack admits to being one that doesn't see the need to tinker with something that's been so good for so long…an "event" that has marked the annual rite of spring for generational basketball fans in Ohio.
"I'm not one to make changes for the sake of change because we've been there three times, won it once, and I consider it an honor to play in the state tournament,"  says Mack.  "I still go every year.  First and foremost, the matchups are a key to attendance and interest in the tournament.  Communities like ours and Tri-Village and Marion Local have always brought a lot of people to the tournament in support of their teams.  I don't see that changing.
"But I think the perception of competitive balance has had some effect – of kids who transfer into a district to play, I'm not sure there's the interest like there once was to follow those kids in the community (because they didn't grow up there).  And I think the recent ruling on bylaws (4-7-2, Issue 4B) by the OHSAA where a kid who transfers in now must sit out the final eleven games of the season, and the tournament, instead of the first eleven games.  That's bound to make an impact, a big step that a lot of coaches and administrators wanted to see.  There were teams that loaded up with transfers and the previous ruling turned out to be a slap on the wrist because they could still practice and get ready for the second half of the year, and the tournament.  Now, they're going to sit out the second half and the tournament, unless they're moving residence.  This is going to be a big change, because without naming anyone, those that had a lot of transfers moving in just to play became a hard a hard sell to the average fan who went to the state tournament.  And the schools themselves weren't bringing a lot of fans when they're making their eighth trip in ten years."
Russia's Dave Borchers smiled at the question, hesitant at first to make any case for change.
"I think the issue of public versus private raises a lot of questions,"  he said with a nod.  "And I understand that when you look at all the new schools that didn't use to be there (Cornerstone Christian, Afri-Centric, Harvest Prep, etc.).  I think that's what has people talking about competitive balance.
"As far as the building, I'd much rather go to St. John, 100%.  The Schottenstein Center is a fine facility, but I liked the intimate environment of St. John Arena better.  It seemed louder…there's was just something about it.  I know it's pricey (cost of attending the tournament), compared to the past, so that might keep some people away.  I've always gone with other coaches and I haven't taken my family, except for my two oldest boys.  So it's pricey, for sure, but I understand they don't want to go in the red, either."
And to the question of having teams 'qualify' to participate in the tournament with a requisite number of wins – to eliminate more boring early-round blowouts – Borchers shakes his head.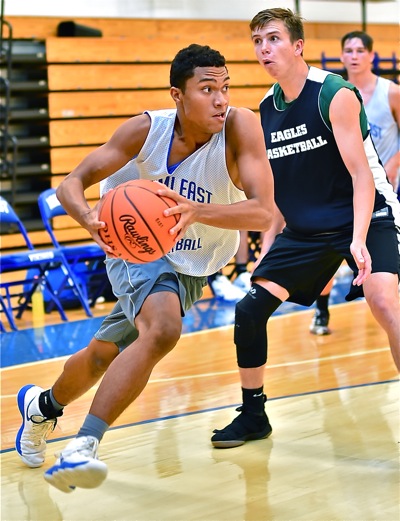 "I like everyone being in the tournament,"  he insists.  "I like everyone having a chance.  I would be in favor of teams with the better record hosting the first-round game, like they do in some parts of the state (Cleveland).  They do it in other sports, and I don't see a problem with that.  For one game I would like that."
But that, in and of itself, doesn't necessarily solve the problem of how to make the state tournament what it once was…when 18,000 people packed into Value City Arena to see Jon Diebler and Upper Sandusky play Dayton Dunbar in 2007…or Ironton versus North College Hill with O.J. Mayo, in 2005.  That's the question (or one of them) reserved especially for Jerry Snodgrass, and trust it…it's not one he hasn't already considered.
Still nine months away, there's tournament talk already in Ohio.  Only now, it's not about who's gonna play who, but…who are those guys, and where did they come from?
Or, are we even in the right building?