Delayed for a couple of weeks by matters beyond your control, we belatedly share some thoughts of readers over the past six weeks – on state tournament baseball, Buckeye baseball, Stan Wilker, and no good deed goes without at least some argument, apparently!
Since our last post of The Reader Speaks a lot of water has come over the dam – state tournaments to end the school year, Buckeye baseball and an awakening of those who would be fans if they knew, the loss of our friend and colleague, Stan Wilker, and our annual scholarship awards to local student-athletes.
And while June is a slow month for web traffic, nonetheless there was a lively response on each of the above events – starting with Hal McCoy's 'surprise' duty with writing the action of the 2018 state baseball tournament:
"Pretty cool.  A hall of famer like Hal McCoy covering the high school state tournament.  Well done, and thanks to Hal for taking the time."  …  Mark (Springfield)
"Great coverage of the state tournament.  It's a treat to read Hal McCoy writing baseball in its purest form.  I've been a fan of Hal for years, but never more than now.  And, thanks for the tribute to Chuck Harlow (Northmont baseball coach).  A class act."  … Joe B (Sarasota, Fla)
"This was so cool to see and read, and I'm sure it was a thrill for the kids, as well.  Thank you Hal McCoy for sharing your gift with high school baseball."  …  Doug Miller (Dayton)
Regarding the Ohio State Buckeyes, and their NCAA regional appearance…our being there was no surprise, but a lot of people who read wrote to complain about the lack of publicity by the University itself:
"Thanks for the coverage of Ohio State baseball at the NCAA tournament.  But I'm sure a lot of people had no idea they were there.  Would it have been too much for the university to get the word out?  Had this been football and basketball the whole world would have known."  …  Tony Morris
"It's a shame that baseball falls so far down the list of activities at Ohio State.  Let any other sport there make the NCAA tournament and it would have been the lead story on every TV station in the state.  Athletic department dropped the ball."  …  Tim Killilea
"Great year for the Buckeyes, and thanks for the coverage – the only coverage of Buckeye baseball in the state of Ohio.  Nice work, Columbus Dispatch!"  …  Doug (Westerville, Oh)
"Congrats to a Springfield guy (Greg Beals) for a fine season and making the NCAA tournament."  … Jack Riess
There were many to took the time to write and comment in person about Stan Wilker's untimely passing, but we'll share a couple of the best: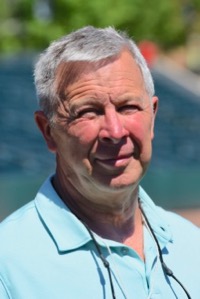 "Shocked to read on your site, and looked at the photo to make sure it was the same man I met at last year's state football tournament.  Thoroughly enjoyed meeting (Stan) and the information he shared with me about Press Pros, Marion Local, Minster, and the MAC Conference.  It was a chance meeting in the press box and I left feeling like I had known him for years.  Very sorry for everyone's loss."  …  John Brace (Ashtabula)
"Hard to believe, because I didn't know.  We will all miss Stan."  … Scott Elchert (Jackson Center High School)
Finally, one of the things we enjoy most is the opportunity to reward area student-athletes at the end of the year for competitive performance both on the field and in the classroom, through the generosity of those who support coverage of both the MAC and SCL (Shelby County League) Conferences on Press Pros.  Apparently, though, no good deed goes without some criticism:
"Once again I bring to your attention that while it's commendable to reward achievement, there are so many others who need your recognition and financial support far more.  What you're doing further widens the gap between the 'haves' and the 'have nots' and shows little effort towards broader inclusion and diversity.  You make a big deal out of helping kids, but the ones you choose to miss is an even bigger deal.  Think about doing better, if you can, in the future."  …  Syl
(Ed. Note:  My dear friend, the beauty of America is that we can all make a difference for someone if we choose.  You obviously have great passion for it, so I would invite you to use your own platform and resources to help those the rest of us miss.  Our program is made possible largely by those who choose to make a difference in their own community – call it personal, and individual responsibility.  That same opportunity is available to EVERY community, regardless of size.  Think about that, and doing better, if you can, in the future.)
But there were some like these, as well…….
"Thanks again for your support.  Great winners."  …  Stan Evans (Sidney)