In a weekend of baseball fun for area boys, the 14-year-olds from Versailles got things off to a bang in the Craig Stammen Classic youth tournament.
Versailles – Realistically, you can make the point that it was a one-hitter – that one ball cleanly hit into the outfield by the Russia in the fifth inning of Friday's 14-and-under opener of this weekend's Craig Stammen Classic youth tournament.
But with a runner on first base on a lead-off walk, Versailles left fielder Ben Ruhenkamp, who was playing right behind shortstop,  picked it up and fired a strike to second base to force out the runner on first.  Hence, because it was a force out it was scored a fielder's choice, and not a hit.  So, a technicality……
But just the same, the Versailles 14U team celebrated a 'team' no-hitter on the varsity diamond at Versailles High School in a 9-0 six inning game stopped by time limit after the sixth.  Starter Chase McEldowney threw the first four innings, striking out a few and walking one, and then cousin Noah McEldowney came on in the fifth to record the final six outs and preserve the 'technicality' and the shutout.
This is fun baseball, and for one very special reason.  Most of the kids from the competing teams know each other, enjoy the challenge of playing against each other, and look to the future when they'll continue to compete as friends at the high school level.  Most of those playing on Friday will enter the 2018-19 school year as freshmen.
Pitchers are limited to four innings on a given day, the double elimination format ensures that the nearly 40 teams from around the area get their money's worth of weekend baseball.  And as the kids will attest to…you can't beat the hamburgers hot off the grill, even between innings.  Craig Stammen, himself, doesn't have it that good in San Diego!
But the modus operandi of the weekend for everyone is…just play ball.  And Russia, playing with a limited roster, simply couldn't survive a torrid start by Versailles in Friday's tourney opener.  The host Tigers scored three in the first, highlighted by a Jacob Treon double, one in the second, two more in the third, one in the fourth and two in the fifth.
In the meantime the cousins McEldowney threw strikes, pitched to contact, and got a couple of dazzling plays behind them to complement their effort…including a 6-4-3 double play to finish the fifth inning – Treon to second baseman Carter Luthman, who grabbed Treon's throw bare-handed and fire a strike to first baseman Trey Mills.  Stammen and the entire Padres infield would have smiled.
There are no 'stars' of the game, mind you, in this weekend tourney, but Jacob Treon will go to sleep Friday with a smile after his first inning double, and another in the fourth that struck the base of the fence 320 away, along with a pair of fine plays at shortstop.  Afterwards, he shared why the Stammen Classic is an event that every player this weekend looks forward to.
"Well, it's the biggest tournament of the year in Versailles,"  said Treon, a freshman-to-be whose mother, Penny, is a first cousin of the tourney's namesake.  "He's my second cousin, he sponsors this tournament, and we know all the kids who play because we play against each other all year.
"We all know each other, we know we're going to see 'em in high school, and it's just fun to get together with your friends and play the teams we're going to play later."
In a day of travel baseball and pay to play, the kids in the Stammen Classic are all home grown, and declare that the best part of baseball is playing with your friends – those you've known since they started school.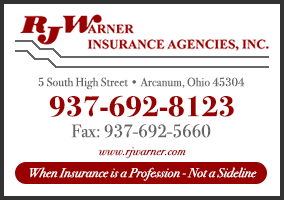 "We have known each other and played since kindergarten,"  says Treon.  "We're a hometown team.  We know every single person on the team.  It's a small school, and playing with your friends makes it more fun.  We know everyone's assets, and we rely on each other."
The tournament resumes on Saturday morning at six venues in and about Versailles, including the Little League field in North Star that bears Craig Stammen's name.   Teams from nine years old through fourteen will be involved from Ft. Loramie, Minster, Coldwater, Troy, Piqua, Fort Recovery, Russia, and points in between;  and the object is to have the 'boys of summer', as author Roger Kahn once wrote, just play baseball.
If you win it's a bonus.  That, of course, and bragging rights.
'Cause nothing beats playing with your friends on the hometown team.