In 43 years I've never worked with someone with whom I had more in common…or had more fun doing it.  Our friend, our associate, Stan Wilker, was the embodiment of life's worst adage…the good seem to leave way before we're ready.
It literally breaks my heart to write that our Press Pros associate, Stan Wilker, left us Monday, and way before any of us were ready.
Stan, 69. passed away at his home outside Maria Stein after a three month fight with cancer.
In our almost three-year association at this website Stan and I grew to be quite close, as if it was destined to be.  We had a lot in common, and we had a few differences, too.  But the differences never seemed to matter.  Such was Stan's unique way of prioritizing.
We liked sports.  We liked music.  We liked baseball.  And I found, too, that there was absolutely no one in Mercer, Darke, and Auglaize County that had a bad word to say about him.  Everybody seemed to have a good story and laugh to share about Stan Wilker.
He taught me a lot in those 30 months.
Stories about Treva Fortkamp, Jack Albers, Keith Westrick and Tim Goodwin – from his days as coach and athletic director at Marion Local.  Some you could share, some you couldn't.  For encores, he had a file on on a few others, too.
He loved the Beach Boys, and knew every one of their hits…and the lyrics.  And he lived 'em, right down to that 'muscle' car Mustang he liked to drive.
He loved the St. Louis Cardinals, clear back to Lou Brock and Ernie Broglio, the pitcher the Cards traded to get Brock from the Chicago Cubs in 1964.
He loved the Dayton Flyers, and never missed an opportunity to assist Hal McCoy and Julie Wright in getting to the arena on snowy January nights.
But more poignantly, Stan shared with me his love for the people of Mercer County – and delighted in telling stories about many former students and the ones he worried about in school that grew up to be just fine – pillars of society.  Learning, he'd say, just doesn't stop once you graduate.
And nothing pleased him more than to tell how Marion Local hired a young football coach that showed up in 1999 on a good recommendation and proceeded to win ten state titles in the next twenty seasons.
Press Pros turned out to be a great outlet for Stan, who took on the duties of account manager in August of 2017.  He devoted himself to help build our scholarship endowments for local student athletes – excited to provide an example of reward for competing equally on the court and in the classroom.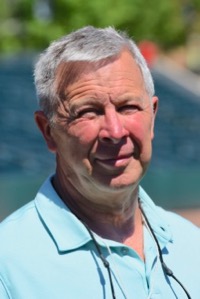 And the last time that I personally spoke with him, he made sure to tell me how much that association had meant to him, even for such a short time.
"I have no idea why this has happened,"  he said upon finding out his illness back in March.  And yet, Stan had the kind of spiritual awakening to accept that there's very little that we're meant to actually understand in this life.  Then, he would just smile and say, "What do we do next?"
Unfortunately, we're left to go on without him, and that hurts us all more than words can explain.  To his wife Janet, his children and grandchildren, I can honestly say that we share your loss with an emptiness that can never be filled.  That's just how it is.
We will never forget the kindness, the friendship, and the joy…of knowing Stan Wilker!