The 2018 Hal McCoy Scholarship Award for a career in journalism and language goes to Minster's Paige Thobe, who has big plans for attending Ohio's biggest school to get her start.
Admittedly, it's a narrow field.  Always has been.  Which is why the competition between those who apply for the Hal McCoy scholarship for journalism becomes a matter of what words you use, and how you use them.
Minster's Paige Thobe, a senior attending Ohio State this fall, nailed it with her application for this year's $2,500 award.
"As an avid reader and writer, writing is the foundation of my connection with the world.  My thoughts, feelings, senses, bad days, good days, and favorite memories are replayed in my mind as words,"  she shared in her 500-word essay.
Like many of her classmates, Thobe was a busy athlete during her four years at Minster, participating in track, where she received all-state honors, volleyball, where she was team captain last fall, and was a member of this year's Division IV state champion basketball team.
"Great kid, and a great choice for this award,"  says her basketball coach, Mike Wiss.  "She's a hard worker and she'll make the most of this."
In addition, she graduated in May with a 3.93 GPA and looks forward exploring the broad field of journalism as an Ohio State freshman this fall.
"I'm very excited and appreciative to receive this award,"  she said this week, upon learning of her selection.  "I'm thinking I might want to learn more about news journalism, but I'm anxious to get there and just get started.  This award helps a lot."
Hal McCoy, of course, is the long-time writer for the Dayton Daily News, covering the Cincinnati Reds for 47 seasons before retiring from the daily beat seven years ago.  He still inhabits the Great American Ballpark Press Box on most days, and writes his up-to-date observations online for the Daily News and his own website.  He is a frequent contributor to Press Pros, covering University of Dayton football and basketball.
The Hal McCoy Award is presented annually to graduating seniors pursuing a career in journalism, communications, language arts education and is sponsored by the Unity National Bank in Piqua, Troy, and Tipp City.  Since its debut in 2012, the McCoy Award has gone to graduates from Newton High School, Lehman Catholic, Troy High School, Miami East, Arcanum, and now Minster.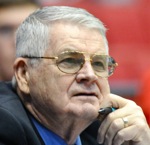 "I'm proud to have my name attached to an award of this kind because $2,500 would have been pretty handy to me as a journalism student at Kent State back in the 60s,"  says McCoy.  "There was no help of any kind back then, so I personally appreciate what Press Pros does to help out the next generation of journalists and writers.  Congratulations to Paige and my best wishes to her in her journalism career at Ohio State."
Thobe will receive her award next week, June 13, at the annual Press Pros MAC Scholar-Athlete Awards hosted by the Moeller Brew Barn, in Maria Stein.  Ceremonies begin at 6 pm and the public is invited.