Two issues that beg being aired, just because they've worn out their welcome:  1) The NBA Finals, and 2) Do you really care if Terrell (Owens) shows up at the Hall of Fame when he's inducted in July?
Because so many of us are just simply dopes when it comes to sports – that we'll watch anything that isn't the Bachelorette to fill our time – the most over-run narrative in recent sports history has become that of this year's NBA Finals.
It's been talked about on ESPN so much, the videos of J.R. Smith and Game #1 have been shown so much, that it's positively tiresome…and irrelevant.  Because it's apparent that Golden State is clearly the better team, they're better coached, they're going to win, and frankly Disney (the company that owns ABC and ESPN) has nothing better to air and a lot of cash committed to it.
So, all the talk in the mornings, in the evenings, at noon, 2 and 4, from all those talking heads about Steph, KD, LeBron and where he's going to play next…is just superfluous gab.  The talent gulf between the two teams is so apparent it begs wonder as to how Cleveland ever got through Boston to even be in the Finals.  Of course, however, the answer to that can be found in two words – LeBron James.
And sadly, LeBron's greatness is tarnished by the overtone of selfishness that if he can't win in Cleveland – if they won't surround him with the talent he needs (and he needs plenty of help) – he'll pack his bags and go somewhere else.  Because, it's just that important for him to win more than the three titles he already owns, and whatever it takes.  Sends a wonderful message to young-and-comings everywhere, doesn't it?   And still, we watch, mesmerized, and keep tuning in.
And if he does show up with Golden State next year, what's that tell you about the NBA and the fact of the tail wagging the dog in that league?  What's it tell you about the dog and the tail when Kevin Durant admits that he signed with Golden State…because he needs to be noticed.
It's just so tiring…and the best reason I know of mark off the days until high school football.
But the NBA doesn't peg the needle for ridiculous like the story of Terrell Owens – the clown former wide receiver who now says that he won't show up in Canton this summer to accept his induction into the NFL's hall of fame in person.
Why?  God knows, but it is reinforcing to see that he lives in retirement like he lived when he was an active player.  It seemed that there was always a greater need with him to be noticed than there was for him to produce – and he produced plenty.  But always with that pouting personality of needing to be the center of attention, good and bad.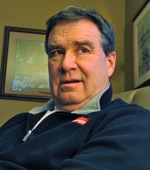 What Terrell Owens doesn't realize is that no one really remembers anymore.  There have been plenty of clowns since, and present (like Odell Beckham's act of a dog peeing on a hydrant);  and in the clown business, like no other, it's what have you done with your act lately?
Sadly, Terrell was old news when he played because he made the act a bigger deal than his contribution to football…and if he chooses not to show up in Canton come July it won't even make the front page.  Randy Moss will be there for his induction, with a better career, better numbers, and for the fact of his being in broadcasting now…he has relevancy.
The last word about people who push the envelope too far….there's just more important things!