Cavaliers' quest for seventh state championship stopped by newcomer South Range, which made three game-saving defensive plays to win, 3-2.
COLUMBUS — Coldwater coach Brian Harlamert stood resolutely in front of his team's dugout Saturday afternoon in Huntington Park — a loser, yet a winner. Always a winner.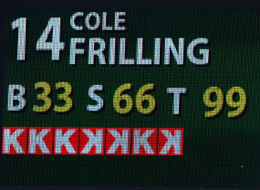 His team had just lost the Division III state high school baseball championship game by the slimmest and trimmest of margins, by one run.
The storied and historic Coldwater Cavaliers lost to Canfield South Range, 3-2. South Range scored its three runs on two sacrifice flies and an infield hit.
"I tip my cap to our seniors," said Harlamert. "We got here. We weren't supposed to be here. We had a bunch of guys who were one-year, first-year starters for us. We leave here without No. 7 (state title trophies) but we did get here for the 20th time (to the state tournament). And we had a chance to win that game."
South Range, a well-traveled and road-tested team was making its first ever trip to the state tournament while Coldwater was competing in the state tournament for the 20th time. That one run was the difference in Coldwater taking home its seventh state championship.
As it is, it was Coldwater's fourth state runner-up trophy. And while consolation prizes are never really welcome, Coldwater's Harlamert knows this one is at least a tad special.
Anybody who casually scanned the 16-15 record that South Range lugged into the state tournament might think the Raiders should be a pushover. They would be deadly wrong.
South Range is an independent, a school with no league affiliation, so it accepts games where they can be found. And this year they found them in New York, Wisconsin, West Virginia and South Carolina.
"We would get dropped from scheduled games when league teams had to make up rained out games," said coach Jim Hanek. "So we're always looking and we tell anybody we can, 'We'll take a game, we'll take a game.' We were in some difficult ballgames and that really helped us as a team."
Incredibly, South Range lost six of its last seven games before the tournament commenced, then began its unexpected glide through the tournament that saw them win the regional semifinal by 4-1 over Waynedale and the regional final by 4-2 over Orwell Grand Valley.
That put them in this magical place for the first time in school history and the trophy they won Saturday is their first state title in any sport.
"This was all uncharted territory for us once we got out of the district tournament," said Hanek.
The Raiders, though, were not intimidated one iota with Coldwater's big-time reputation and its gymnasium stuffed with high-profile baseball trophies.
"No, we weren't intimidated and that's a storied, great program," said Hanek, in his 12th season at 'The Range.' "That's one of the top programs in the state in Division III, year after year after year."
South Ridge won this one because their kids know that the gloves they wear are there for more than cosmetics. They know how to use those Wilsons, Rawlings and Mizunos they wear.
They made three spectacular and special plays, any one of which might have permitted Coldwater to score if the play isn't made.
The first one came in the fourth inning. Coldwater came from 2-0 behind to tie it, 2-2, the runs scoring on a balk and an infield out. And they had the potential go-ahead run on second with two outs when pinch-hitter Noah Miller scorched a line drive to right field. It was sinking fast, but right fielder Jaxon Anderson made a diving, barrel-rolling catch, snatching it off the grass-tops.
The second one came in the fifth inning, again when it was 2-2. Coldwater again had the potential go-ahead run on the second base and a runner on first with one out. Jacob Wenning drilled one between short and third, a whining bullet. South Range shortstop Blandon Youngs dove belly-down into the dirt and snagged it. He scrambled to his feet and threw to second for the inning-ending double play.
Enough defense? Not yet. In the sixth inning South Range had a different shortstop because Youngs went in to pitch.
The shortstop was Jake Gehring when Coldwater put runners on second and first via a hit batter and an error with one out. Pinch-hitter Joey Welsch grounded hard up the middle. Gehring stopped it near second base, stepped on the bag and ripped a throw to first for another inning-ending double play.
"We always play solid defense and as I preach to the kids, "Make the routine plays and the spectacular plays will take care of themselves," said Hanek. "They've done that and those today were huge game-saving plays."
Never was the use of a cliche more apropos than when Coldwater's Harlamert said, "It's a game of inches. That first play at shortstop is a single, maybe a double for one run, maybe two. The play in right field, that could have been the third run right there.
"When we tied it (coming back from 2-0 to 2-2), we thought we had a chance and even when they went ahead by one we thought we had a chance, but all those things happened," said Harlamert."
Coldwater pitcher Cole Frilling went the distance, giving up three runs and eight hits over the seven innings with two walks and three strikeouts.
He gave up a single to open the first to Jared Bajerski. He stole second, moved to third on a ground ball and scored on an infield hit to shortstop.
The second run came in the third when Frilling walked Brandon Youngs and he, too, stole second. He moved to third on an infield single and scored on a sacrifice fly to center.
The third and winning run came in the sixth on a one-out infield hit, a double by No. 9 hitter Kris Scandy and a sacrifice fly by Bajerski.
"Frilling competed and he has been there for us all year long," said Harlamert. "He had a rough start in that first inning, giving up a base hit and a run. But he settled down. We lost 3-2, but it wasn't because of what he did. We just didn't get the big hit.
"It was a good game between two good teams and both teams were very aggressive," Harlamart added. "Unfortunately their balls fell in and our didn't quite fall in."
Coldwater's hardest hit balls kept finding gloves.
South Range starter Sam Brooks went five innings and gave up two runs three hits and two walks. Then Brandon Youngs, who closed off one inning with his diving double play, displayed what a true closer is like. He came on to pitch the final two innings and retired six of the seven Coldwater batters he faced, including a 1-2-3 final inning.