The best long shot story of this 2018 Ohio State baseball season continues to be the metamorphic turnaround of Buckeyes left fielder Tyler Cowles. And when you consider his numbers, it shows how far you can actually come…if you set your mind to it.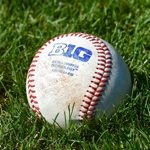 Greenville, NC – In the wake of last week's Big Ten Tournament – when they announced the all-tournament teams – there was one name among the standouts that represented one of the best long shot stories of the year.
Not only for the Big Ten Conference, mind you, but for all of college baseball – coast to coast, sea to shining sea!
There were two Buckeyes selected to the list of Omaha standouts.  Reliever Seth Kinker was a no-brainer, predictable from before the first pitch of the season. That's how dominant and consistent the Huntington, West Virginia right-hander has been in his three-year tenure at Ohio State.
The other was Tyler Cowles, from Grove City, Ohio, by way of Sinclair Community College.  And, you'd need to do some back-checking to understand and appreciate the irony of his accomplishment.
You see, a year ago at this very time time Cowles was festering in his own personal stew. Far from any all-tournament team, or recognition of any kind, he was packing his bags for a summer of reclamation in Chillicothe – with the Paints of the summer College Prospect League – after what he called the "embarrassment" that summed up his junior season.
Trying to hold down the starting left field job as a junior transfer from Sinclair, he hit just .191 while bouncing around in the Buckeyes' batting order. And frankly, there were days when pre-game batting practice was just as challenging.
"I tried to be something I wasn't," he said last summer, during a revealing interview before a Paints' game in Chillicothe. "I tried to become a home run hitter like Ronnie Dawson was the year before…instead of just making hard contact, hitting for average and line drives.  I'd never been that bad before."
"He wasn't the hitter we knew he was,"  Buckeyes coach Greg Beals would later say during the off-season. "So we sent him to Chillicothe to just relax and find his stroke – to become the hitter we thought he was when we brought him to Ohio State."
Cowles immediately set his mind to restoring Beals' confidence.
From day one at Chillicothe he shed the home run mindset and began shooting line drives to all parts of the field. On an early Sunday afternoon in Springfield, in June, he went three for five, with a pair of doubles and three runs scored. The two at bats when they got him out…were both hard-hit balls. The more he hit, the better he hit – the more confident he became as the season wore on. By the time the summer was over and he was back on camp Cowles was ready to make fall baseball his personal statement.
He continued to hit – line drives to the gaps.  Even outs were hard outs, and his confidence to claim a job and make an impact in 2018 was hard to ignore.
"I'd never been through a season like that before," he says about his 2017 experience. "So I just tried to make baseball fun again. Baseball should be fun."
The results of "fun", as he puts it, were startling.
He went from a .191 average to his current mark of .329 as the Buckeyes prepare to meet South Carolina in Friday's NCAA regional matchup.
Over the winter Greg Beals challenged that he would like a minimum of 15 doubles and 35 RBIs from his left fielder, whomever it may be. Cowles met that challenge and then some, hitting 19 two-baggers and driving in 49 runs. Compare to 2017…when he had 4 doubles and 19 RBIs.
Even the home runs are up – eight to this point – the by-product of that hard contact and a commitment to doing what he does best as a hitter.
And then last week, when it was announced that he, along with teammate Seth Kinker, had been selected to the Bit Ten All-Tournament team…the irony of it all, and the realization of what he knew was possible, was personally satisfying to say the least.
"When you've played the game for 19 years, like I have, it's fun to hear your name called," he said with a smile after Wednesday's pre-regional workout at East Carolina University. "It's nice to get that kind of recognition when you've put in the hard work. It's fun to hear your name highlighted. I just knew the kind of player that I was capable of being. It might sound cocky, but I felt like I was was under-rated. I felt like I could compete with a lot of people in NCAA Division I baseball.  You could say that Noah (McGowan) and I have had the same kind of year."
You could, and you should.
"Obviously no one thought that last year. It was the most embarrassing year of my life. But this year," Cowles adds, with a pause, "…my confidence, and my stats, have proven that I can be that kind of player."
They're thinking differently now.  Press Pros colleague Greg Hoard had mentioned it for the past month. In a year of glowing statistics from (Dom) Canzone, (Conner) Pohl, (Kobie) Foppe, and (Noah) McGowan, one can make the case that no one has made a bigger impact than Tyler Cowles
For the fact of having come so far – the depths of anonymity a year ago to making the Big Ten All-Tournament team a year later – he's become the player that he knew he could be, and the one that Greg Beals believed in when he brought him to Ohio State.
His is the story of stories…as the story of 2018 rolls on!