Loramie will seeks its third state title in Division IV – Coldwater will seek its seventh in Division III.  But first they have to get past new and unfamiliar opponents in Thursday's state semi-final round at Huntington Park.  Here's others say they'll see.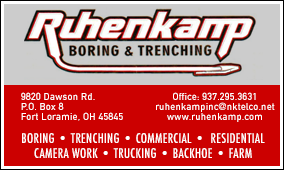 Simply put, there are so many cliches' used to write tournament previews I hate to bore you with more.  The simple fact is that Fort Loramie in Division IV, and Coldwater in Division III, made it through the gauntlet of sectional, district, and some surprising regional competition to make it to Huntington Park and this weekend's Final Four.
Cliches'?  What would you rather read, the team that throws strikes and makes the fewest mistakes is that team that will come out on top?  Or, the team that can control its emotions of playing the state tournament will have the advantage?  Or this old favorite…the team that's able to get that critical two-out hit with men in scoring position has the best chance?
I had another, different idea.  Why not talk to some coaches and writers across the state who coach and write Division III  and IV and have first-hand experience with the team that Loramie (25-6) will see on Thursday (Garfield Heights Trinity, 10 am)…and the one Coldwater gets at 4 pm, Minford.
Regarding Garfield Heights Trinity (22-3)…they haven't been there (the state tournament) since 1984, and they beat a familiar local name, Chris Hardman's Ottawa Hills out of Toledo, 15-7, in the regional final.  And 15-7 gives you a clue, as some other coaches have shared.
Trinity is a team with good athletes that have enough speed to take an extra base, they play pretty good fundamental baseball, and their top two pitchers generally throw strikes but they're not overpowering.  But with all tournament baseball, the one clue that bears watching is the competition they've played.  Trinity beat #9 seed Windham 5-0, but it took them 14 innings to do it in their opening tourney game.  Since then…John F. Kennedy, (#4 seed, 2-0), Maplewood (#3 seed, 13-0), and New Middletown Springfield, (#1 seed, 3-1).  By the way Chris Hardman's Green Bears out of Ottawa, were young this year, probably a year away from serious contention, and were 15-12 at the regional final.  That said, Chris usually plays pretty good teams so you do have to respect Trinity #1 seed and 23-3 record.
"But,"  said a writer from Cleveland's east side, "I don't think Trinity plays the kind of competition that teams like Fort Loramie and Minster play on a daily basis."
Another writer from central Ohio put it this way.  "When Newark Catholic doesn't get there (the Final Four) you know the state's pretty wide open.  The title is there for the taking."
The part about a daily diet of Minster, Anna, Russia and Versailles is true, regarding Loramie.  That, plus the fact that they were talented starting out (they won 20 games last year with a lot of freshmen), withstood the miserable March and April weather, and seemingly peaked at the right time.  Here's another thing…if you look at the history of state tournament games teams with good lefthanders seem to have an advantage.  You don't see that many of them, and Loramie has a pretty good lefthander in Jared Middendorf.
More, in every Loramie game that I've seen personally this year they did have that annoying cliche' going for them…of getting a timely hit with men in scoring position.  And, they may have the best all-around baseball player in the Shelby County League parked out in center field in Dylan Albers.  A senior, he's pretty good, and the rest of the group seems to follow his lead.
I did not see their district and regional wins, but I was there for their second game with a very good Russia team…and they beat the Raiders' best that day like they had their signs.
Coldwater (25-6), in Division III, will meet Minford (24-2) in Thursday's 4 pm semi-final – Minford, another team that has never breathed a breath of state tournament air, under coach Aaron Hopper.  The Cavaliers, of course, will be seeking their seventh state title, overall, the bulk of which came during the Lou Brunswick days, and the most recent under Brian Harlamert in 2014.
"It's been a funny year,"  said Harlamert this week.  "We had more talented teams in the past that couldn't get there, and this year's team had some good days,  some breaks, and here we are."
There's probably a cliche' in there with what Harley said, too, but what it means is – like the man said in Columbus – it's a year where there's no decided favorite in any division.
The thing you look at when you play Coldwater is their expectation of success.  They've had it before, they remember what it was like with football and baseball, and bowling, and they KNOW it can be done.
"I wish we could have made it through to play Coldwater again,"  said Wheelersburg coach Mike Estep this week.  "But we just didn't hit enough at critical times in the tournament.  We always have a lot of respect for Coldwater and the way they play the game."
Estep knows something about how to play the game, himself, having guided the Pirates to the Division III title in 2012 and '13.  And, he knows something about Minford, too, another Scioto County school, whose coach played for Estep in 2008 (one of the best to ever play in Scioto County) and later had a stellar career at Division III Marietta College.
"Aaron Hopper is their coach, and Aaron was one of the best hitters I ever coached back on our 2008 team,"  said Estep on Monday.  "I do know this.  They've played some good teams, they've beaten a couple of good arms, and they play with some enthusiasm."
And well, they're 24-2, so they should be enthusiastic.
But to the point about a daily diet…Coldwater has that habit of playing teams like Versailles, Minster, Fort Recovery, St. Henry, Loramie and Delphos St. John – five baseball 'heavys' in one league.  There are no five 'heavys' in the Southern Ohio Conference, and that fact plays heavily in the favor of teams from leagues that do.
But still, baseball being what it is all it takes is that one pitcher on that one day to have the game of his life;  and on any given day any team can beat another team.  More cliche', but never more true than with baseball.
And close with this thought.  Both of Loramie's wins under Bill Sturwold in 2007 and 2010 came at the expense of eight-time champion Newark Catholic.  They were the longshot of longshots and two guys named Andy Long and 'Cub' Hoying got them there, anyway.
And Coldwater's 2014 title came at the expense of favored Wheelersburg, and heavily-favored Cincinnati Hills Christian Academy, who had a no-hitter in its semi-final game.  Undaunted, the Cavaliers won it 4-2 and looked like they done it before…five times before.
Take nothing for granted, but the 2018 state tournament is there for the taking.  If you don't believe me, just ask around.