The Fort Loramie Redskins season seemed to be over after 4 innings, but a once in a lifetime performance by a Redskin junior saved the day and sent the Redskins to Columbus for the first time since 2010.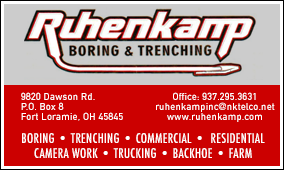 Springfield–May 25, 2018 is a day that Fort Loramie junior CJ Billing will remember for a long, long time.
So will his teammates and the several hundred Redskin fans who made the trip to Carleton Davidson Stadium in Springfield.
Playing on a sun-kissed, 85 degree afternoon, Billing hit a grand slam homer in he fifth, then added a two run single to snap a 6-all tie in the 6th, pushing the Redskins to an 8-7 win over unheralded Cincinnati Christian in the Division Four Regionl final.
It's the Redskins 6th regional title, and their first since 2010.
"Had 'em all the way," laughed a relieved first-year Loramie head coach Jeff Sanders. "These kids have been on a mission for a while now. We got down, and that was a pretty big hole, no doubt about it. But our guys kept hammering. We had better at bats as the game went along and just picked up our game. We got some big hits and made it happen."
The day started out as though it would be memorable for a far different reason for the Redskins.
After using three pitchers in Thursday's 7-5 semifinal win over Minster, Jeff Sanders sent Billing to the mound to start against the Cougars. The righthander got two outs before the sky caved in.
Cincinnati's Jacob Carroll singled for a run, Cody Anderson was hit by a pitch, and Winston Spencer singled to load the bases. Noah Jordan promptly unloaded them with a deep drive to left, and the Redskins trailed 4-0 before ever coming to bat.
Fort Loramie got one run back in the bottom of the inning on a Billing single that scored Carter Mescher, who had walked leading off the inning.
Eli Rosengartern relieved Billing after the Jordan double in th first, and held Cincinnati Christian scoreless until the fourth. Then, the Cougars struck for two more runs on a double by Carroll. Cincinnati then ran itself out of the inning with not one but two atrocious base running snafus.
Anderson hit a roller to third, which was booted by Redskins third sacker Mike Hoying. Carroll for some reason set out for third, got caught in a rundown, and was an easy second out. Then Anderson got picked off first to end the inning.
Still, it was 6-1 Cougars going to the bottom of the fifth, and the Redskins offense had managed just three hits off righthander Alex Johnson. Everything, however, was about to change.
Shane Hilgefort, batting ninth, got things started with a one out single, and Mescher and Dylan Albers walked. Billing then hit the first pitch over the left field fence, a no-doubt grand slam that cut the deficit to a run and sent not only the Redskins dugout but the large Loramie contingent into near-hysterics.
"I just wanted to hit the ball hard," said Billing, dripping wet after receiving an ice water bath from teammates. "He gave me a fastball belt high down the middle of the plate. I didn't know what to think when it went over the fence. It was awesome."
Mason Kemper pitched two scoreless innings in the fifth and sixth, and the Redskin offense went to work again in the sixth against the tiring Johnson.
Rosengarten hit a high chopper that bounced off the third basemen's glove and was scored an error. Kemper nearly beat out a sacrifice bunt, and Devin Wehrman hammered a deep drive to left that Jordan got to but didn't catch for another error. Hilgefort then got plunked by a pitch to load the bases.
After Mescher popped up for the second out, Albers drew full-count walk to tie the score, and Billing struck again, lining a two run single to snap the tie and cause more delirium among the fans.
"Just wanted to try and not do too much," Billing said about his game winner. "Just wanted to put it in play and see what happens.
"We knew we would keep fighting. We weren't going to give up. Baseball is a long game and momentum can turn pretty quick. We just kept working."
Kemper took the mound for the 7th, but the Cougars were not quite ready to fold the tents. Spencer walked to lead the inning, and took second when Billing threw wildly after snaring a line drive off the bat of Jordan. One out later, Tim Carangi singled to make it a one run game, but Mitchell Smith popped up to end it.
Kemper pitched the final three innings and allowed 1 run on two hits. He walked three and fanned two.
"I just told myself that when my number is called I have to do my best, and the way it comes out, it comes out," said the junior. "I felt like I took control of what I had to do, and I'm just happy to help my team win.
"I knew our offense would kick in, and when it did we would have a chance. I just had to keep us in the game the best I could."
Sanders said the Redskins never lost confidence, even down 6-1 and down to their last 9 outs.
"We had our heads up. We knew we would get some runners on base and make some things happen. We needed a big hit, and CJ delivered it. That was huge obviously. It's just the kids. They really,really wanted this and this is the payoff for all the hard work that they put in, not only during the season, but long before the games ever started."
The Redskins, now 25-6, had 8 runs on 8 hits and committed two errors. The Redskins stranded 5 base runners.
Cincinnati Christian finished 16-9 after scoring 7 runs on 10 hits with 2 errors. The Cougars left 8 on base, including the bases loaded in the third.
The Redskins scored twice in the 7th in the semifinals to eliminate defending champion Minster, then made the big comeback to secure the regional title.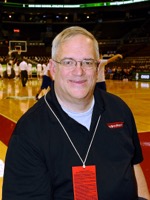 "It's been quite the two days," Sanders said. "I may need some blood pressure medicine or something. You just try to put guys in a position to win, and these guys are good enough athletes and baseball players to execute when they have to. They deserved to win today."
The Redskins will not get ready for the Ottawa Hills/Trinity winner Thursday morning at 10 o'clock at Huntington Park in Columbus.
Kemper gets the last word.
"I was just overwhelmed with joy," he said about the final out being recorded. "I was so excited. I had so much relief when he caught that, and on to state we go."