Fort Loramie pinch-runner Joel Keiser scored for a 7-5 lead, and that ended up being the final score in a D-IV regional semifinal game Thursday.
Springfield – With the wet and unusually cold spring season they had to deal with baseball coaches like Russia's Kevin Phlipot and Minster's Mike Wiss figured the worst was finally behind them.
But Thursday in the Division I-IV regional semifinal doubleheader at Carleton Davidson Stadium in Springfield, the coaches faced something they never expected as temperatures climbed to 80 degrees … snowballs.
Figuratively, of course.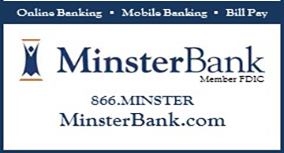 As the cottonwood seeds mimicked snowflakes as they danced across the baseball field on a light breeze, Russia and Minster – who met each other in the D-IV state title game in Columbus a season ago – both saw their seasons end as different situations grew too large to overcome.
In a 6-1 loss to Cincinnati Christian (16-8), Russia committed four errors in the first two innings as the miscues began to snowball. The Raiders (19-9) had more errors (5) than hits going into the seventh inning before a pair of singles gave them six hits overall.
"A little snowball action right there," Phlipot said. "One thing happened and then another and after that we might have tightened up. But I'm proud of these guys. They worked hard out there and got through that. After the first two innings it was our game to be had. Unfortunately six runs were too much to be had."
For Minster (22-8), the Wildcats faced an avalanche of hits as Fort Loramie pounded out 17 overall. The final four hits in the top of the seventh led to a pair of runs in the Redskins' 7-5 victory.
"Loramie's offense is everything we knew it was," Wiss said. "I just told our guys I'm proud as hell. Loramie put 17 hits on us … and the resilience we had to get out of some of those innings and to give ourselves a chance for a comeback, a tie and even for a lead. Just proud of our fight."
Fort Loramie's win moves them into the D-IV regional final against Cincinnati Christian 5 p.m Friday back at Carleton Davidson Stadium.
Fort Loramie (24-6) took a 5-0 lead in the second inning as Dylan Albers knocked in two runs and Devin Wehrman, Carter Mescher and C.J. Billing one each. Minster tacked on runs in the third on Isaac Schmiesing's RBI single and three in the fourth on RBIs by Jack Oberding and another by Schmiesing, pulling to 5-4. Adam Knapke's groundout tied it 5-5 in the fifth.
It stayed that way until the seventh.
Wehrman hit a sharp, one-out single to centerfield to reach. Shane Hilgefort hit a high fly between center and left. There appeared to be miscommunication between the fielders and it dropped in  despite a diving effort from Olberding. Mescher looped a single to shallow center for the 6-5 lead. Albers singled to right for the 7-5 final.
Mescher and Albers both had three hits while Billing, Hoying, Wehrman and Hilgefort had two each.
"We knew it was win or go home and we were going to exhaust every single resource and every single possibility we had," Fort Loramie coach Jeff Sanders said. "You're not going to out-coach Wiss. Luckily all the pieces came together."
Fort Loramie threw three different pitchers at Minster, but in an unusual way. Jared Middendorf started and was relieved by Nathan Raterman in the fourth. Billing started the fifth and was relieved by Middendorf in the same inning. Raterman pitched the final two innings.
"I know we couldn't save pitching to get through today. We'll figure it out (Friday)," Sanders said of what pitchers he has left after looking at Thursday's pitch counts.
Minster used four pitchers and received stellar efforts from Noah Enneking and Jack Heitbrink in relief after Fort Loramie tagged starter Austin Brown for those five runs.
Minster beat Russia 2-1 in the bottom of the seventh to win last season's D-IV state championship. Wiss thinks Fort Loramie has what it takes to keep the title in the area.
"They have what it takes to do it. I've seen it before. We've been there before," Wiss said. "They have a class program and they always have. I would hope they would say the same about us. That is what regional baseball is supposed to be right there."
The game took on added meaning for Wiss and Sanders, good friends who played baseball together at the University of Dayton in the 1990s. Wiss said the two – along with Coldwater coach Brian Harlamert – were classmates, teammates, roommates and best friends.
"Mike's and my friendship supercedes baseball," Sanders said. "No matter what kind of game it was, no matter how big the win or loss, our friendship is more than baseball. He's a great person and I respect him a lot. I hope I'm kind of earning his respect."
In the first game of the regional semifinal doubleheader,
Russia starter Daniel Kearns allowed six runs on five hits and was relieved by Jack Dapore in the second inning. Dapore went the rest of the way allowing three hits with eight strikeouts.
"A couple bad hops, bad plays, bad throws … that was just enough to get us off balance," said Phlipot, whose team has reached the regional tournament three of the past four seasons.
"Only one team can win that last game. As much as you want it, one bad performance or an off day can happen. Unfortunately it just wasn't our day today."