Not the way you want to end things, and not the way you want to enter this week's Big Ten Tournament.  Buckeyes finish season in lack-luster fashion, losing 6-1 to Michigan State.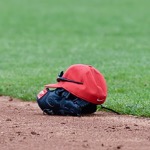 East Lansing, MI –  It was not what they desired, and far from what was anticipated.
The Buckeyes (34-20, 14-10 in Big Ten) dropped their season finale to Michigan State Saturday afternoon, 8-3…and their final series of the year to the 20-30 Spartans (11-12 in the Big Ten).
More disturbing, they've now lost three of their last four games, going back to the 14-4 mid-week eye-opener at Cincinnati.  And not to put words in anyone's mouth…but it's simply not the way Greg Beals wanted the regular season to end, or the momentum he expected to open play in next week's Big Ten Tournament.
In fact, Saturday's outcome was a stark example of two teams on different tracks.  By winning two of three, Michigan State secured their own bid to the tournament and could not hide their joy and enthusiasm to be playing on.  On the other side of the field…a nearly 15 minute team discussion in right field for the Buckeyes was well out of earshot, but the visual was more than clear and needed no interpretation.
Their season-ending loss started poorly for senior righthander Adam Niemeyer.  After surrendering a first inning run to MSU on a Danny Gleaves single and a Justin Antoncic double, his day came to an untimely end after a second inning when he walked three, suffered a pair of base hits, a sac fly, and a shot back through the middle that ricocheted off his leg.  From that point on it was academic as Spartans' sophomore righthander Mike Mokma pitched seven innings, giving up a third inning run, and did so with with an economy of pitches…just 79!
MSU added a pair of runs in the third via a two-run homer off Austin Woodby…and sealed things with two runs off a shaky bullpen outing in the eighth from Andrew Magno and Curtiss Irving.  Officially, Woodby threw 3.1 innings of two-run baseball, and Kyle Michalik relieved him with 1.2 of scoreless ball before the final inning split between Magno and Irving.
Ohio State added a pair of runs in the top of the ninth on a base hit by Tyler Cowles, a throwing error on a ground ball by Jacob Barnwell that scored Cowles all the way from first, and an RBI base hit by Bo Coolen.
Michigan State won it with eight runs on 10 hits, and one error.
Ohio State lost it with three runs on nine hits and committed one error.
Bottom line…it was a disappointing finish to a disappointing week of baseball – negative momentum when they needed it least.  Greg Beals was more than frank when he emerged from his post-game team meeting.
"We didn't even talk about the game or the weekend,"  said Beals.  "And sometimes you need to hit bottom before you can bounce yourself back up.  That's what we need to do now, and that's what we talked about out there.  The regular season is over now, post-season starts on Wednesday and that's where our mindset needs to be."
And was there some pre-game, or pre-weekend, concern, or talk, about finishing on a high note?
"More than that, we just need to change our mentality, the air about our ballclub,"  added Beals, admitting that fatigue between the ears can be real, and a part of late-season baseball.
"I think we are mentally fatigued, and the at bats and innings pitched seems to be wearing on us.  But I think that the flip and going into the post-season is really going to be good for us."
And just the same, it can be a really hard switch to flip.  Beals knows that, as well.
"Yeah, no doubt,"  he added.  "But we know what we have to do and that's we talked about in the post-game huddle.  There wasn't one word about today's game.  Everything was about how we're going to move forward.  We talked about it, we've addressed it, and now we have to act upon it."
If mental fatigue is an issue, fatigue on the pitching staff is just as real, and physical, as well.  Adam Niemeyer obviously didn't have the kind of finish he would have liked, personally, or for his team.
"We've gone to Nemo a lot.  And we're going to go to him again,"  said Beals without a hint of concern or doubt about his health (sore hamstring).  "From this point we go home for three days and clear the slate.  We have to attack post-season baseball and play to win.  We're playing for the brotherhood of Buckeye Nation.  Every at bat and every inning pitched now is for the brotherhood."
Multiple hitters:  On a day that delivered very few in terms of highlights, Dominic Canzone continued his late-season burst with a pair of doubles in a 2 for 5 day (.332).  Noah McGowan went 2 for 4 (.368), and Tyler Cowles had a pair of hits, a double and a single, finishing 2 for 4 (.324).
Depending on outcomes with other Big Ten games on Saturday, the Buckeyes will arrive in Omaha on Tuesday as either a five, six, or seven seed in the tournament.  Regardless, normal Friday starter Conner Curlis will be the presumptive arm on the mound for their opener, with Feltner and Niemeyer ready for the double-elimination format.  Outside of Austin Woodby's three-plus innings on Saturday, the big three of Seth Kinker, Kyle Michalik and Woodby should be well-rested and ready.
The entire Big Ten Tournament will be televised on BTN, with games and air times to be determined by Sunday.  Press Pros will be there for full coverage of all Buckeye games and relative matchups.
Added Note:  The Buckeyes have secured the 7th seed and will open tournament play on Wednesday afternoon at 1 pm (CT) against #2-seed Purdue.