They played in the manner they've made so popular, and nerve-wracking.  But a ninth inning uprising – as well as one from Bo Coolen – was enough to take the series opener at Michigan State.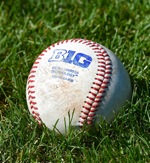 East Lansing – The byword, or mantra, of these 2018 Ohio State Buckeyes continues to be…nothing comes easy.
And as evidence, they built upon their already familiar reputation Thursday afternoon with a 10-8 win over the Michigan State Spartans in a game they controlled, then lost control, then exploded in the ninth inning to seemingly dash all MSU hopes…then hung on (with Seth Kinker) for their 34th win of the season (14-8 in Big Ten).
But it wasn't easy, or perhaps…the Spartans didn't make it easy.  Either way, they once again had to draw upon the resiliency that Greg Beals has lauded throughout the year to stage another thrilling, and winning, finish.
They started fast, scoring in the first on a Kobie Foppe walk, a stolen base, and a two-out RBI single to left by Conner Pohl.
Starter Connor Curlis nursed that lead into the third when he issued a one-out walk to catcher Adam Proctor.  Danny Gleaves then bunted for a single, and on a would-be double play ball to first baseman Bo Coolen, Noah West took the throw at second, then short-hopped the return throw to first for an error that allowed Proctor to score and tie the game at 1-1.
In the top of the fourth they retook the lead on a walk to Jacob Barnwell and the second double in as many at bats for Coolen that drove in the Buckeyes' catcher.  One batter later, Noah West singled and a throwing error by Justin Antoncic allowed Coolen to score, making the score 3-1.
Curlis was dealing, as he took the 3-1 lead into the bottom of the fifth inning.  But a one-out hit by Proctor and an RBI single by Bryce Kelly cut the lead to 3-2 and signaled the end of the day for Curlis as he left after five.
Reliever Kyle Michalik took the ball for the bottom of the sixth and promptly gave up a pair of MSU runs on a Marty Bechina base hit, another hit by Zach McGuire, Zach Iverson squeezed home Bechina to tie the score at 3-3, and then shortstop Ryan King singled down the left field line past Conner Pohl to send MSU in front, 4-3.  With the bases loaded and two out, Austin Woodby relieved Michalik and recorded the final out on a strike out…to leave the bases loaded!
In the top of the seventh the Bucks tied the score when Dom Canzone got on base by an error, Pohl walked with two out, and Tyler Cowles punched a single to right to score Canzone when catcher Adam Proctor dropped a perfect throw from Bechina in right…OSU 4, MSU 4.
Woodby retired the side in the seventh, and seemed in control in the eight when Zach Iverson singled to center, and then came home on a two-out double by Proctor.  Michigan State led 5-4, and went to the top of the ninth with closer Riley McCauley on the mound to close things out.
Ohio State had other ideas.
Canzone singled to lead off, then took second on a wild pitch.
Foppe put down a sac bunt, but was safe at first on a fielder's choice.
Noah McGowan then hit a sharp ground ball to shortstop Ryan King who threw the ball in the Michigan State dugout trying to retire Canzone at third.  By ground rule Canzone was allowed to score the tying run, 5-5.
Conner Pohl was then intentionally walked to face Cowles, righthander on righthander.  The matchup failed.  Cowles lined a ball off the chest of McCauley and was thrown out at first by King at short on the ricochet, but not before Foppe scored to retake the lead, 6-5.
Dillon Dinger then looped a single into right, scoring McGowan and Pohl…OSU 8, MSU 5.
Jacob Barnwell then walked, signaling the end of McCauley as lefthander Evan Flohr came on to pitch to lefthanded hitter, Bo Coolen.
Coolen, already with two doubles to right earlier in the game, hit another two-bag shot to center field off Flohr to drive in Dingler with the 9th run of the game, and the 5th of the inning.
Noah West then walked;  and Canzone singled for the second time in the inning to drive in Coolen with their 10th run.  Foppe then grounded into a 6-4-3 double play to end the inning.  However, the Buckeyes had reprised their late-inning thunder from a week ago against Purdue with 6 runs on 6 hits.  And as it would turn out…none bigger than the double by Bo Coolen.
You'd think easy by now, right?  Not so fast.
With Seth Kinker on the mound to close the game with five-run lead, Justin Antoncic walked with one out, and then went to second on a balk by Kinker.
Chad Roskelly then doubled, driving in Antoncic to make the score 10-6.
Bechina then singled, his third hit of the day, and first baseman Zach McGuire struck out for the second out.
But Zach Iverson singled to drive in Roskelly, and pinch-hitter Bailey Peterson singled to drive in Bechina to make the score 10-8.
Adam Proctor came to the plate and promptly drove a Kinker fastball to deep right field.  Dom Canzone went to the wall, looked up, and with his back against the barrier reached up to catch what looked to be the walk-off home run and record the game's final out.
Whew!
The final lines:  The Buckeyes won it with 10 runs on 9 hits and committed two errors.  The Spartans (18-30, 9-12 in Big Ten) lost it with 8 runs on 16 hits and committed four errors.  Austin Woodby was credited with his fifth win of the season (5-0), while Riley McCauley took the loss (2-5).
Already assured a spot in next week's Big Ten Tournament in Omaha, the Buckeyes now look towards nothing less than winning the final series of the year…and a sweep of the Spartans would enhance their chances for an at-large bid in the NCAA tournament.  To that end, they'll send Ryan Feltner to the mound on Friday afternoon at 4:05 (4-4, 5.05 ERA) to face Mason Erla (5-4, 4-06 ERA).  The game can be viewed on the Big Ten network.
To use Beals' phrase, their resiliency is admirable – remarkable, in fact.  And as Jerry Reed once sung….when you're hot you're hot, which is all well and good.  But at some point wouldn't you rather believe…that something, sometime, is bound to come easier?
Apparently not…with this group.