A three-sporter from Jackson Center, Kennadie Reese, and the boys Player of The Year in basketball, Anna's Wyatt Bensman, are this year's Press Pros Shelby County League Scholar-Athlete Award Winners.
Jackson Center's Kennadie Reese may not be the best-known female athlete in are Division IV circles, but many who know her swear that she works harder than a lot of others with bigger numbers, and bigger reputation.
The Tigers' three-sport participant was named as Press Pros 2017-'18 Shelby County League Scholar-Athlete Award winner this week, and her resume' bears proof that she's spent a lot of time working to make the most of her talents.
She plays soccer and runs track for the Tigers, sure enough, but it's in basketball that most know her.  A three-year letterman, and team captain as a senior, she was a member of the 2016 and '17 State Final Four semi-finalists, and garnered recognition as a District 9 all-star in her senior year.
But it was the manner in which she competed that attracted the most attention, rather than her stats and individual honors.
In soccer she played on Jackson's first-ever soccer team…a boys team.  "It wasn't easy,"  she said in her application essay.  For her efforts she was voted All-County honorable mention…on a boys' team.
In basketball, again her hard work and competitive attitude won the hearts of those who watched and followed the Tigers' state tournament runs in back-to-back years.
"We were almost always an underdog,"  she said.  "But because we worked hard and fought until the last minute we ended up winning a lot of games."
And to a lot who watched at the time, few believed that such an attitude of hard work and over-achievement would take them to Columbus in back-to-back years.  But it did.
"She often had more bruises than points,"  says one SCL hoops follower.  "She's always willing to work hard on defense and do whatever is necessary."
"What I've learned from athletics  is to work hard, and never underestimate anyone,"  she adds.  "Always show pride and poise, maximize your goals and set high standards.  And never, ever, give up.  I want to exceed expectations in all that I do."
An honor student as well, Reese plans on attending Edison State College this fall to pursue a career in physical therapy.
By contrast, our male recipient, Anna's Wyatt Bensman, was much better known for his dominance in basketball, but many overlook that Anna is also a football member of the tough Midwest Athletic Conference, as well, and Bensman was voted 1st Team All-Conference, and All-State (Division V) this past season as a defensive back for the Rockets.
But in basketball it was hard to overlook his impact.  Averaging 16.2 points per game in his senior year, he was voted SCL Player of The Year, 1st team All-Southwest District, and 2nd Team All-Ohio in Division III.  A three-year starter, Bensman shot 49% from the floor, 81% from the foul line, and finished his high school career with 896 points.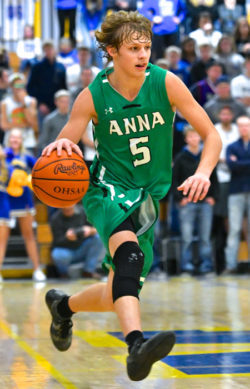 "When people think of athletes they think of a physically gifted person,"  says Wyatt.  "But frankly, I'm just a tall, goofy, scrawny kid.  That may seem harsh, but there's no denying it.  I'm 6'3″ and weight 160 pounds.  I had success because I learned as I grew older.  I was a sponge to whoever was teaching me."
"But without question, he was one of the best athletes to play in the Shelby County League in the past decade,"  said a rival coach.  "He had one speed, and that was full out."
An honor student at Anna, he plans on attending Ohio State University this fall to pursue a degree in Physical Therapy.
The Press Pros Shelby County Scholar-Athlete Award is made possible by the generous supports of the following sponsors:  The Heidout (Jackson Center), Meyer's Garage (Newport), The Keyhole (Newport), Vance and Linda Stewart (Anna), Crale Builders (Sidney), Wilson Sports Medicine (Sidney), Huffer Chiropractic (Jackson Center), Dorothy Love, Ohio Living (Sidney), Allenbaugh Insurance (Jackson Center), Francis Furniture (Sidney), and Ruhenkamps Boring and Trenching (Fort Loramie).
Recipients will receive scholarships of $2,000 each, and the awards are determined on basis of equal achievement in athletic competition as well as the classroom. The Presentations will take place on Wednesday, June 6, at 17 West Restaurant, in New Bremen, beginning at 6 pm. All interested Shelby County League fans and supporters are invited to attend.