Not the bangers they were in past years, Coldwater's impressive record exists for the fact of pitching and defense…and it netted them an opening tourney win over Paulding.
Coldwater – Make no mistake.  This is not your dad's Coldwater baseball – not the teams of the past that used to tear down fences and strike fear into opposing pitchers.
No, they don't hit like the Lou Brunswick teams of years past…or even the Brian Harlamert team of 2014 that won the sixth of their six state titles.  There is no Malave Bettinger or Mitch Heyne in the middle of the order. But…they win!
And Friday afternoon they opened Division III sectional play with a 5-1 win over Paulding (9-12) in the new fashion for Cavalier baseball, 2018.  They pitched, they played defense, and they got just enough going off Pauling lefthander Weston Phlipot to put up 5 runs on 8 hits while taking advantage of 2 Paulding errors.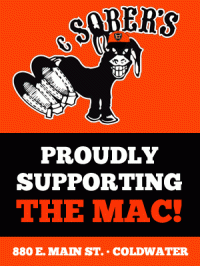 And for anyone who doubts…consider that Phlipot, all 5'9″ (maybe) and 150 pounds of him (probably not), gave them fits with an assortment of 75 mile-per-hour fastballs (maybe) and a 65 mile-per-hour curveball (probably not) that had Coldwater hitters waving at balls before they got there…and making weak contact that fortunately found a few holes between the seven guys behind Phlipot.
For instance, they scored two in the bottom of the second on a one-out base hit by Cole Frilling, a walk to Seth Miller, and a two-out base hit off the end of the bat of Austin Riethman.  It barely cleared the outstretched glove of Paulding third baseman Cade McGarvey, driving in Frilling and Miller.
They wouldn't score again until the bottom of the fifth, and did it then in similar fashion – a hit batsman, a sac bunt, a walk, and a base hit by third baseman Nate Grunden.  And for insurance, they added the final run in the sixth on a two out RBI single by Jake Wenning.  Five runs, on eight hits, and without benefit of an extra base hit all day.

"We battled,"  admitted Brian Harlamert.  "We battled and we put a few balls in play;  and we got a couple of big two-out hits from Nate Grunden in the fifth and Jake (Wenning) for the extra run in the sixth.  But sometimes you get a crafty lefthander and you have to battle and compete.  He (Phlipot) was a different kind of pitcher, but the bottom line is…we won!"
Tourney wins and titles typically are won with pitching and defense – for Lou Brunswick or Harlamert – and Friday the Cavaliers (19-5) advanced in large part through the efforts of Cole Frilling, the tall righthander who's sneaky quick and relentless to throw strikes.  He actually carried a no-hitter into the fourth before giving up a run on a pair of two-out walks and a double by the Panthers right fielder, Cole Heller.  But that was all…the sum total of Paulding's offense, although they left the bases loaded in the sixth when Phlipot grounded into a fielder's choice for the final out.
Frilling's line:  1 run on 2 hits.  He struck 9 and walked 2.
Bottom line:  However far Coldwater advances in the tournament they're going to see more of the same…good pitching from teams who can pitch like Fort Recovery and Versailles – teams up north that typically win on the strength of their pitching and defense.
"We're accustomed to it,"  says Harlamert.  "You got up north and you have OG (Ottawa-Glandorf) and Van Buren, two pretty good teams with pretty good records.  The name of the game is pitching and defense, and unfortunately most of the spring has been cold and the pitching has been ahead of the hitting.  Offense has been down.  So as the weather warms up so will the hitting and it comes down to just playing good baseball.  When we played Recovery the first time we made some mistakes that cost us the game.  So, we feel good about our team.  We just have to keep playing good, aggressive baseball."
And to accentuate the point about just keep playing, Harlamert and the Cavaliers have a full weekend of baseball…three games in the next four days to maintain and sharpen their edge, including a date with 19-win Division IV Fort Loramie on Saturday.
"It's better to play because if you practice too many days you get dull and complacent,"  adds Harlamert, who welcomes the activity and the competition.  "By playing Celina last night it helped us tonight.  By playing tonight will help us tomorrow. Playing Loramie will help us next week.  We just need to keep playing."
And winning, of course.
Make no mistake, they've always had good pitching, but they've never relied on it like Coldwater does now.  No Bettingers, no Heynes, no Brady Hoyings or Aaron Harlamerts…it's not your dad's, or Lou Brunswick's brand of Cavalier baseball.
Nor…does it seem to matter.