Reprising their first meeting from three weeks ago, this time the tables turned as Fort Loramie denied Russia the outright SCL baseball title with their own run-rule win.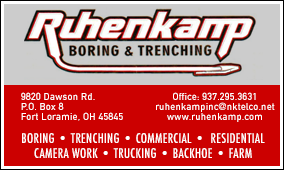 Russia – Eerily, it was the same scenario as in basketball season.  If you'll remember…Fort Loramie had the early lead for the outright title in the Shelby County League, only to see Anna and Russia creep up and share the goods at the end?
Well, Thursday afternoon it was Russia's turn this time to claim the outright baseball title with a win over Loramie.  And, if you'll remember…three weeks ago Russia beat the Redskins in run-rule fashion at Loramie on a day in which Loramie played well beneath its pedigree.
All Russia had to do was win, and with junior lefthander Daniel Kearns on the mound, the same pitcher who won the first game with a steady hand, Raiders head coach Kevin Phlipot must have felt good about things.  Loramie, however, had other plans.
They jumped on Kearns early, and often, and then scored…three runs in the first, two in the second, six more in the third, three in the fourth, three in the fifth, and one in the six for a run-rule 18-8 verdict, an outcome that was, in a word, a 'shocker'.
"I didn't expect this,"  said Loramie coach Jeff Sanders.  "Not with so much at stake, two great pitchers, and the rivalry between the two schools."
But imagine how Daniel Kearns, one of the area's best lefthanders, must have felt.  As good as he was three weeks ago, this time he struggled with location.  He left too many fastballs up in the zone, and Loramie made the most of every mistake he made.
They scored three in the first on consecutive base hit line drives by C.J. Billing, Jared Middendorf, Eli Rosengarten, a hit batsman to drive in a run, and then a 2-rbi single by Nate Raterman.
In the second they scored twice more on an error by third baseman Evan Monnier, another base hit by Billing, and an rbi double by Middendorf.  Kearns would not survive the inning, leaving after two were out in favor of reliever Mason Dapore.
In the third…they exploded, scoring six times on four hits by the same cast of characters, aided by two walks and two hit batsmen and another error by Monnier.  By the time Dapore retired Shane Hilgefort on a line drive to center field for the final out…it was approaching run-rule territory – 11-4, Loramie.
But Russia had plenty of fight, and did some swinging of their own.  Like Loramie, the Raiders scored a pair in the first on a double by Will Sherman, an error by Rosengarten on a ground ball by Hunter Cohee loaded the bases, and rbi single by Carter Francis and a sac fly ball to left by Monnier.
And, they scored twice more in the third, as Jared Middendorf was having his own issues with balls left up in the strike zone.  With one out he hit Sherman with a pitch, gave up a single to Cohee, another single by Carter Francis, a walk to Monnier, and a sac fly ball to center.
But every time Russia would answer, Loramie would come back to trump that answer, scoring three more times in the fourth, three more in the fifth…and finally, Russia, could risk no more pitching with another league game on Friday at Fairlawn.
"Give them credit,"  said Phlipot, who was disappointed, but undeterred.  "We had a chance to close things out with a win, but Kearns was not at his best tonight.  He was up in the zone and they came out swinging.  They hit some good fastballs in good counts.  They hit it everywhere.  It was impressive."
Loramie improved to 20-5 on the season, overall, and 10-2 in Shelby County League play.
Russia dropped to 16-7, overall, and 9-2 in league play.

The respective lines:  Loramie had 18 runs on 19 hits, they committed two errors and left 9 on base.  Russia had 8 runs on 9 hits and had 2 errors.  The Raiders left 6 on base.
This time Middendorf was the winning pitcher (he lost the earlier game at Loramie), while Kearns took the loss.
If the outcome was not a surprise, credit some powerful motivation, given the rivalry and the fact of Loramie having played so poorly in the first game.
"There was plenty of motivation,"  said Sanders.  "In fact, I could tell on the bus ride over.  We were kind of lackluster last night (in a win over Ansonia), but tonight I actually had to talk a couple of guys down a bit."
It was not the same Dan Kearns they had faced prior.
'No, he was up a bit tonight,"  added Sanders.  "We faced him twice now, and we talked about attacking the first-pitch fastballs tonight.  He's not a guy that's going to strike you out, he's more crafty, and tonight he was a little off."
As was Middendorf, who left after six innings, having given up the 8 runs on 9 hits.  He struck out four, walked five, and hit four batters.  It seemed that every time he got the requisite 10-run margin to end the game early, Russia would come back to score.
"We battled back twice,"  said Phlipot.  Russia scored two more in the fourth and two in the fifth.
"We just couldn't keep them from scoring.  We did the same thing to them when we played over there."
And Loramie centerfielder Dylan Albers delivered what seemed to be the coup de gras with a three-run home run in the fifth – the blow that seemed to eliminate all doubts.  But true to Phlipot's words, the Raiders added two more runs in the fifth to bring the margin under ten.  It forced Loramie to score in the top of the sixth on a double by Nate Raterman, a single by Mike Hoying, a walk, and then an rbi single by Devon Wehrman…for the final 18-8 margin.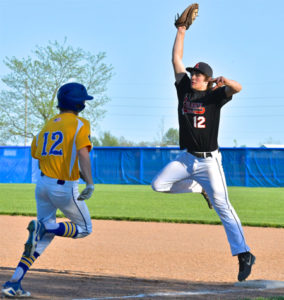 It now means that Russia must win at Fairlawn on Friday to salvage at least a share of the league title – the exact same scenario of basketball season.
"We talked about that in the huddle after the game,"  added Phlipot.  "We have to forget today and go over there and take care of business.  But I believe in these kids."
Without a doubt it's one of the endearing attributes of the Shelby County League – where no outcome, or no title is ever taken for granted.  Competitive tradition is part of the by-laws.  That, and scoreboard watching…now that Loramie has stolen the outright honor.
Cell phones will be abuzz on Friday when the Raiders play, this time, for a share of the title.