Ohio State got a shaky performance from reliever-turned-starter Griffan Smith, but rode home on the sturdy performance of its bullpen…Kyle Michalik…Austin Woodby…and then Seth Kinker.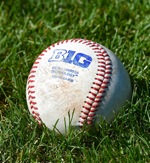 COLUMBUS—After an impressive showing this past weekend taking two-of-three from Illinois in a pivotal Big Ten series, the Buckeyes backed it with a 10-6 win over Campbell Tuesday night at Bill Davis Stadium.
The Buckeyes, 31-15 overall, did so in typical fashion coming from behind and making the most of opportunities down the stretch. Ohio State had 10 hits and also drew 12 walks. Two batters were hit and two base runners advanced on wild pitches.
Campbell used six pitchers in the loss, while Ohio State got a shaky performance from reliever-turned-starter Griffan Smith but rode home on the sturdy performance of its bullpen.
Campbell was ready for Ohio State and from the start. The Big South Conference leaders reached Smith for two runs in the first inning.
Smith, a freshman lefty who's made a name for himself this season as a dependable reliever and set-up man, gave up four hits, including consecutive doubles by Jeff Hahs and Christian Jones and a single by Zach Minnick.
The Camels' lead didn't stand long. The Buckeyes took advantage of some shaky pitching and tied the game on the bottom of the first with the help of four walks, a wild pitch, a passed ball and a single by Dillon Dingler.
Campbell came right back at the Buckeyes, sending eight hitters to the plate and picking up four more runs. They did so on the strength of three hits and an error by Noah McGowan, whose difficulties with the glove continue.
The Bucks failed to mark in the second, third and fourth innings. In that stretch of three innings they were held to just one hit, Kobie Foppe's single in the second.
OSU got things going again in the fifth. McGowan started things by drawing a leadoff walk, his second walk of the game. Conner Pohl followed with a single to right and when Dingler drew a walk the bases were loaded for Tyler Cowles.
Cowles responded with a single up the middle to score a run and keep the bases filled. Next came a pinch hit single by Andrew Fishel, who continues to make the most of opportunities, and finally an RBI single by Noah West.
Once again, Ohio State was showing its trademark resiliency and the game was tied, 6-6.
In the seventh, the Buckeyes showed their eye for opportunistic play, scoring the go-ahead run without a hit and with two down.
Fishel drew a walk to start things after to were down. When Jacob Barnwell drew a walk, moving him to second, Bucks Coach Greg Beals called on Malik Jones to pinch run for Fishel. West walked to load the bases. A wild pitch scored Jones and it was 7-6 Buckeyes.
The Bucks salted the game away with a three-run eighth. Foppe singled to open the inning and one out later, Pohl doubled down the left field line. Foppe scored and when Pohl held at second, Beals replaced him with pinch runner Ridge Winand.
Dingler flied out but Cowles ripped a double to center to score Winand. Jones drew a walk and with two on, Barnwell singled to center scoring the third run of the inning. It was 10-6 Bucks and that was that.
Except, except for the fact that, once again, the bullpen did some heavy lifting.
After Griffan was pulled after two innings—giving up seven hits and six runs (four earned)—Beals went to the horses: Kyle Michalik worked four innings of spotless ball; Austin Woodby picked up the win—he's 3-0—with two scoreless, allowing just two hits, and then, Seth Kinker, again. The senior closer and a strong candidate for team MVP pitched a scoreless ninth striking out two.
The senior right-hander has made 23 appearances in 46 games and worked 48.2 innings. He has 11 saves.
The Bucks go back to work Wednesday afternoon against Campbell. Game time is 3:05. Right-hander Jake Vance will start for Ohio State. Campbell's starter is undetermined.