A year after Iowa's Jake Adams set the Big Ten stats page on its ear, Illinois junior Bren Spillane is setting a pace that invites comparison.
Champaign, Ill –  A year ago Iowa's Jake Baker had the kind of statistical line that made very Big Ten hitter drool.  On his way to being drafted in the sixth round by the Houston Astros…these were his credentials:
Home runs…29 of them, leading the Big Ten and breaking the Big Ten record previously held by Indiana's Mike Smith (27, in 1992)
In RBIs and slugging percentage (72 RBIs and .747)
Big Ten Player of The Year, the first Iowa player to be so honored in 25 years.
And for anyone who wondered if Adams' stats were home run or bust…no, he hit .335 for the year, with 14 doubles and an OBP of .417.
He was the talk of the league, and many said that it would be years before another Jake Adams year came along.
Well, actually no.  It took ONE year, because at Illinois another first baseman, junior Bren Spillane is putting up numbers that are already inviting comparison.
The 6'3″ junior from Wheeling, Illinois is following eerily close to what Adams did just 12 months ago – hitting .416, with 17 home runs, a slugging percentage of .942 (based on total bases), an OBP of .515, and his mark of RBIs (51) is just one ahead of Ohio State's Noah McGowan (50).
In short, his, like Adams' of a year ago, is a dream season.
"It's been fun,"  he said after Saturday's 11-3 win over Ohio State, a game that featured his 17th home run and two fly ball outs that drove Buckeye outfielders to the outfield wall.  He finished the day, 2 for 4 with his 50th and 51st runs batted in.
"But it's been a team effort.  The guys in front of me, and behind me, have all contributed to put me in the situation I'm in.  I've just been fortunate to capitalize,"  he admits.  "It's been a matter of coming out confident, and confidence can carry you a long way."
People around the Illini program will tell you his year, his numbers, are impressive – yes – but they just as quick to mention that Spillane has another, equally, impressive characteristic.
"He's a really good guy,"  says baseball Sports Information Director Brett Moore.
Baseball players blush when you mention compliments like that.  Spillane was no different when it was brought to his attention.
"Well, I try to be,"  he said with a grin.  One gets the impression of some false modesty.
But the world is full of nice people, lest you wonder in the current culture of daily bad news.  But it takes baseball, in this case, for numbers and 'nice' to create the kind of buzz of which Big Ten baseball can be justly proud.  Comparisons to Adams, whom he watched and played against last year, make him smile.
"Yeah, it's kind of cool.  I remember seeing him play last year, and I said, 'Wow, I want to do that.'  I wanted to be that kind of threat in the lineup.  Again, it comes own to being confident and working to make the most of your abilities."
Scouts and onlookers mention that he's a different player than Adams, willing to hit the ball to the opposite field, and patient to contribute in ways other than hitting home runs.  Hence, the on-base-percentage and his high figures in nearly every Big Ten stat category.
"And, I play in a good ballpark to hit in,"  he adds with a smile.
The ever-present wind at Illini Field makes him a threat to go 'yard' in nearly every at bat.  People stop what they're doing – pay more attention – when he comes to the plate.
"It's always fun to play at home.  The ball tends to carry a bit, and it's fun to hit the ball in the air here."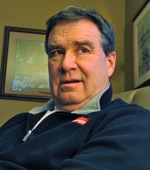 While he pursues a degree in sports management at Illinois, he's also draft eligible this year and his name is one of the top ones you hear in terms of Big Ten candidates to play at the next level.
"All that stuff is going to happen and it'll take care of itself.  Right now I'm just focused on playing.  If we win that's going to help a lot.  But all I try to do now is to go out every day, win, and compete.  I don't worry about anything else.  I just take things day by day."
He left out the part about being a nice guy.  And when you talk about Bren Spillane…that may be the most impressive part of all.  He sets the pace at Illinois.
Well done!