Woulda', coulda', shoulda'…it could have been prettier, but when it was over no one seemed to mind.  The Buckeyes won the series finale in Illinois.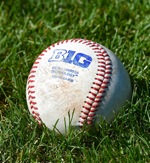 Champaign, Ill – Let's dispense with some of the details.  Forget about how, and just focus on 'how many'…as in wins for the weekend, and runs in the finale.
The Buckeyes won Sunday in their rubber game with Illinois, 10-5, their first series win at Illinois since 2009.
But, for the manner in which they won it was a study in woulda', coulda', and shoulda'.
They jumped out to a commanding five-run lead in the second inning when Illinois starter Ty Weber couldn't throw strikes. Two walks, an error, and an RBI single by Jacob Barnwell…and three hitters later an RBI double by Kobie Foppe, driving in two more.  But…it could have been so much more as they left the knockout blows on base for want of another hit.
In the sixth they loaded 'em again with leadoff hits by Nate Romans and Barnwell, then a walk and an RBI single by Foppe…but Noah McGowan ended the inning with a 3-6-3 double play.  One run scored.
In the seventh they loaded them again on a single by Conner Pohl, an error, a walk…and this time a base-clearing double by Noah West on a 95 mph fastball from reliever Joey Gerber – with what was perhaps his biggest hit as a Buckeye.  West, batting ninth,  simply scorched Illini pitching throughout the weekend.  In the words of one in the pressbox, "It relaxed the game, and cut the odds for the unforeseen."
The point is…through the first seven innings the Buckeyes led 10-5;  but for want of one more big hit in a couple of innings it could easily have been 15-5.  During that same span Illinois, the top fielding team in the Big Ten, committed four errors and of the ten runs scored by the Buckeyes…only two of them were EARNED!
"But," said Greg Beals afterwards,  "it spoke to the value of this game – the value of this series.  Their pitching was battling on the mound.  We got some walks, a couple of errors…and we got some bunts down and executed a hit-and-run.  And we had a couple of big hits from Kobie Foppe and Noah West."
From the standpoint of pitching, senior captain Adam Niemeyer went to the mound with a sore hamstring, a problem that has plagued him before, and delivered four of his best innings of the year.  Niemeyer gave up two runs (including a third inning home run by catcher Jeff Korte) on four hits through 4.1 innings.  He struck out three and walked one, but visibly began to tire as he started the fifth inning.
Austin Woodby came on in relief to pitch 1.2 innings of one-run, three-hit relief, giving up a home run in the sixth to left to Big Ten home run leader Bren Spillane, his second in as many days.
He was relieved by Seth Kinker, 'Mr. Dependable', in the seventh, who promptly gave up a pair of runs on a hit batsman, a double and a single, and finally got out of the inning with the aid of a 6-3 double play – two runs on two hits, and OSU led 10-5.
After a scoreless top of the eighth…more excitement as a leadoff throwing error by Noah West eventually put Illinois' Mike Michalak at third base with two outs.  But Kinker induced the third out on a fly ball to right.
Kinker came back out in the ninth and finished things in typical Kinker manner – 1,2,3 and pack-it-up for the bus ride home.
They won on one of those days when you don't ask how, but rather, "how many?"  Second baseman Kobie Foppe and shortstop Noah West each drove in four runs (career highs for each), and eight of the Buckeyes' total of ten.
No, it wasn't easy, but when you win two of three against one of the best the Big Ten has to offer – when you consider the magnitude of the game in terms of the Big Ten Tournament and a possible at-large bid for the NCAA – no one seemed to mind how they did it.
"Today was tough,"  added Seth Kinker, who was uncharacteristic in recording his 11th save of the season.  He now stands one behind the school record held by Trace Dempsey, another Huntington, West Virginia native.
"I'll tell you…I was tired as hell when I got out there in the seventh.  It's just not ideal to play in such a weird, sticky atmosphere after the early rain."
And with a Kinker grin, then added, "I was fine in the eighth and ninth.  The big thing was we came out and made them prove something early after we had that five-run second.  And then…we were able to build off that."
Final Line:  Ohio State had 10 runs on 9 hits and committed one error.  Illinois had 5 runs on 9 hits and committed those four costly errors – and "it doesn't get any weirder (in the Kinker lexicon) than that."  It just doesn't happen against the Illini.
You can't emphasize it enough…the Buckeyes won a big, big series in a place where success has come hard in the past.
"Yeah, when they're going to their closer in the sixth inning, and we're going to ours in the seventh, it tells you just how much this game meant,"  said Beals.  "It was two guys managing the game like it was a big baseball game and our guys took care of business today.
"It also says something about the effort that Nemo (Niemeyer) gave us for the first four innings.  And it says something about the depth of our lineup when Foppe and West can come out and give you two hits each (and Jacob Barnwell had two), so those guys helped put ten runs up on the board on a day when Dom Canzone and Noah McGowan are 'ofer'…and Canzone and McGowan are having great years.  But when we can get 10 runs because the bottom of our order has that kind of day…that's really, REALLY, important."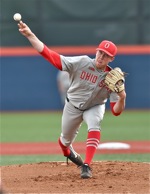 They were in a hurry to get to the bus, get on the road, and get back to Columbus to savor it…it hasn't happened like that here in Champaign since the Bob Todd era, the Buckeyes' coach prior to Greg Beals.
Now, six games remaining in the regular Big Ten schedule (Purdue at home next week, then Michigan State on the road), and their season, and legacy for 2018, is in their hands.
"Well, it's that point of the season where you ask some guys to do a whole lot,"  added Beals.  "And nobody did more than what Noah West did with his double in the seventh, or what Seth Kinker did this weekend.  Kinker had two saves and pitched six innings to do it."
Don't ask how…just ask how many?
"That's right,"  Beals smiled.  'We got a road win and a series win against a very tough team.  And there's great value in that for the ballclub."