They couldn't have  looked better for the first three innings…but a familiar issue mid-game turned Saturday's game with Illinois into a frustrating exercise in deja vu.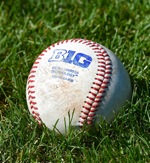 Champaign, Ill –  Former Yankee hall of famer Yogi Berra is well-known for his famous malaprop that "losing is like deja vu all over again."
And pardon Ohio State coach Greg Beals if he left the ballpark Saturday in that exact state of mind.
After a three-run second inning that saw the 29-15 Buckeyes charge out to a commanding lead behind starter Ryan Feltner, in the fourth inning the game turned on a familiar circumstance that seemed exactly like 'deja vu', which translated means…something you've seen before.
They (the Buckeyes) started like a house afire.  With one out in the second inning Tyler Cowles walked and DH Andrew Fishel singled to right field off Illinois starter Quinn Snarskis.  Jacob Barnwell then singled to score Cowles.  Noah West continued his weekend's work at the plate with a single that scored Fishel;  and Barnwell then scored on a fielder's choice.  3-0…Buckeyes.
Complementing their start offensively, Feltner came out throwing hard, really hard, lighting up the Illini Field radar gun with 95, 96, and 97 miles-per-hour.  He was in full command, it appeared, striking out a pair and finishing the third inning with a 6-4-3 double play.
But the bottom of the fourth resembled something scripted by Shakespeare – tragic!  In a foreboding manner Illinois first baseman and power plant Bren Spillane dumped a single to left in front of Cowles – a ball that appeared destined to be caught, but Cowles allowed it to drop for a base hit.  Mike Massey then flew out harmlessly to right field;  and Mike Michalak ground out to second with Spillane advancing to second on the throw to first base.  Doran Turchin then singled to score Spillane and cut the deficit to 3-1.
Then…Turchin stole second and the ensuing hitter, Jeff Korte hit what appeared to be a harmless ground ball to second baseman Kobie Foppe for the third out of the inning.  Foppe played it into an error, allowing Turchin to advance to third.  Then there was a walk to load the bases…and right fielder Jack Yalowitz was hit by an inside fastball to force in a second run.  Leadoff man Zac Taylor walked, forcing in another run…before Ben Troika grounded out to short to end the inning.
Lead gone, momentum gone, and apparently some confidence, as one could sense air hissing out of the balloon.  The need to play "clean baseball", which Greg Beals alluded to after the Minnesota series a week ago, had served to cheat the Buckeyes again.  Feltner was fuming as he left the mound for the dugout.
"We just lost focus,"  Greg Beals would later admit.  "We were in complete command of the game for the first third of the game…but we play a nine inning game and we let their starting pitcher settle in, we had some points of adversity on defense there in the fourth, and we didn't respond to things after that."
Illinois did.
Feltner returned to the mound in the fifth and promptly surrendered a leadoff opposite-field home run to first baseman Bren Spillane.  Illinois took a 4-3 lead.  Then, after a pair of ground outs, he gave up a walk and a double to Korte, driving in the fifth run, and Beals came to the mound to make a pitching change.  Feltner out, Kyle Michalik in, and third baseman Grant Van Scoy struck out to end the inning.
"We made a good adjustment the second time through the order,"  said Illini coach Dan Hartleb (from Hamilton, Ohio).  "We have some intelligent guys in our lineup and they didn't let the first time through the lineup dictate the day for us.  We made the adjustments, they're not stubborn, they understand the game and they took what their pitcher was giving us.  The difference in today over yesterday was we didn't swing at pitches out of the strike zone.  We got some good swings in on balls that were over the plate."
From the fourth inning on it was a tale of two different baseball games, and two different baseball teams.  Illinois would go one to score those two runs in the fifth, two more on the sixth on a two-run homer by Ben Troika off Michalik, a single run on a double and sac fly off Griffan Smith…and added the crowning blow with three in the bottom of the eighth off Thomas Waning and Curtiss Iving, the fourth an fifth Buckeye pitchers, respectively.
"The word to describe it is focus, absolutely,"  said Beals.  "In the fourth our pitcher executes a great pitch, the ball is off the end of the bat from Spillane…who has 17 homers for the year…so yeah, I'd like for our left fielder to get a better read on the ball.  But understand, he's playing with respect for the guy's power and he lobs the ball into left for a base hit.  That's the point of adversity from then on that I didn't think we handled very well."
And to Hartleb's point, Illinois made good adjustments in the second half of the game, scored 3,2,2,1, and 3 to finish things out, and were able to prepare for Sunday's rubber game with a positive offensive frame of mind.
"We allowed them to get comfortable in the back half of the ballgame,"  said Beals.  "But the series is now 1-1.  We won last night, today was their day, and the deciding game is tomorrow."
Due to concerns about impending storms later in the afternoon on Sunday, the final game of the series has been moved up to 11 am central time (noon eastern), and co-captain Adam Niemeyer will make the start to try and swing momentum, focus, and clean baseball back in the Buckeyes' favor.
No reason whatsoever…for more 'deja vu'!
Final Lines:  Illinois (27-15, 11-6 in Big Ten)U won it with 11 runs on 13 hits and had no errors.  Ohio State dropped their 15th game overall (10-7 in Big Ten) with 3 runs on 7 hits and committed one error.
Added Notes:  From the fourth inning on the Buckeyes had just two hits, a single by McGowan in the fifth and a single by Barnwell in the ninth, his third base hit of the day.
The bullpen got roughed up in uncharacteristic fashion.  Over the final 3.1 innings the combination of Michalik, Smith, Waning and Irving allowed 6 runs on 7 hits and threw 72 pitches.