Quick and clean, St. Henry's Daylon Lange was at his best, limiting New Bremen to just two hits, to pitch the Redskins to a share of the MAC baseball title with Fort Recovery.
St. Henry –  Now, they say that sharing a league title is a bit like kissing your sister.  But no one seemed to mind Thursday afternoon in St. Henry as senior righthander Daylon Lange (prounounced Lang-ee) threw a complete-game two-hit shutout at New Bremen to garner a share of the 2018 MAC baseball title with neighboring Fort Recovery.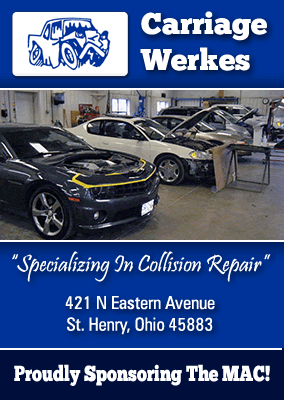 For St. 'Hank', it was their ninth share or outright title since 1975, and first since 2015.  So they've been this way before…share or outright, you get the same trophy in the Midwest Athletic Conference.
For Recovery…it's a little different.  The Indians have never won a MAC baseball title, and with their impressive win over Minster Tuesday (and Cade Wendel's no-hitter to do it) there certainly had to be some hope that it was enough to claim their first with no sisters involved.
But Lange, who's been oh-so-tough to score upon this year, was at or near his best Thursday to deny Recovery that satisfaction.
He allowed but two hits, a pair of singles – one to New Bremen shortstop Grant Selby in the third, and one to Mitch Hayes in the sixth – and the Cardinals (15-6) never threatened to score, and never advanced a man beyond second base.  Lange pounded the strike zone, striking out 7 without a walk.  There were two St. Henry errors.  Efficient, he threw less than eighty pitches and wrapped things up in a tidy one hour and twenty six minutes.
But, as well, credit Bremen starter Ryan Bertke, who pitched scoreless ball for the first three innings, matching Lange, before allowing single runs in each of the fourth, fifth, and sixth innings.  Bertke left the mound after six, having allowed those three runs on just five hits.  He struck out one, and walked three.

It was a classic example of John Dorner St. Henry 'small ball', as the Redskins (14-4, 8-1 in MAC play) scratched out the only run they actually needed in the bottom of the fourth.  Centerfielder Ryan Luttmer walked to lead off the inning, stole second, was sacrificed to third by Parker Link, and scored on a ground out to third.
An inning later, another run on singles by Tyler Schlarman and Sam Lefeld, a stolen base, a sac bunt, and a wild pitch.
In the sixth…a single by Knapke, another sacrifice bunt from Curt Uhlenhake, and an RBI single from Schlarman…neat and clean, that was all she wrote.  Lange made sure of it, retiring the side in order in the top of the seventh on a strikeout, a fly out to left, and another strike out to finish in a flurry.
"No one thought of us as being a favorite to win the league before the season,"  said Dorner afterwards.  "But we've done the little things and executed along the way to put ourselves in this position.  The league is very balanced this year, a lot of good teams, and the one we beat tonight was one of the best.  I told Chad (Chad Wells, New Bremen coach) after the game that this was exactly how high school baseball was meant to be played."
And frankly…how the game was meant to be played at any level.  Both Lange and Bertke threw strikes, the hitters made contact, and the respective defenses made plays.
But as the proverbial last man standing, Daylon Lange stood out, stood tall, and delivered when his team needed a well-pitched game to compete for that ninth league title.

"What can you say about him?" asked Dorner.  "He gave up an earned run in the first game he pitched this year and hasn't given up an earned run since.  Tonight makes five straight complete games for him, and tonight I'm sure he was under eighty pitches.  He's really had a monster senior season for us."
And true to his competitive nature (he quarterbacked the Redskins' football team in the fall, as well), Lange would rather pitch than talk.  He smiled sheepishly in describing the moment and what it meant to pitch so well with that much on the line.
"There's no better feeling than is right now,"  he said quietly.  "Our defense really stepped up.  It's so much easier when you can pitch to contact and trust your defense."
That was it…the sum total of what he had to say.  A recruit to play football at Heidelberg come fall, he plans on studying accounting.  As conservative as he is with words, take note…he'd be a good guy to do your taxes, as well.
As for sharing the title, John Dorner and the Redskins' lone league loss came to the team they shared it with.  Fort Recovery and pitcher Nick Thwaits beat them earlier in the year, 2-0.
"They're a really good team, one of the best in the state in Division III,"  said Dorner.  "They got great pitching and that was one of Daylon Lange's losses.  He only gave up three hits that day and Thwaits gave up four.  He was just able to scatter them better.  And who knows, we're both in Division III and we might get the chance to play them again down the tournament trail.
"If we share the title, and I assume we will, we can say that we share it with one of the best teams in the state."
As Dorner said…it was how baseball should be played – all the more impressive that it came from high school players still learning to play the game.  Good pitching, good defense, and making the most of what few opportunities there were to score.
There's photo of St. Henry native Wally Post on the right field fence of the ballpark named for him in St. Henry, and Post, who grew up and played for St. Henry in the 40s, plied his own baseball talents for years as a member of the Cincinnati Reds.  It's no stretch to say…that nothing he did personally in the game would have pleased him more.  Titles in baseball come hard.
"I never met him,"  said Dorner on Thursday.  "He was gone before I came to St. Henry.  But I'm sure he would have like this.  I'm sure he's smiling."