He may have turned in this year's best pitching performance yet, and did it by besting his mound opponent who was just three weeks off a 'gem' of his own.  Fort Recovery's Cade Wendel no-hit Minster Tuesday to close matters in the MAC.
Minster – Cade Wendel admitted afterwards that he really didn't notice until the end of the fifth inning.  His focus was purely on throwing strikes and limiting opportunities to get on base, protecting a slim one-run lead.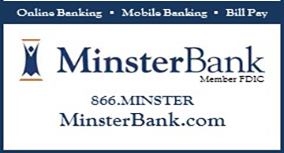 But he was well aware of what was at stake when he took the mound in the bottom of the seventh, and in rapid fashion struck out the side to post a 1-0 no-hitter over the defending Division IV champion Minster Wildcats Tuesday.  His line:  0 runs, 0 hits, 1 error, and just 3 Minster runners left on base.  He struck out 10, walked 2, and hit a batter.  Those were the only Wildcat opportunities to reach.
No-hitters, to be sure, are more prevalent at the high school level than at any other level of baseball.  But still, they're rare – elusive – and the manner in which Wendel (who had never approached one previously) did it was impressive to winners and losers alike.
"I really came out and got into a good rhythm and that helped me a lot,"  said the Indians senior, who doubles as an infielder when he's not needed to pitch.  "I had a good fastball and my breaking ball felt the best it has all year.  I was able to throw it for strikes just about anytime I wanted to.  I was able to throw it for strike one and that really helped me. I've never thrown a no-hitter before, so I wasn't thinking about it until the end."
It's not official, but someone mentioned that after five innings he had thrown just 56 pitches, and those five innings seemed to go by at warp speed, so quick was the pace of Wendel's work.  In the sixth inning, when he retired the order in 1-2-3 fashion, he averaged just six seconds between pitches.  He got the ball, and he threw the ball, which not only kept his defense on its toes…it may have helped salvage the no-hitter.
With one out in the bottom of the sixth Minster's only real threat to break it up came when shortstop Isaac Schmiesing slapped a sharp ground ball at Recovery shortstop Ben Homan, normally a very sure-handed fielder.  But the ball handcuffed Homan for an instant, and bounced away to his left as Schmiesing streaked down the first base line.  Homan immediately recovered, grabbed the ball and fired in one motion to first baseman Reese Rogers to get the out by a half step.  The crowd, collectively, let out a sigh of relief.
The only run he needed, offensively, came in the third inning off Minster starter, sophomore Austin Brown, who ironically threw a no-hitter of his own just three weeks ago to beat Versailles.  The number nine hitter, Riley Post, singled with one out.  Cade Wendel then walked.  Will Homan followed with an infield single to load the bases, bringing left fielder Nick Thwaits to the plate.  Thwaits lifted a high fly to right center field, on which Post tagged and scored from third base…without a throw.  That was it…the sum total of the scoring.
Brown would go on to pitch through the sixth, giving up just that 1 run on 5 hits.  He struck out 6, walked 2, and hit a batter.
"It was a great win for Cade, he's a really good player and we knew that coming in,"  said Brown.  "All I could do was throw strikes and let my defense make plays because we have one of the best defenses in the state."
And to the irony of having pitched and won a double-header of his own…then be on the losing end of another one when you pitched almost as well?
"Well, it's tough, but baseball is a stupid game, anyway.  It was a tough day for us hitting-wise, but we're going to be alright."
It certainly took Ben Homan's play at short in the sixth to make it happen, along with Nick Thwait's sac fly to drive in the winning run.  But you cannot pitch a no-hitter, or a win of any kind, without a good supporting effort from your catcher.  Kody Shinaberry was up to the task.
"Never caught one before,"  he said of Wendel's accomplishment.  "Now I've caught one.  His pitches were phenomenal.  His curveball was great.  His fastball kept them behind and off-balance.  But the curveball…I think it was better than Nick's (Thwaits) tonight.  He was super."
"Really proud and happy for Cade,"  said his coach, Jerry Kaup.  "He pitched a wonderful game and the rest of the guys battled and kept their heads in it.  We had some more opportunities to get big hits with runners in scoring position, but we just didn't get it done.  But another great MAC game and I'm proud of our guys, and proud of what Cade was able to do."

Recovery improved to 15-4 for the season and a commanding 7-1 in league play, a mark that pretty much guarantees the title.  And to that, Minster's Mike Wiss gave gracious acknowledgment to a team that appears poised to make a serious run in the upcoming tournament.
"He (Wendel) was pounding the strike zone all night,"  said Wiss.  "His breaking pitch was spot-on, it was tough to read, and hats off to them (Ft. Recovery) on a great season.  They hope to make a run in this thing (tournament), as well, and they have the pitching staff to do it.
"We only had two runners on base all night (actually three) and those two were on walks.  We fought, too, because Austin was able to get out a couple of jams where they had the bases loaded and couldn't get the hit they needed.  I give our kids credit, especially for coming back after last night (against Wapakoneta), because Wapak put it on us."
The loss dropped Minster's league record to 4-4, but like Recovery, the best of them in 2018 may be yet to come.  The defending champs are well-armed, they play good defense, and they, too, are likely to make another deep run in defense of their title.
But those were sub-plots on Tuesday.  No-hitters are not unlike the day a baby is born.  They take center stage, and the memory of how it happened never dims.  If you throw seven of them, like Nolan Ryan did, you only throw your first one…once.  And Cade Wendel probably won't care if he never has another.
This baby was special!