More than any other sport…if you have a deficiency in baseball the baseball is bound to find you.  And more often than not…one way or another, it differentiates success from failure.
Ohio State coach Greg Beals admitted Saturday what's become an agonizing reality following Saturday's 2-1 loss to Minnesota…and better than 2/3rds of their season.
"Forty games into the season," he said, "…and we are not a good defensive team. That's a battle we've fought all year long. We have to find a way to overcome it.  We're a real solid baseball team, but that is our blemish."
And, it's a blemish that's hard to erase…one of the realities of baseball.  More than any other sport you can name, you cannot hide in baseball.  The ball is eventually going to find that player…in the field, or at bat, who has a deficiency, whether it's speed, hitting, fielding, or throwing.  The ball, as hall of famer Josh Gibson once professed, "…will find you."
Contrast it to football, where you can put the big kid who can't run at guard or tackle.  Among ten other players on the field he can get lost – unnoticed.
In basketball, you can put that one player who can't shoot or handle the fall at a front court position…to limit his access to the basketball.  He will occasionally have to shoot free throws, but largely, defense and rebounding are his main duties.  Not hidden, necessarily, but limited.
But in baseball you can put the big kid who can't run in right field, where statistically the fewest numbers of batted balls are hit (because there are more right-handed hitters than left)…and eventually someone's going to flair one out there.  Defensively, he's got to catch it.
Eventually, the kid hitting ninth in the order is going to come to the plate with the bases loaded in the bottom of the ninth and his team down a run.  It's him or nothing.  He's got to get a hit, or the team loses.  The ball has 'found' him, in essence.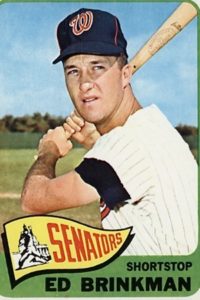 Former big league shortstop Eddie Brinkman (Washington Senators and Detroit Tigers) once said, "It's what took me from a major league shortstop to a minor league manager."  Now Brinkman was being a bit self-deprecating, of course, because he had a reputation for being a very fine and dependable glove man in his 15 big league seasons (an overall fielding pct. of .970).
But in the next breath, he admitted.  "You can't hide in baseball, and when you have a chance you have to find a way to make an impact.  I had to do it with my glove because I couldn't hit."  His lifetime batting average in 15 seasons was just .224.
The difference in Ohio State's Saturday loss to Minnesota came down to two plays, and two unearned runs scored by the Gophers in the fourth and ninth innings.  One came on  ground ball with two outs and a runner in scoring position in the fourth – the other on a throw to second in the ninth to knock off a runner attempting to steal.  Both plays resulted in errors, and unearned runs, as Minnesota coach John Anderson decided to force the issue in a tightly-played, well-pitched game.
"You decide to make something happen,"  said Anderson before Sunday's series finale.  "You know the numbers – the percentages – going in and with a game like yesterday you play the percentages. It went our way."
But just as impressively, when you look at Big Ten statistics you find that Minnesota, a team that plays defense with obvious efficiency and confidence, ranks second in the league (.976), second only to Illinois (.982).
It doesn't come by accident.
"No, it's something we look for in our recruiting,"  says Anderson.  "It started with Dick Siebert when he was the coach at Minnesota.  Siebert had some great hitting teams (with Dave Winfield and Paul Molitor), but if you didn't play defense you didn't play, regardless.  So we recruit athletic kids with good hands who are capable of being taught good defense.  It's still that way here…if you don't play defense you don't play."
In the next breath, like Eddie Brinkman said long ago, Anderson concluded.  "You can't avoid it.  Regardless of where you play, the ball's going to find you."
In truth, it's been the difference in this weekend's series entering Sunday's finale.  In two games Minnesota won with 13 runs on 23 hits and has played error-free.  Ohio State scored just 2 runs on 15 hits, but in those two game the Buckeyes had committed five errors.
"It's frustrating," said Beals after Saturday's game.  "I think it's fair to say that we've found ways to lose.  We need to find a way to win ballgames  We need a better approach offensively…but we have to play clean, and take care of the baseball (defensively)."
Because…it will find you.  There's no such thing as hiding in baseball.